Paging Dr ? Paging Dr ...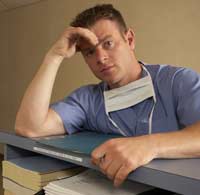 Around the country, doctors are limiting their practices due to rising medical liability insurance rates. In some states, physicians simply close their practices and move to a more insurance friendly state, or choose to retire, or transition to a non-clinical environment. As a result, more and more patients have to travel further for needed medical care.

Heart disease is one of many "silent killers" in medicine. The disease often creeps up with minimal or no symptoms and continues to be the leading killer of men and women worldwide. Up to 40 percent of heart attack victims will die before they can receive treatment. In a similar fashion, if physicians are the "heart of medicine," there are equally lethal diseases, "silent killers," affecting physicians. One day, without warning, the public may find itself unexpectedly confronted by a sudden, agonizing loss of their physicians.

To be sure, there are symptoms of "the failing medical heart", but like physiologic heart disease, the victims are often unaware of the subtle changes. Physicians are suffering from a number of "diseases" ultimately affecting the future of healthcare. A variety of surveys have yielded different interpretations, but it is evident there is growing discontent among practicing physicians as well as prospective physicians. The symptoms have affected physician retirement age, change in practice styles, reduction of workload, choice of non-clinical medical career choices, and even consideration of medicine as a career choice by fewer college graduates.

According to Merritt, Hawkins & Associates, an Irving, Texas-based recruiting firm, a telephone survey of 300 doctors in the year 2000 found 38 percent of doctors age 50 or older plan to retire within one to three years. Additionally, another 16 percent had plans to significantly reduce their practice or to not accept new patients. Managed care was identified as the most frustrating aspect of practicing medicine for 56 percent of these physicians. The majority of those interviewed said they would not choose a medical career again.

In the course of my own physician education business, physician surveys from a national pool of 745 physicians presented disturbing data. When physicians were asked: "If you could make the same or better income with a different career and could sell your practice and building, would you leave your practice?" Thirty-four percent said yes, 28 percent said perhaps, and only 38 percent said no. Less than 40 percent of the physicians were not sure they would stay in medicine if they could financially afford to change. Of these physicians, a full 53 percent would not recommend a medical career to a bright college bound student and an astounding 39 percent of these physicians actively discouraged their own children from pursuing a career in medicine. Who would have guessed this number would be that high from the physicians themselves? The Texas survey further revealed that dealings with third party payers was the leading cause of physician frustration, followed closely by diminished reimbursement and malpractice concerns. Governmental regulations and medical coding/documentation also were cited as leading sources of frustration.

Once-upon-a-time in our country children dreamed of becoming doctors...now that dream is changing. Loss of physician autonomy is blamed in part for a decline in medical school applications. According to data from the Association of American Medical Colleges, in 1996, 46,968 applications were received by medical schools, however, by 2002 those numbers dropped to an alarming 34,859, reflecting a steady decline of 1,000 to 4,000 student applications a year. In 1996, 36.1percent of applicants gained admission, but by 2002, 48.5percent gained admission. 2003 did show a 3.4 percent increase in application, breaking the six-year declining trend. But in 2004 and 2005, only a marginal increase in applications of 2.7 percent and 4.6 percent have improved the situation, but not enough to meet the current recommendations for a 30 percent increase in enrolment called for by the AAMC.

Are the best and the brightest still applying to medical school? Or, is the uncertainty of medicine as a lifelong profession causing them to make other career choices that offer exciting and intellectually challenging opportunities more attractive? Will your future doctor be the doctor that would not have made the cut for admission in 1996?

Around the country, doctors are limiting their practices due to rising medical liability insurance rates. In some states, physicians simply close their practices and move to a more insurance friendly state, or choose to retire, or transition to a non-clinical environment. As a result, more and more patients have to travel further for needed medical care. I had the opportunity to visit a single hospital town in Ohio that was accustomed to having five general surgeons serving the community. Because of increased malpractice rates, three of the surgeons had departed. Of the two remaining surgeons, one was seventy years old and had hoped to retire but stayed on because of the shortage. One of the departing surgeon's malpractice rates had jumped from $40,000.00 a year to $119,000.00. He could not afford to lose this income and moved to a different state with lower malpractice premiums.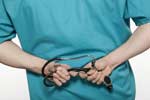 Economic pressures have already affected practices. The fastest growing segment of medicine occurs in the hospitals, where inpatient specialist physicians are becoming increasingly common. One reason for this growth is that primary care physicians make more money through office visits than they do from hospital rounds. By allowing these physicians to take care of inpatients they are afforded more time in the office, they simplify their practices, and improve their efficiency, profitability, and availability for office patients. The result of this practices for the patient is that the physician they choose to see in the office, (as much as managed care allows the choice), will not be seeing them in the hospital. In fact as an inpatient, the patient may have no physician choice simply because they are assigned the hospitalist who is on call. This situation in part, occurs in response to shrinking third party reimbursement. A June 2006 study from the Center for Studying Health System Change, (HSC); demonstrated between 1995 and 2003, the average physician net income from the practice of medicine declined about seven percent after adjusting for inflation. This decline is in distinct contrast to other professionals, who gained about seven percent in income over the same period. Physicians are losing financial ground. Would you choose a profession that has an established track record of declining salaries?

The heart of medicine is failing and physicians cannot treat themselves. They need support and therapy from their patients. What can patients do to help their physicians?

Patients can help by supporting elected officials and legislature that address critical physician needs. Patients can endorse the passage of legislation that places reasonable caps on non-economic damages. They can search out medical insurance options that allow them more control of their healthcare dollar, a medical savings account with a high deductible plan is a good example. In healthcare, the entity that controls the dollar, controls healthcare. When you and your doctor talk about your healthcare, do you need a third party limiting your options? Avoid and protest insurance plans that interfere with patient choice in any manner. Look beyond the 15-second sound bites for real facts. The economics and politics of healthcare are very complicated and everyone, including this author, has a spin. There is usually an element of truth in all points of view, but the public needs to hear fully from all the points of view to draw its own conclusions. In addition, talk to your doctors. Bedside manner is not just for physicians. Patients who sympathize and communicate their concern for the welfare of physicians are no longer simply patients...they become friends. Knowing that patients care about medicine's heart might very well make all the difference in the world in keeping your doctor available in your community for the times when you may need your doctor the very most.

printer friendly page ·

"Paging Dr ? Paging Dr ..."
authored by:


Dr. Dunaway received his MD from the University of Pennsylvania and his post-graduate work in general surgery was completed at the University of Virginia and the University of South Alabama. He is a board certified surgeon and a Fellow of the America...