Creating Sumptuous Holiday Centerpieces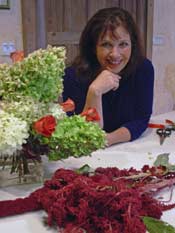 Adding touches of nature to your home will add beauty and will help you connect with the real meaning of holidays

With so many of us feeling stressed about the holiday season before the mad rush even begins, it might behoove us to take a few moments to come up with a calmer, more serene and meaningful way of ushering in these holidays. Whether you participate in the mad holiday shopping tradition or not, setting aside time to create unique floral centerpieces and adding touches of nature to your home will add beauty and will help you connect with the real meaning of holidays: giving thanks for the bounty, and sharing with our families and friends.

Here are some ideas:
First, search your cupboards for containers that will hold flowers or veggies. Donít limit yourself to vases. Soup tureens, large pasta bowls, cake plates, and even teacups can work perfectly for this type of project. If you have a thrift shop or flea market in your neighborhood,

check these out as well. You may be surprised at the treasures you discover there. Some of my favorite pieces have cost less than five dollars at my local thrift shop. Also, gather all of your candlestick holders and any other accessory that catches your eye.

The next step is to decide where you plan to use floral arrangements in your home. In addition to the dining or buffet table, could you use one on the mantle, coffee table, bedside stand, or lavatory? The smaller arrangements need not be fancy, but a few sprigs of flowers on a bathroom sink add a bit of whimsy and sparkle. Also, think about your color schemes, especially for the major centerpiece. Which tablecloth, napkins, glassware, and dishes will you be using? Your floral selection does not need to match the exact color of these accessories, but it does help to take their style and color into consideration before buying flowers.

Finally, think about the mood that you desire for your home, and around your holiday table. Do you want sophisticated elegance, traditional, modern chic, romantic, country, or just warmth? Soft colored flowers translate into romantic, gentle, and sweet, whereas, the brighter colors transmit feelings of warmth, exuberance, and joy.

Traditionally, orange, gold, red, and deep purple and blue hues symbolize the harvest and fall seasons. But donít feel compelled to limit your palette to these colors. If you want a dozen long stemmed white roses or lilies cushioned in a crystal vase with cranberries submerged at the bottom of the vase, then go for it.



When you are ready to purchase your flowers, go to either a local farmerís market or florist. Be sure to purchase fresh flowers that were brought from the wholesaler to the market within the last 24 hours. This ensures that they will last longer after you get them home. If treated with care, your flowers should last about a week. Take your time browsing. My rule of thumb is to limit the color palette to no more than three, but preferably two colors for beginners. Also, buy a large amount of one type of flower in one color. For example, I suggest buying one dozen peach colored roses rather than four roses, four irises and four tulips. Buying minimally six of one type of flower is a sure bet, unless it happens to be a huge flower such as a hydrangea, which requires only three. Also, buy some greens and branches for the arrangement. Often this time of year your local farmerís market will stock long bare branches, which look stunning either in a large clear vase or positioned Ďau naturelí on a mantel. Another rule of thumb is to never come home with less than three dozen flowers. You will be amazed at how quickly they go when you begin working with them.

Next stop is the produce department at the grocery store. Let your eyes and hands explore the vegetables and fruits. Pumpkins, cranberries, cabbages, peppers, grapes, apples, and pears that are plentiful this time of year, make excellent additions to your creation. Let your imagination run wild!

Once home, place all the flowers in cool water until you are ready to work with them. Take some time to go out doors and stroll about your property with a large basket in hand. You will be surprised at the gifts that nature bestows upon us this time of year. Colorful leaves, pinecones, branches, and greenery can be collected and used as decorations.

Once back indoors, make yourself a steaming cup of tea or coffee, put on some soothing music, and let the fun begin. Remember; do not be in a rush with this project. Enjoy each minute, focusing on what you are creating. It is what I call ĎThe Zen of Flower Arrangingí.

Strip all flowers of their leaves and re-cut the stems with a sharp pruner on the diagonal. Immerse flower stems in cool water again. I like to begin working on the larger centerpieces first. Take your time deciding on the vase, platter, or bowl and then begin to position flowers in the chosen container. As you continue to add flowers, youíll see the arrangement evolve. If you have chosen a huge pasta bowl as your container, you will need to use some floral foam so the flowers will stand upright.

Continue to add flowers, turning the container as you work so that you can see the arrangement from all angles. Once you are pleased with the outcome, place the arrangement on the table, buffet, or mantel and then select accessories, such as candlesticks to intersperse with the design. I love to scatter apples and pears on the table, along with some leaves to add another element to this vignette.

You can use the remainder of your flowers and containers to just play with and have some fun. When I entertain overnight guests, I like to place a small floral container on their bedside table. One of my favorites is to cut the stems of 6-12 roses quite short and put them in a small bottleneck vase. Visitors always comment on the beauty of this simple composition and it literally takes two minutes to create. If you lose some of the stems while working with the flowers, save the flowers themselves and place them in a small bowl or cup filled with water and place in a lavatory or on a coffee table. This is a wonderful way of making an elegant statement.

Finally, feel free to use pinecones, cut greenery, and fall leaves as accoutrements when serving appetizers or preparing a buffet. They will add a real touch of nature to your holiday festivities.

Most importantly, however, take the time enjoy the beauty and meaning of this very special holiday season.

printer friendly page ·

"Creating Sumptuous Holiday Centerpieces"
authored by:


Fran Sorin, recognized as one of Americaís leading gardening experts, is changing how people perceive gardening. Her multi-media exposure reflects her philosophy that, similar to exercising and following a wholesome diet, gardening is a necessity for...