Journey to Good Health... The Positive Effects of Travel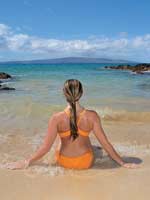 The word "vacation" makes most of us think happy thoughts. And that's not surprising, since travel releases us from the pressures and schedules of everyday life. When we asked veteran travelers how vacations influence their physical and psychological health, their responses were as varied and engaging as the diversity of trips they have taken.

Travel to Better Nutrition
Daren Lamb and her husband Harry traveled, lived, and worked all over the globe during their three sons' childhood years. They visited dozens of far-flung nations, including Saudi Arabia, Indonesia, Pakistan, Hong Kong, Greece, Switzerland, Canada, and the Bahamas. In addition to awesome cultural opportunities and many memorable laughs, Lamb recalls the nutritional advantages her family gained while exploring the world. They nibbled sushi when it was still called raw fish, sipped astounding Chinese soup with floating ducks' feet, and dined at authentic Saudi 'goat grabs,' using hands alone to eat off the floor. Gone but not forgotten is the steamy rolled up terry wash cloth that Lamb's sleepy child mistook for an egg roll (and tried to bite) during a night flight to Japan.

"These experiences were wonderful for all of us, and all of our sons eat every ethnic food that comes their way," says Lamb, who currently lives in Florida. "It has also given them and us insight and understanding of different cultures. In this day and age, we need it." Georgia resident Richard Daniels shares another upbeat perspective on the nutritional aspects of trips with his wife, Sue. "As a diabetic, traveling makes me realize I am living differently and eating differently than I do at home, so I am constantly reminded to watch my blood sugar levels," says Daniels. "Sue and I take better care of ourselves and I'm more careful about what I eat and drink because I'm more in tune with my body than when at home."

Travel a Path to Relaxation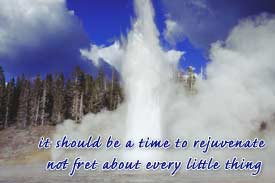 Marylander Peggy Clark often drives to Cape May, New Jersey for refreshing getaways with her husband Mark. "I think that when on vacation, people should treat themselves to things they never really experience at home – getting a massage, savoring a good meal, sitting out on the balcony or beach watching the ocean, trying not to get caught up in 'time' or the cares of the world. It should be a time to rejuvenate, not fret about every little thing," suggests Clark.

On a parallel track, Floridian Liberta Scotto encourages tourists to slow their pace and simplify plans. Although she fondly remembers her three-week whirlwind trek through Australia, New Zealand, and Fiji, Scotto presently prefers more relaxed adventures. "I have found that for me, traveling can be taxing and physically straining if there is too much crammed into a short time frame," she remarks. That's why her recent excursion to Yellowstone National Park was an easy-going combination of plane and car travel (following scenic routes), basic camp stove cooking, and plenty of time for kicking back and communing with nature.

Travel Your Way to Exercise
There is no need to slide into a sedentary lifestyle when you are 'on the road.' My family prefers to maximize exercise options while we travel, so we plan 'active' vacations. On various trips, we've reserved ample hours for swimming and kayaking in Hawaii's Waimea Bay, hiking, cycling, and whitewater rafting in North Carolina's Smoky Mountains, plus surfing and beachcombing on Mexican and Costa Rican shores. Staying active while we travel invigorates my husband Dennis, our three sons, and me, and motivates us to continue exercising back at home.



Before you go...
Are you traveling away from home this holiday season? Try our simple plan-ahead tips to maximize your joy.

If going by air or other common carrier, reserve tickets for non-peak travel dates and times.
Review current airport/train station security guidelines and follow all rules to avoid last-minute confusion at check-in.
If gifts are part of your travel plan, wrap and ship them in advance of your arrival or have them direct-delivered to your destination via catalog or online orders.
Adhere to your usual dietary and sleeping routines on the days before (and during) your travels.
Pack light (very light) for easy comings and goings.
Stock your carry-on bag with a few portable, nutritious foods such as nuts, fresh fruit, or meal replacement bars for handy, healthful snack times while you're on the go.
Also in your carry-on, pack prescription medications in original containers. Take an adequate supply for the entire trip (plus several extra doses). Tuck your doctors' and pharmacist's phone numbers in your wallet, so you can contact them quickly, as needed.
Give yourself the gift of a reasonable holiday itinerary that alternates between festive social activities and quiet, relaxing times.



Travel as a Confidence Booster
Brent Peterson of Illinois wasn't always enthusiastic about traveling. He dreaded flying, sleeping away from home, and venturing outside his comfort zone, but he resolved to push past the worries. "Slowly, travel eventually became liberating. Not only did the act of getting away make me feel strong and confident, but I finally started to enjoy the thrill of going someplace new, of seeing and experiencing new things, of recharging a little bit, and getting out of the daily rut, which began serving as a new way to gain crucial perspective in my life," Peterson recollects. "And yes, it's great to confront a fear and not back down."

Travel as a Healing Passage
New Yorker Susan Lapinski tried traveling to ease her grief when her husband Michael passed away following a prolonged illness. Lapinski and her two daughters found their first ray of sunshine on a weekend cruise from New York City to Atlantic Canada. "Nova Scotia was so easy – get on board with our bags and forget about any travel or transfers from then on. Claim our own little patch of ocean on our own little deck. Order room service food or enjoy a fancy meal. For battered psyches, this was just what the mind doctor ordered," says Lapinski. Her grieving family later flew away to an all-inclusive New Mexican resort to observe the first winter holidays after Michael's passing. "Going to a different locale gives you a totally different sense of life," says Lapinski. "It has a tendency to lift you out of whatever you're going through."

While visiting new places fosters fresh perspectives, the customary comforts of traditional vacation spots can soothe and even energize during difficult times. Several months after Michael's death, Lapinski and her children retreated to her family's woodsy summer home. "This part of Maine and the family cabin are a part of life that we can still count on, filled with happy memories and favorite pleasures like swimming in the lake and blueberry picking," she says. There is so much natural beauty surrounding us, our ragged edges are smoothing out the longer we are here. The time together has been rejuvenating and reassuring – physically, mentally, and emotionally." For many of us, travel provides a great escape - a chance to relax, broaden horizons, bolster nutrition and exercise regimens, confront personal fears, or mend a hurting heart. Today's a good day to reserve a flight, pack your car, board a train or boat for a journey that suits your fancy. Wherever you go and whatever you do… Here's to your health!

printer friendly page ·

"Journey to Good Health... The Positive Effects of Travel"
authored by:


Paula Loehr, R.N., B.A., worked in the fields of community health and nursing education, and was a school health nurse at the elementary, secondary and collegiate levels before becoming a fulltime journalist. Her writing specialties include family tr...