Protective Wear for fun in the Sun!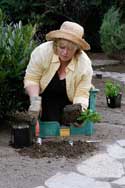 Wear brimmed hats that protect the neck and ears and perhaps some of the new long sleeved, but lightweight, breathable outfits made of sun blocking fabric.
"Gosh, I feel so stupid!" Karen said, as I gently removed her top to examine her blistered back.
"I was in the garden pulling weeds and lost track of the time. I probably realized that I was burning plus turning myself into a gourmet meal for the mosquitoes, but I had just a few more rows to clean and I wanted to finish."
This patient had bright red skin with quarter size blisters on the back of her shoulders and mosquito bite welts on her lower legs. She looked miserable, however, after a gentle consolation I advised her to just learn from this experience so she can protect both herself and her family from the bad side of summer: bug bites and sunburn.
This patient did the right thing in contacting her dermatologist rather than treating herself at home. She was experiencing pain, large blisters, and dehydration. She needed prescription treatment for pain control, anti-inflammatory medication, and instructions to help her take care of herself at home.

Prevention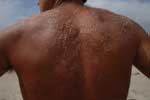 If you feel your skin burning, stop what you are doing and get immediately out of the sun. As long as you are not allergic, start taking aspirin or a non-steroidal product like ibuprofen as soon as possible. Do not wait until you start hurting. Physically cooling the skin with a cool (not cold) shower or compresses will help. Drink plenty of fluids to prevent dehydration, especially sports type drinks that replace electrolytes. If blisters form, gently release the fluid by using a clean needle, but do not remove the blister top. You may have to remove the blister fluid more than once. It is fine to use a light moisturizer on the skin if the product does not sting when it is applied. If the condition worsens, discontinue use of the moisturizer. Also, avoid skin products with ingredients such as benzocaine, neomycin, diphenhydramine, and bacitracin. These chemicals may increase your chance of an allergic reaction. Contact a physician if the burned person is very elderly, very young, or is in significant pain. Your doctor should also know if the person has symptoms of being physically ill, secondary infection, or has multiple, large blisters or white injured skin. The burn reaction will usually peak in two or three days and then start to peel. It is important not to pull off the skin as it starts to peel because you can re-injure the healing new skin. Frequent application of moisturizers after dampening the skin is important at the peeling stage.

Insect Bites
Prevention of insect bites is important for several reasons. Bites themselves are uncomfortable; however, more importantly some insects such as ticks and mosquitoes may carry dangerous diseases like Lyme Disease or West Nile Virus. For adults and children over two months of age, the most effective insect repellants contain a chemical called DEET (N, N-diethyl-m-toluamide). These repellants should not be used under clothing and do not require a heavy coating. DEET may be applied directly to external clothing. Children should not use DEET products on their hands because they might put their hands into their mouths. Repellants should be applied about a half hour before going outdoors. Unlike sun blocks, insect repellants do not have to be re-applied as often; so separate products are better than combination ones. Generally, products with higher concentrations of DEET last longer and need to be re-applied less often than products with lower concentrations. I also reminded Karen that thicker socks, longer pants, and garden or disposable gloves go a long way in preventing bug bites. Bug bites are also treated with cool compresses. You can buy 1% hydrocortisone without a prescription to apply directly to the bite. Products like nail polish, Clorox and other chemicals are not recommended as they may irritate or burn the adjacent skin making the condition worse. Oral antihistamines will help the itching if taken on a regular basis. If you wait until you are miserable to take them, their effectiveness is reduced. Pressure or ice applied to the bite will often stop a bad itch. If you scratch, you may start an "itch-scratch-itch" cycle, which causes more discomfort. Scratching also increases the chance of a secondary bacterial infection. Of course, if you feel ill after a bug bite, contact your physician as soon as possible.

I reminded this patient of the old saying; "an ounce of prevention is worth a pound of cure"… especially important for summer outdoor fun. However, do not be afraid to live your life just take precautions.

printer friendly page ·

"Protective Wear for fun in the Sun!"
authored by:


Dr. Rebecca L. Bushong is both a pharmacist and a board-certified dermatologist. After receiving her BS. in Pharmacy and her Pharm D degree, she returned at age 30 to the Medical School of the University of Kentucky. Following medical school she comp...