Forging Family Connections - Traveling Well with Teens & Twenties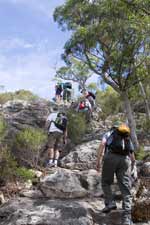 Was there a time in your life when family trips prompted your young children to chant, "Are we there yet?" not just once, but every seven minutes from departure 'til arrival? Despite their lack of enthusiasm for confinement in moving vehicles, your kids were probably eager, even merry little travelers for the first decade or so of their lives. As parents, you exerted total control over vacation plans and the children probably followed in your footsteps like contented little ducklings paddling after Mama and Papa across a pond.

And then all too soon on a bewildering day during your kids' teen years, your once-compliant ducklings became radically opinionated, wing-flapping ducks and drakes, prompting the need for a fresh, more flexible approach to family vacations.

Even if your flock presently includes independent-minded teens and twenty-something young adults, it is possible to preserve the unifying tradition of an all-family vacation. It's simply a matter of accommodating youthful preferences, respecting each other, and responding to differing concepts of 'family fun.' Yes, it is true that plenty of compromise is needed, but isn't that what psychologically healthy 'all-for-one-and-one-for-all' family life is all about? You probably wouldn't try to dominate the details of a vacation spent with adult traveling companions, so don't be a dictator when vacationing with your nearly grown or grown-up kids. Instead, organize a trip that keeps both generations connecting with each other, sharing adventures, and filling the family memory bank with positive recollections. To help you get started, here is an overview of four popular vacation options that address the versatile needs and preferences of growing families.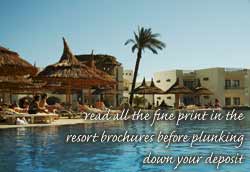 All-Inclusive Resorts
From the sandy shores of the blue-water Bahamas to the color-drenched New Mexican mountains, All-Inclusive Resorts offer packaged vacations that provide lodging, meals, and activities for one flat per person rate. It is hard to beat the convenience and value factors of an all-inclusive vacation because the guesswork is eliminated in terms of planning activities and calculating expenses. Guests at all-inclusive resorts have itinerary options spelled out for them, and they know the exact cost of a vacation at the time they book their reservation.

But as with any vacation venue, all-inclusive resorts vary greatly in terms of quality, total cost, and the extent to which various activities and facilities are covered. So whether you sign on for a clapboard cottage in Maine or a thatched-roof hut in Fiji, read all the fine print in the resort brochures before plunking down your deposit. Are beverages, snacks, and wine part of the package? What about supervised teen programs, water sports, golf games, airport shuttles, and local tours? It is wise to shop around for the best all-inclusive vacations, or ask a trusted travel agent to make a tried and true suggestion.



Other Options for Great Family Getaways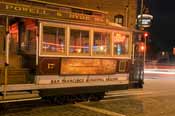 Re-visit your alma mater or explore a new college campus at a university-based Summer Family Camp that offers age-appropriate activities for all.
Share your family's time, energies, and talents at a charitable Home Construction Project such as those organized by Habitat for Humanity.
Walk or pedal your way through a Hiking or Biking Excursion that follows established trail networks like the Appalachian Trail or the Rails to Trails system.
On a Big City Tour to a bustling metropolis such as New York, Chicago, or San Francisco, focus on tourist attractions that pique your family's collective interests.
An Old West Guest Ranch Adventure teaches aspiring cowgirls and cowboys of all ages how to ride horses and round up cattle.
Strengthen your spiritual connections and provide hands-on assistance to others in need on a church-affiliated domestic or international Mission Trip.
Build a pro-active vacation around your family's Favorite Sports – snowboarding, skiing, white water rafting, sailing, tennis, basketball, or surfing.
Attend Special Interest Family Camps that address topics and activities such as arts, crafts, creative writing, music, and dance.
A Tour of Regional Theme Parks is a good bet for families with thrill-seeking teenagers.
And get ready to go-go-go! You can expect lots of terrific activities at all-inclusive resorts, some of which are bound to suit everyone in your family. From snorkeling, kayaking, and horseback riding at domestic destinations to safaris in the African bush, all-inclusive resorts offer a vast array of amusements in many captivating locations.

Campground Stay
A Campground Stay is an automatic ticket to a whole host of outdoorsy adventures, and that's a concept that appeals to teenagers and adults alike. You can check into a private campground that rivals traditional resorts with luxuries such as heated pools, spas, and exercise clubs, or you can reserve a spot at a more rustic national or state park where Mother Nature commands center stage.

Action-oriented offerings like hiking trails, ranger-guided excursions, narrated boat tours, fishing lakes, and golf courses are just a few of the perks at America's extensive network of public campgrounds.

Most parks and camping resorts offer rental cabins or lodges, but for a closer brush with nature, consider camping in a tent or recreational vehicle (RV). Many present-day RV's are equipped with state-of-the-art accessories such as computers, TV's, video players, and popular music systems that delight teen travelers. In addition, when you vacation in an RV, the travel time itself is a positive part of the trip because your mobile living quarters are available for recreational use even while you are on the road.

College Search Tour
Home-schooling parents John and Staci Dunn count their frequent RV vacations as opportunities for quality time with their busy, college-bound teenaged sons. "We go fishing, hiking, and boating, and all the while, we're talking and laughing," says Staci Dunn. "Also, campfires are a great time for conversation with the teenagers in your life. Everyone is relaxed and it just makes for great family bonding. I wouldn't trade the last few years with our teens and our RV for any other type of vacation."

As the years fly by, chances are your family will embark on a College Search Tour, a fact-finding trip that focuses on the interests, aspirations, and decision-making skills of your upcoming high school graduate. Choice of a prospective college is an important rite of passage in a young person's life, so it deserves the thoughtful attention and support of every family member. After you explore a campus with your soon-to-be college student, spend a few days engaged in the area's cultural and recreational pursuits. A well-rounded search will help your student decide if a particular school and geographic area fit his or her collegiate expectations. Pandora Scotto, a licensed clinical social worker and mother of four teenaged and twenty-something children, prefers to take a 'divide and conquer' approach to college search projects. She and her husband Dominick split responsibilities for such trips in a way that emphasizes the strengths of their partnership. "Dominick went with the children for the college search trip, and I went with them later to help set up their apartments and explore the local areas. It fit our personalities and strengths and worked well for the children," recalls Scotto.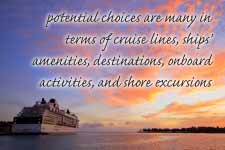 Family-Friendly Cruise
If a total escape from reality is on your vacation wish list, think about hopping aboard a Family-Friendly Cruise. It's a breezy, seaworthy package deal in which one price per person includes lodging, meals, major entertainment, and agreeable transportation to multiple ports of call. The potential choices are many in terms of cruise lines, ships' amenities, destinations, onboard activities, and shore excursions, so be sure to comparison shop before you make reservations.

Concerning room assignments, rent enough sleeping space to keep everyone comfortable. Standard cruise ship cabins are small and boxy, so a little extra privacy will likely be appreciated by both teens and adults. For most families with grown-up children, separate adjoining rooms or spacious family suites are well worth the additional cost.

"On a cruise, you can do your own thing, find your own corner of the ship, and still be part of the family vacation," says Jess Hinds, a 26-year-old English professor who recently cruised to Canada with her mother and younger sister. An ambitious activities calendar can keep cruising guests of all ages rocking around the clock, so be sure to designate times (such as evening meals) when all family members can count on being together.



Stretching and Flexing Family Travel Dollars


Do you travel on a budget? Agreeing to pool your family's financial resources is a reasonable, practical strategy for involving both parents and children in the planning stages of an upcoming family vacation.

Making mutually agreeable advance assignments is a key element in your decision to share vacation expenses with your teen-aged and twenty-something offspring. Decide well ahead of the trip what expenses the youngsters will pay and which costs parents will cover. Be specific. For example, daughters and sons might be assigned financial responsibility for their own airfare or train tickets, one or more meals per day, souvenirs, photography-related fees, admissions for special activities such as museums or amusement parks, gas for rental cars, etc.

Months before the scheduled vacation, encourage young teens to canvass extended family members, friends, and neighbors about jobs that might help them contribute to travel costs. Babysitting, pet care, house sitting, gardening, lawn mowing, and car washing are ready income options for the enterprising youthful set.

If your older children already hold part-time or full-time jobs, designate ahead of time what they will pay for so they can gradually stockpile travel funds.



There is no shortage of onboard options for energetic teen cruisers. Professional youth counselors supervise a mind-boggling array of social activities, from talent shows and teen-only discos to ping pong tournaments and pizza parties to educational sessions covering topics like photography and marine ecology.

Meanwhile, cruising adults can stretch out and relax on a sunny deck, indulge themselves at a spa, exercise in the ship's gym, or test their luck at a casino.

Bridging the Generations
In keeping with the perspective of many of today's forty and fifty-ish parents, all-family trips are a near and dear tradition for Frannie Hutchinson, a former county commissioner who's a mother of five and grandmother of two. "As our children grow older and especially as they have children of their own, family vacations enable us to strengthen generational ties and build upon childhood memories," says Hutchinson. That's why she and her husband Robbie routinely include three generations in their annual vacation plans. Sharing a mutually delightful travel experience with your teenagers, grown-up children, and grandkids might be your best chance to transform 'Are we there yet?' into 'We're having the time of our lives – together!' Such a grand opportunity for family bonding is certainly too precious to miss.

printer friendly page ·

"Forging Family Connections - Traveling Well with Teens & Twenties"
authored by:


Paula Loehr, R.N., B.A., worked in the fields of community health and nursing education, and was a school health nurse at the elementary, secondary and collegiate levels before becoming a fulltime journalist. Her writing specialties include family tr...