Separating the facts from fiction for skin cancer prevention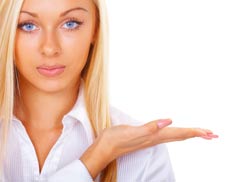 Skin cancers are most likely to occur in those with fair skin, light-colored eyes, blonde or red hair and a tendency to freckle or burn in sunlight. I call these the Barbie doll risk factors.

Skin cancer is the most prevalent cancer in the United States with over one million new cases reported annually. One in five Americans will develop skin cancer in his/her lifetime, and the incidence is rising worldwide. However, most skin cancers are preventable. Much has been published on the topic, so it is imperative to clarify facts from fiction to implement prevention strategies and skin cancer risk.

Several factors increase a person's chances of developing skin cancer. Genetic factors play a role, but obviously, one's genes are a non-modifiable trait. Skin cancers are most likely to occur in those with fair skin, light-colored eyes, blonde or red hair and a tendency to freckle or burn in sunlight. I call these the Barbie doll risk factors. A family history of skin cancer increases one's risk of developing skin cancer. Certain environmental exposures are known to play a role in the development of skin cancer, including excessive ionizing radiation, toxins (chimney soot, tar) and certain types of warts. The most prevalent modifiable source of damage leading to the development of skin cancer is a person's cumulative sunlight exposure. Because sun exposure is highly modifiable, sun protection is a primarily important intervention that can significantly decrease a person's risk of developing skin cancer.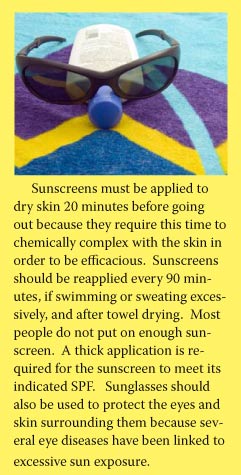 Let me first say that I am not anti-sun. Without sunlight, life would cease to exist on this planet. Even for my patients who have had skin cancer(s), I do not advocate staying indoors and being inactive. Rather, smart measures can be used to enjoy the outdoors with minimal risk. Natural measures are the first I advocate in order to achieve "sun safety". Enjoy outdoor activities, whenever possible, during off-peak sun hours (before 10am and after 3 pm). Avoid midday exposure when the sun's rays are strongest. Whenever possible, look for shade or use an umbrella. A common misconception among people is that they are safe on a cloudy or cool day. Some of the worst sunburns occur on cloudy or cool days because sunbathers have a false sense of security. Skiing is particularly risky because snow reflects 80% of the sun's rays, compounding the exposure.

The Ultraviolet (UV) index developed by the National Weather Service and the Environmental Protection Agency forecasts the amount of UV light that reaches the earth. The UV index scale ranges from 0 to 10+ and is published daily in the newspaper. A rating of 5 or more should signal the need to take extra precautions.

The use of clothing for sun protection has largely been underrated. Clothing and a hat should be first in line as a personal sun protection measure. A common misconception is that clothes that cover up will make a person hotter. This belief is plainly incorrect; loosely fitting clothes have been worn in the hot climates of the Middle East and other regions to protect from the elements for centuries. Clothing, when suitable, can offer broad protection from sun. In general, tightly woven dark colored, dry clothes protect best. Contrary to popular belief, the wet white T-shirt provides almost no protection. Some fabrics protect better than others. Recently, garments with the standardized ultraviolet protection factor (UPF) label have become available. Garments labeled with the UPF rating range from 15-24 (good protection), 25-39 (very good protection) to 40 and above (excellent protection) are useful for outdoor workers, photosensitive individuals and sun-aware consumers. Laundry additives are also available, such as the RIT Sunguard (Ciba Specialty Chemicals), which increase a fabrics SPF through 20 washing cycles.

Clothing cannot cover everything. Sunscreen is the next barrier against the sun's rays. Keep in mind that no sunscreen offers complete protection against UV light and not all sunscreens are created equal. Sunscreens are organic chemicals that chemically bind to skin, absorb light, and dissipate it as heat. Sun blocks are inorganic compounds, like titanium and zinc, which sit on the skin surface and act as an inert physical barrier, reflecting rather than absorbing light. Sun blocking agents are superior to sun screening agents. While SPF in sunscreen indicates protection against UVB (290-320nm), it does not specify protection in the UVA (320-400nm) range. The UVA component of sunlight is believed to be the main cause of cancer and premature skin aging. Even indoors or in the car, UVA protection is needed because UVA is not filtered by window glass. A high SPF (> 30) sunscreen blocks out 97 percent of the UVB rays but typically contain high levels of organic chemicals that can lead to skin irritation and chemical absorption, a specific concern in children's protection.

To choose the best sunscreen, one should look at its ingredients. In the United States, the sun-blocking agent with the broadest spectrum of coverage contains micronized zinc or titanium. These are not the white creams of the past but are currently formulated to be cosmetically elegant and acceptable to most wearers. Products containing 6 percent or more zinc oxide provide good broad-spectrum protection. Avobenzone, also known as Parsol 1789, has been marketed in the USA as a broad-spectrum UV shield, but it degrades rapidly upon UVA exposure. Recently, a sun block with a stabilized form of avobenzone known as helioplex (Neutrogena) has been marketed with proof that it retains its activity with light exposure.

No sunscreens are truly "waterproof", "sweat proof" or offer "all-day protection". Such labels have been outlawed in Australia and the FDA has asked for the voluntary removal of these labels from products in the US. On March 30, 2006, a class-action lawsuit was filed in Los Angeles alleging that many sunscreen manufacturers claim exaggerated degrees of protection on labels.

The moral here: be critical of grand claims on labels and rely more on listed ingredients!

Let me say a word about indoor tanning: No! Our cultural esthetic needs an over-hall. Most tanners don't realize the tan they proudly wear is a sign of damage and bad things to come- wrinkles, cancer, surgery or worse.(see picture) Tanning for many has become an obsession. These "tanorexics" tan several times a week, more than is necessary to maintain a tan appearance. Many cite mood-enhancing or relaxing effects from tanning. Several studies now demonstrate that tanning has addictive potential, eliciting dependence and symptoms of withdrawal in some. Studies find adolescents who indoor tan frequently are at higher risk of experiencing other addictive disorders, such as tobacco and substance abuse. For those taken with the tan esthetic, consider artificial tanners. These at home or salon applied chemicals are safe, but keep in mind that they offer no sun protection.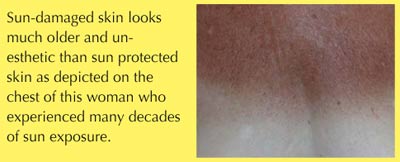 A recent controversy has been raised involving the role of sunscreens in vitamin D deficiency. While vitamin D can be synthesized by a pathway involving the skin and sunlight, the modern day diet and dietary supplements are adequate to supply the needed vitamin D. Getting more vitamin D is no excuse to get more sun.

Beyond prevention, early diagnosis and treatment can prevent serious complications from skin cancer. Here too, we can play a major role. We should become familiar with the marks on our bodies and examine ourselves regularly. We should get checked by a dermatologist if we spot something suspicious or if a mole has changed. Safe sun education and sun protection cannot begin too early. Early childhood sun exposure has been found to be a critical variable influencing one's risk. Enjoy the outdoors, but do it smart, sun smart!



printer friendly page ·

"Separating the facts from fiction for skin cancer prevention"
authored by:


Eve Lowenstein, MD, PhD, is Assistant Professor in the Department of Dermatology for SUNY Health Science Center at Brooklyn, where she supervises residents in training. Dr. Lowenstein is also an associate of South Nassau Dermatology PC in Oceanside a...