For Best Results TIME MEDICATIONS PROPERLY
Medications are typically dispensed with a detailed patient information sheet. Patients should read these!

Timing of medication is important. With the average healthy, older American taking four prescription medications at once plus two OTC medications, some problems may arise.

In some instances, chronic illnesses such as hypertension are treated with a combination of drugs. Anti-hypertensions should be taken together to obtain optimal clinical effects. Unfortunately, this practice is not a universal standard. The Centers for Disease Control and Prevention recently announced that drug interactions have grown to the second leading cause of accidental deaths nationwide, behind auto accidents.

SOME MISCONCEPTIONS: "If a medication is sold over-the-counter it must be safe."
False. When taken in excess, anti-inflammatory medications, such as Motrin or Aleve, can cause GI bleeding. In addition, older patients may develop ulceration and hemorrhage without having any warning symptoms. Taking these pain relievers with anticoagulants or Prednisone increases this risk.

"If one pill is good, two will be even better!"
False! Many over-the-counter medications can be overdosed. Tylenol, when taken in excess, can be toxic to the liver. The daily limit of Tylenol is four grams (that is eight extra-strength pills). This risk is increased if the patient consumes two or more alcoholic beverages per day.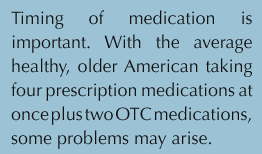 When prescribed and taken appropriately, medications have many benefits. In today's growing elderly population, medications enable people to manage their own health and continue living their daily lives. Because side effects and drug interactions can be dangerous, it is important to understand that managing medications takes effort. Patients must be knowledgeable about what they take, when they should take it, possible side effects, and drug interactions.

What is this drug's use?
Patients should be proactive with their physicians and pharmacists regarding the use of drugs. The intended use is usually straightforward; however, some medications may be prescribed for "unlabeled uses." These are usually diagnostic discoveries for which a medication has not necessarily been tested. Its clinical effect was found to treat another disease or symptom after the drug came to market. When should this drug be taken?

Drug interactions are very serious and patients should be cautioned about concurrent therapies. Patients should obtain as much information as possible from their doctor or pharmacist about when to take a medication. Medications are typically dispensed with a detailed patient information sheet. Patients should read these! If necessary, call your pharmacist with questions.

Some medications work best when taken at certain times of the day. Generally, "statin" medications, used to lower cholesterol, are best given at bedtime because cholesterol is biosynthesized in the early morning hours. Antibiotics should be scheduled in order to maintain blood levels to eliminate bacteria. Twice daily dosing is best given 12 hours apart. Four times a day dosing can be scheduled based on a normal sleeping schedule of a patient. A pharmacist can advise the patient of these times. No one wants to wake in the middle of the night to take medicine.

Timing in relationship to meals is also important. Antibotics such as penicillins are best absorbed on an empty stomach; while tetracyclines, may be inactivated entirely by dairy products. Zyvox, another antibiotic, can cause dangerously high blood pressure if taken with tyramine-containing foods like aged cheese, wine, and sour cream.

What are the side effects and possible drug interactions?
Again, patients should consult with their pharmacist or refer to the detailed patient information sheet to obtain this information. Not all interactions are the same, and they are not limited to prescription medications. Most importantly, they can usually be avoided! Utilize one pharmacy so that your most complete, current medication list is on file when there is a question. Pharmacists continually check for interactions when a prescription is filled, and all medication information is required for the most thorough check.

printer friendly page ·

"For Best Results TIME MEDICATIONS PROPERLY"
authored by:


Tamara Dulin, R.Ph., is a registered pharmacist with Nightingale Home Health Care in Carmel, Indiana. A 1991 graduate of Butler University College of Pharmacy, she has spent the majority of her career in consulting. She is a past president of the Ind...