Creating a delightful Perennial Garden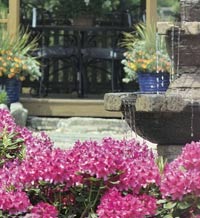 Planting perennials is a terrific way to exercise your creativity, which ultimately will result in a healthier you - both emotionally and physically.

If you would love to have a garden filled with an abundance of perennials but find the thought of actually creating it a bit daunting, you needn't. Planting perennials is a terrific way to exercise your creativity, which ultimately will result in a healthier you - both emotionally and physically. After more than 20 years of designing gardens, here is my insider's guide to how it should be done.

Know the relationship of your property to the sun. With a true Southern exposure, you will receive direct sunlight most of the afternoon. A true Northern exposure will give you shade most of the time. An Eastern exposure will give you morning sun and afternoon shade whereas with a Western exposure, you will receive late afternoon sun along with the sunset.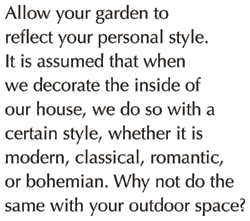 Make sure that the amount of sun you receive will be enough for the type of garden you want to create. A woodland garden can thrive in mostly shade while an herb and vegetable garden needs at least six hours of direct sunlight a day. Consequently, if you are thinking of creating an herb garden but your property is situated in the shade, you will need to come up with a different interpretation of the type of garden you want.

Select a site for your perennial garden that can be viewed from inside your home. Why not enjoy the beauty of what you have created from indoors as well as when you are outdoors? Also, if renovating, think in terms of adding French doors with access to patios and terraces that will lead to your perennial garden.


Allow your garden to reflect your personal style. It is assumed that when we decorate the inside of our house, we do so with a certain style, whether it is modern, classical, romantic, or bohemian. Why not do the same with your outdoor space? If your indoors is decorated more traditionally, then outdoors you might want to replicate the traditional theme with geometric shaped beds and plenty of symmetry. However, if your style indoors is more rustic, then think in terms of using undulating garden beds with flowers dripping over the edges and antique/flea market pieces scattered throughout.

Use a hose or landscaping spray paint when you are ready to experiment with the shape of your bed. A hose can be configured in any shape to give you a sense of what the flowerbed will look like. Leave it in one position for a few days before deciding if that shape will work for you. I always advise making the flowerbed larger than you think you will need. You will be surprised at how quickly you can fill it with flowers.

Once the soil has warmed and is not too wet, dig the bed. The first thing you'll need to do is to remove the grass. Use a spade, an organic herbicide, or a rototiller to turn over the grass. Once all of the grass is removed, rototill the area again. Then add at least 12 inches of a good organic matter such as leaf mold, dried manure, or compost to existing soil. Rake organic matter evenly across the bed then using a spade, edge the perimeter of the bed to give it a professional look.

In the world of gardening, as with most things, 'less is more'. Make things as simple as possible when designing this garden. Limit your palette to two or three colors and select plants with various shapes and textures that bloom at different times of the growing season. Plant many of each type of plant. The repetition of the same color and plant material soothes the eye and helps create a more cohesive and magnificent design. Plant a minimum of seven of each specimen in a small garden increasing to as many as twenty or more of each type of plant in a larger garden.

Arrange plants in a wavelike, flowing pattern. It is a good thing to place plants in various arrangements while they are still in their pots prior to actually planting them. Over the years, some of my greatest moments of inspiration have occurred when I made spontaneous, last minute changes.

Spread mulch (no more than two inches) immediately after planting (or as soon as possible). Lay the mulch carefully, making sure that it doesn't land on the leaves of the plants; also be sure to leave breathing room around the base of the plant. Water every two or three days until the plants have had a chance to settle.

It usually takes two or three weeks for plants to develop stronger roots. The best time to water is early in the morning, preferably with a soaker hose, for a 30 to 45 minute period.

Throughout the remainder of spring, fill in bare areas with exuberant summer bulbs or tubers like dahlias, colocasias, cannas and elephant ears.

After the danger of frost is past, hand sow some annual seeds into bare patches or buy some annual plants to add some extra late spring/summer color.

Spray plants with an organic fertilizer every four weeks to give them an extra oomph. Any organic fertilizer is fine. The best time to spray is very early in the morning.

Have patience. Plants won't fully mature for another two or three years. Don't get frustrated if they're not growing as quickly as you would like. Enjoy the process and keep notes on specific plants and plant combinations that you might like to use in future garden designs. Spend time in the garden each day. Whether you are puttering around in the garden, strolling about, taking photographs, or sitting in a relaxing chair enjoying the beauty of what you have created, spend at least 15 minutes in the garden each day. It can help relieve stress, allow you to connect with nature and appreciate the beauty with which you are surrounded. Ultimately, being with flowers can make you feel happier, more at peace, and healthier.

printer friendly page ·

"Creating a delightful Perennial Garden"
authored by:


Fran Sorin, recognized as one of America's leading gardening experts, is changing how people perceive gardening. Her multi-media exposure reflects her philosophy that, similar to exercising and following a wholesome diet, gardening is a necessity for...