To Cruise or not to Cruise
We asked experienced cruisers to share their recollections and realizations about the pros, cons, and in-betweens of cruise line adventures. Here's what they said…

From sea to shining sea, cruises are becoming increasingly popular vacation options. The most daunting challenge for prospective cruisers is choosing a 'dream trip' from an ever-expanding array of alternatives. Destinations such as Alaska, Bahamas, Mexico, and Europe are on current cruise itineraries, and ship sizes vary from small and cozy to vast and luxurious. Sailings last anywhere from three days to months at sea, with dress codes ranging from flip flop casual to fussy formal. And you can count on a boating bonus… No matter what you decide to wear on a cruise, you need to unpack only once, while visiting several ports of call.

We asked experienced cruisers to share their recollections and realizations about the pros, cons, and in-betweens of cruise line adventures. Here's what they said…

No worries, mate!
A cruise ship provides a ready-made 'grin and go' atmosphere, a great escape from reality for world-weary travelers. Based on my own cruising experiences and according to what other cruise guests tell me, family members who do a lot of domestic work at home find special joy in cruise vacations.

JoEllen Tipley, an elementary school teacher and mother of four, still expresses glee when she recalls a cruise she took years ago with her husband, Van. The couple traveled with a large group of family and friends – all adults. "I think what we enjoyed most was that we didn't have to worry where we were going to eat or what we were going to do each night. Everything was right there for us to enjoy or pass up," says Tipley. "I would definitely take another cruise."

Andrea Paschal, a director of Christian education and adventure-based facilitator, concurs with Tipley. "A cruise is almost a no worry vacation. You don't need to plan meals and everything is pretty much taken care of for you," says Paschal, who likes to dance and snorkel at the beach when she cruises.

Have it your way…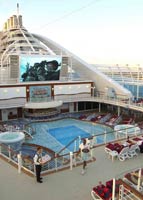 A cruise delivers a customized vacation without lots of tedious planning. Teacher's aide Nanette Smith says that she and her husband Lee had fun selecting favored pastimes from among their ship's seemingly countless possibilities. "I have been on only one cruise, says Smith, but I always tell people who haven't sailed that it doesn't matter what your age is or what your interests are … you will have a great time on a cruise. There is so much to pick from, or if you just want to lounge and do nothing, that is available too."

During the nineties, Nancy Skinner, a hospital-based medical technologist, booked a cruise with an Alaska-based company in order to avoid the "evening gowns and grand dining and dancing" routines she had read about in the major cruise lines' brochures. "We were able to get a whole lot closer to calving glaciers, had kayaking park rangers come on board to speak with us, and fished a chunk of ice out of the water with a net for the youngest on board to hold and pose with for pics," says Skinner. She was so impressed with the personalized experience that she later signed on for another small cruise tour of the Galapagos Islands, where she enjoyed close encounters with giant tortoises, blue-footed boobies, and sea lions.



Passport Update for Cruisers
Thanks to the Western Hemisphere Travel Initiative (WHTI), there are new passport requirements for cruising travelers who are entering or re-entering the United States at land and sea ports, even from countries for which passports were not previously required. Because the new rules are being gradually and systematically implemented by the Departments of State and Homeland Security, future cruise passengers should consult their chosen cruise line and/or The U.S. Department of State at www.travel.state.gov to learn about current applicable passport regulations.

Weather watch…
Delane Guettler, a mother of five and school volunteer, cruises regularly with her family. "Cruises are great as long as the weather is great and the seas calm. Otherwise, it can be a terrible experience for all," she remarks, recalling her son Matthew's account of a springtime cruise's rough seas and widespread motion sickness. Despite the risks that unpredictable weather can pose, "I would still take my chances and cruise," says Guettler.

Repeat cruiser Susan Luehrs, founder/ director of a service & therapy dogs program also hit a weather-related snag while sailing. A one-two punch of tropical storms caused itinerary changes, making Luehrs, her husband, Larry, and their kids miss two scheduled ports of call.

How long is too long?
The ideal length of a cruise is a matter of passengers' perceptions. Insurance agent Frankie Lott likes shorter ship stays of the three or four-day variety. "One time we cruised for a week, and it was too long. I wouldn't do that again," says Lott.

When former secretary Lee Stirrat, took a seven-dayCaribbean cruise with her husband Tom, their kids, and grandchildren, the vote on best length of stay was a split decision. "Tom and a few others thought seven days was just too long," says Stirrat, "but everyone on the ship was really accommodating and I didn't get seasick. What a miracle! It was great, so I'd go again."

My own family votes unanimously for seven-day cruises. The longer period lets us fully relax, visit more harbors, and enjoy lazy days at sea. Many cruise itineraries exceed seven days, and the five of us could be readily persuaded to try one of those, too.



The Cost...

What is included in the basic cost of a cruise?

Sleeping accommodations
Three daily meals, snacks, late-night buffets, basic beverages, and room service
Gym privileges
Activities for guests of all ages, stage shows, and musical entertainment
Ship transportation to scheduled ports of call

What is not included?

Packaged shore excursions at ports
Spa services and treatments
Alcoholic drinks and other beverages, as specified by each cruise line
Professional portraits and candid shots taken by official ships' photographers
Customary gratuities for services rendered by staff members are added to accounts at the discretion of each guest.
Assessing vacation value…
"Cruising is a good vacation value, with one exception," says my husband Dennis Loehr, a chemistry professor. "If you're looking for a spacious room with a hint of luxury, such as an ocean view or private balcony, the price increases. Most cruise line cabins are on the small side, but when traveling on a big ship full of non-stop activities, your room's dimensions are not a priority."

Frankie Lott has a long history of cruising with his wife Traci. According to Lott, cruises seemed more luxurious in former times. "Ten years ago, a cruise was comparable to a three-day weekend at the Ritz-Carlton, except for the size of the rooms," he says. "Today's cruise is an over-populated vacation choice, so the whole cruising concept has been watered down. Don't go looking for the exquisite lobster meal every night." Even so, Lott contends that cruises offer a good vacation value per dollar spent, and he and Traci look forward to taking their toddler, Bella, on a family-oriented cruise when she's ready to sail.

Mixing the generations
Regarding children of all ages, each cruise has signature strengths and weaknesses. It pays to do background research or seek recommendations from other cruisers so you can identify which companies and ships match your family's preferences.

"The food is the main attraction for me, especially the 24-hour pizzerias," says my youngest son, James, a college sophomore. "And there's always something fun to do on a ship or in port. I'll never be bored on a cruise."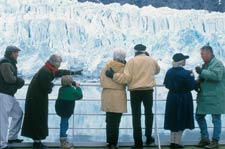 Susan Luehrs, mother of two college students, regrets going on one disappointing Caribbean cruise that was "too much of a party scene," and praises her all-time favorite Alaskan cruise which was "very family oriented."

When Joe and Andrea Paschal took their two young sons on a child-centered cruise, it was "FANTASTIC!" in Andrea's estimation. "We liked the kids' set-up with age-appropriate activities and a beeper for us as parents," she recalls, and so did her boys.

Janis Brown, a busy administrative assistant, fondly remembers two cruises she took with three generations of close female relatives, including her daughter. "I love cruises. I have been on only two, but would go again in a heartbeat," remarks Brown, a vivacious great grandmother of three. I have always had a very positive experience and would seriously consider booking consecutive cruises instead of moving to an assisted living facility!"

Island Hopping


On cruises, in-port stops are generally too brief for passengers to gain more than quick impressions of a city. As a ship's passenger, you cannot extend your stay in a locale that captivates your interest, but cruises do provide an almost-effortless, affordable way to sample several ports. My oldest son Ross Loehr, a financial consultant, generally prefers travels that immerse him in an unfamiliar country's culture, but he also appreciates the easy-going nature of cruising. "You can experience several unique islands and catch an overview in a short period of time," he says.

printer friendly page ·

"To Cruise or not to Cruise"
authored by:


Paula Loehr, R.N., B.A., worked in the fields of community health and nursing education, and was a school health nurse at the elementary, secondary and collegiate levels before becoming a fulltime journalist. Her writing specialties include family tr...