INVIGORATE YOUR GARDEN AND YOURSELF, a 4-step program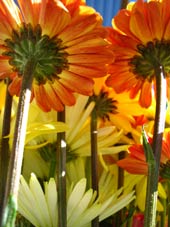 By mid-summer, most gardens are looking a bit run down and could benefit from an infusion of some exuberant color and eye-catching textures and shapes.

Step One
First, select drought tolerant perennials that offer a long bloom period (from mid-summer straight through the fall) and that can easily be planted during the summer months. Before planting, decide which areas in your garden look bland and listless. Select large numbers of one specimen and make sure to plant in a sweeping motion (not in straight rows). Some of my favorite drought resistant summer/fall perennials that offer a dash of color for any summer garden are:

Achillea specimens (yarrow) - Commonly known as yarrow, it has gray or green fernlike leaves with daisy like flower heads that continue to bloom throughout the summer and into fall (if deadheaded). It comes in a variety of colors including yellow, white, salmon, red, orange, deep purple and burgundy. It thrives in USDA Zones 3-9. Check specific species to make sure that it is hardy in your climate. This perennial prefers full sun with good air circulation.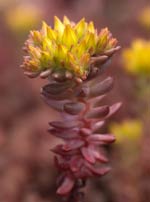 Hemerocallis (daylilies) - These are one of the great workhorses of the garden. Daylilies are clump forming with thin, elongated leaves. Flowers come in a variety of colors that include white, pink, lilac, orange, yellow, red and even a deep burgundy. These perennials look their best when planted in drifts. Although they prefer full sun, they can do just fine in partial shade. They are hardy in USDA Zones 3-10.

Sedum species (stonecrop) - Sedum consists of over 400 species of annuals and perennials that are usually succulent. The leaves are fleshy and bloom in the summer and fall. Even when the flower is not in bloom (in spring and early summer), its leaves and low growing mound shape offer a unique texture and color to the mixed border or rock garden. Sedum looks beautiful in the fall garden when in bloom and is beautiful as a companion plant with salvias, fall blooming ornamental grasses, and asters. Depending on the species, sedums can thrive in USDA Zones 5-9. Coreopsis specimens (tickseed) - This perennial includes 80-100 species of annuals and perennials that are part of the Asteraceae family. They have daisy like yellow or pink flower heads that grow on thin stalks and attract bees. Coreopsis bloom for a long time, spread rapidly, and make great cut flowers. They grow well in full sun or partial shade and come in yellow, red, and pink flowers. To promote bloom throughout the season, continue to deadhead. They are hardy in USDA Zones 3-8.

Ornamental Grasses - Not only do these grasses bring a much-needed burst of texture, movement, and shape to the summer garden but by autumn, several of them come into their full glory with swaying panicles that make a swishing sound when there is the slightest breeze.

Ornamental grasses come in all colors and sizes from silver green, to a striated green/beige to a yellow/green to deep red burgundy. Most do well in a wide variety of soils. Some of my favorites are Panicum 'virgatum', Molinia 'windspiel' and Festuca 'Siskyou Blue'.

Step Two
Annuals, summer bulbs, and climbers can also offer a burst of sharp color for your summer/early fall garden. Even in mid-summer, six packs of annuals can be found at your local garden center. Think in terms of using large numbers of one type of plant to make a strong impact in the garden. Specimens like zinnias, sunflowers, cosmos, ageratum, begonias, fuschias, tithonias, celosias, salvias, and nicotiana can be used effectively to brighten up any bare or dull spot in the garden. In addition, it is still not too late to plant some quick germinating flower or veggie seeds like zucchini, nasturtiums, cucumbers, and cleome.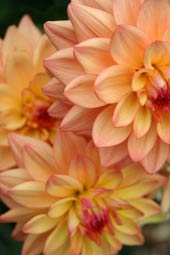 No summer bulb comes even close to the explosion of color, shape, and texture that dahlias can bring to the summer garden. They come in a variety of petal shapes, sizes, and heights. Their colors begin with the barest of pale purple edged white flowers to softer pinks and lavenders to the brightest of yellows, oranges, and reds and to the deepest burgundies and purples. A dahlia will work in every garden. By mid-summer, your best bet will be to look for potted dahlias at your local nursery.

Climbing vines in the summer garden are a must. Clamoring over an arbor or draped over other plants they add a sense of romanticism, lushness, and color to the summer and fall garden. Some of my favorites are Cardinal Climber, Hyacinth Bean, Black- Eyed Susan Vine, and old-fashioned morning glories. And if you really want to treat yourself to a vine that is most magnificent to gaze at as well as emitting a scent that is an aphrodisiac, check out the passion glory vine.

Step Three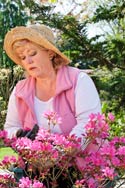 Taking advantage of some easy summer gardening tips can help to keep your garden vibrant and under control throughout the summer months. Pruning back rose bushes and flowering shrubs after their first bloom will keep your plants healthy and will help promote re-bloom for later summer or fall as well as keeping the garden looking tidy and fresh. Cut back any dead or weak wood at this time and rake up spent or diseased leaves. Deadheading and trimming all spring-blooming bushes like azaleas, rhododendrons, lilacs and magnolias will give your summer garden a tidy appearance as well as help these bushes and trees begin their new growth for next spring.

Continue to pinch back summer and fall perennials to keep them looking bushy and full. Also, by staggering the timing of when you pinch back the perennials, you will be facilitating the plants in blooming at different times through the summer and into fall. This technique works especially well for caryopteris, phlox, heliopsis, and asters.

Observe insects before making any decisions about what to do with them. Most insects are actually beneficial so by observing them you won't rush to judgment about the purpose they serve. If you do see insects that seem to be causing damage to plant material, limit yourself to using organic insecticides. Two good ones are pyola and neem oil.

Step Four
By mid to late summer, most earnest gardeners have been so occupied with invigorating their gardens, that they haven't taken time to invigorate themselves. Here are some tips to soothe and nurture yourself, which will help transform your tired body into one renewed with energy.


Cover your face, hair, and body while working in the sun. Although we have become more conscious about the negative effects sun has on our skin, still too many gardeners are not aware of the havoc that the hot sun can play on their hair. So wear a hat when working outside. Covering your body will also protect you from ticks and mosquitoes.

Take hot bathes with soothing oils and soaps. Use this bath time to relax, close your eyes, listen to some favorite music, sip a cool drink and dream. Keep special lotions available to use on both your body and face. Aveda's products are all plant based and are filled with wonderful fragrance. Remember that daytime face moisturizers should have at least a 15SP.

Treat yourself to monthly pedicures, bi-weekly massages, or reflexology. During the summer, my feet scream for a pedicure. And a good deep tissue massage does wonders for those of you who spend a lot of days bent over planting and weeding.

Yoga, Pilates, and stretching are important tools to keep your body strong, flexible and accident free. Ideally, yoga or Pilates should be done two to three times per week. Minimally, commit to a five-ten minute stretching routine in the morning. Some easy yoga poses done daily will do wonders for your body and soul.

Get a good night's sleep. Believe it or not, this is a highly underrated tool when it comes to your health, especially for those of you who do physical work. Relax and enjoy the beauty you have created. It is so easy not to make the time to plop down in a relaxing chair with a cool drink gazing at the beauty you have planted and created. Do make the time to meditate in your own sacred space…your garden! Those quiet moments alone will help to reinvigorate you!

printer friendly page ·

"INVIGORATE YOUR GARDEN AND YOURSELF, a 4-step program"
authored by:


Fran Sorin, recognized as one of America's leading gardening experts, is changing how people perceive gardening. Her multi-media exposure reflects her philosophy that, similar to exercising and following a wholesome diet, gardening is a necessity for...