Pandemic Flu: turning hype into common sense…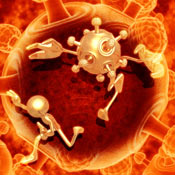 If the next pandemic hits people as severely as the one in 1918, the US could expect about 90 million cases, about 2 million deaths, and nearly 10 million hospital visits.

Is Avian Influenza on the brink of becoming the next pandemic flu? Here is the hype. Avian Influenza is a new strain of influenza virus that is spreading around the world in wild birds. Infections in humans happen through close contact with infected birds, usually poultry. Infections include severe flu-like symptoms and about 60% of cases are fatal. The World Health Organization and the Centers for Disease Control and Prevention (CDC) are both concerned that this new strain could be the next pandemic flu. If the virus mutates into a version that can be spread from person to person, then we are likely to experience a pandemic.

In the 20th century, the world experienced three flu pandemics, the most severe, which occurred in 1918 was called the "Spanish Flu." If the next pandemic hits people as severely as the one in 1918, the US could expect about 90 million cases, about 2 million deaths, and nearly 10 million hospital visits. Unlike seasonal flu that attacks young children, the elderly or chronically ill, pandemic flu would disproportionately affect healthy young adults, the workforce. The CDC estimates economic losses in the US from about $71 billion to $166 billion, depending upon the attack rate of the virus and its morbidity and mortality.

The potential for high levels of morbidity and mortality, coupled with a significant disruption to society, make planning for the next influenza pandemic imperative. Preparations include shoring up our vaccine industry, stocking supplies of antiviral medications, and creating emergency preparedness plans at all levels of government. Unfortunately, we know that it will take from three to six months from the start of the pandemic before a vaccine would become available, and there would likely be drastic shortages of antiviral medications and ethical dilemmas about who will get them.

Without a vaccine or effective antiviral medications, lessons from community interventions from past pandemics are all we have with which to prepare ourselves.

During the 1918 pandemic flu, communities in the United States that took measures to close schools and prohibit large social gatherings (called social distancing) early on in the event had much lower rates of infection and fewer deaths than those who did not take these measures, or those who delayed. A pandemic could require closing schools for weeks or months, as well as canceling sporting events and church services. Parents would need to stay home caring for children or other sick family members. Expect about 40% of people to be at home instead of working. Social distancing itself would result in a significant economic crisis. There would likely be disruption of essential services such as power outages, transportation problems, and rationing of food and/or water.

In the midst of pandemic flu, our communities would be challenged to cooperate with social distancing, and to face the required hardships. Not since the eradication of polio from the US have we memory as a society of what it means to be under quarantine. We barely know how to reach our nearest neighbors, let alone how to get emergency information from our local governments.

Our best chances of surviving the first six months of a pandemic will depend on the cooperation of individuals and families in our communities. You can prepare yourself and your family if you use some common sense. First, visit the CDC website for pandemic flu at www.pandemicflu.gov and click on the link for individuals and families. You will find a two page checklist that includes tips on planning for a pandemic, how to limit the spread of germs and prevent infection, and items to have on hand for an extended stay at home. These preparations would be useful for any type of emergency. In addition, the CDC recommends ways to stay connected with the community such as belonging to a church or volunteering. Effective communication with everyone in the community, especially the most vulnerable people such as the chronically sick or mentally ill, those who don't speak English, or those with little financial means, will improve the chances of everyone surviving a pandemic. Here are some tips for preparing your home and your communities for a potential pandemic:
Keep a two-week supply of food, water, and other essentials
Know your community's emergency communications system
Plan a phone tree for your network of family and friends to keep in touch during a crisis
Plan for childcare in the event of school closure
Plan some rainy day activities to keep busy at home
Spread the word about emergency planning at home
Stay connected as a volunteer or active participant in your community
Pandemic flu could happen. Preparing for it is just good common sense. Success in suppressing a pandemic depends on everyone. Get ready so you can help yourself, your loved ones, and your neighbors.



printer friendly page ·

"Pandemic Flu: turning hype into common sense…"
authored by:


Dr. Curran earned her medical degree from the University of Michigan Medical School. She has also completed a course in Community Preparedness and Disaster Management from the UNC School of Public Health. She currently is medical director of the Hend...