3 Rís Approach helpful in discussing cancer with your doctor
Because of the emotional turmoil that occurs when first receiving the diagnosis, most patients donít hear or absorb much information after hearing the word ďcancer.Ē

Effective communication is important in all relationships, and especially between you and your physician. If you have been diagnosed with cancer, it is critical that you be able to talk with your doctor about your concerns and fears and to obtain answers to your questions about treatment.

Because of the emotional turmoil that occurs when first receiving the diagnosis, most patients donít hear or absorb much information after hearing the word ďcancer.Ē Your world has just changed and while you are trying to adjust to this new diagnosis, you are also being given important information about your future. This first visit is a time when physicians usually discuss the disease and treatment options and communication involves a question and answer process. There is a lot of information to understand and retain and, not surprisingly, patients and families leave this first visit feeling somewhat overwhelmed. Intellectually, you may have a good understanding, but emotionally, it is a difficult time and you may find yourself forgetting what the doctor has said. It is okay to ask your doctor to repeat something or explain it in a different way. You may even find that you need to call the doctor back after you leave to clarify something.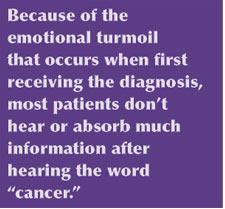 If you feel comfortable doing so, bring a family member or friend to your visits with your doctor. This person can help you hear and retain information. As a physician, I find having this friend or family member present helpful as well, not just because they ask questions, but also because I get to meet and talk with those individuals who are your support and who help you on a daily basis. You may even want to ask about audio taping a particular session if it is especially complicated. An audio tape can be a valuable tool in avoiding multiple and often diverse interpretations of the discussion. I would also encourage taking notes during the session or asking a friend or family member to do so. Come to each visit with a list of questions and concerns so that your doctor knows what to focus on and what your specific concerns are. Some people find that keeping a daily record of their symptoms is helpful. You might also write down questions as you think of them so that you remember to ask the doctor about them at the next visit. At the end of each visit, your doctor should be able to summarize with you the discussion you have just had and what has been recommended or planned. A written summary that you can take with you would be helpful.

Educate yourself
Your physician is not just your medical provider; he is also your educator. He will provide you with detailed information about your particular type of cancer, the science behind the treatment recommendations, the side effects of treatment, and your prognosis. While he will provide as much information as he can, it is your responsibility to tell him what else you need to know. Sometimes physicians think you know more than you do simply because you have not told him otherwise. You can participate in your education by doing your own research on the Internet or through reading books and articles from the library. Discuss information you have gathered with your doctor to determine whether or not it is relevant for you. Do not be afraid to ask questions.

A couple of surveys that I recently found interesting involved patientsí educating themselves. In one of the surveys, ninety-percent of the physicians polled believed their patients used the Internet when in fact only one fifth did so. Another survey involved the use of support groups among patients with prostate cancer. The urologists surveyed believed that almost half of their patients participated in support groups when in fact only twelve percent did so. These misconceptions show us that communication about your needs is important.

The relationship
The patient/physician relationship has changed for the better over the years. In the past, discussions about cancer often involved a paternalistic relationship between the patient and the physician. Patients did not necessarily ask a lot of questions or request much information. During the 1950ís, a study of over four hundred physicians found that the majority of physicians would avoid the use of the word cancer when discussing the patientís illness with him. A similar study in 1961 in Chicago showed that ninety percent of the physicians would use alternative terminology to avoid using the word cancer or malignancy. The reasoning behind this avoidance lacked any sound basis. Studies with patients demonstrated that approximately ninety percent of cancer patients wanted to know in detail about their diagnosis and seldom wanted anything withheld.

Communication Techniques
While the initial focus of a cancer discussion between you and your doctor involves prognosis and treatment, it may eventually involve issues regarding palliative/supportive care such as how to deal with one of the greatest fears Ė pain. If you and your doctor donít have the ability to communicate with each other, it is practically impossible to deal with chronic pain. You may feel that your physician is unwilling to listen or wonít believe you. You may let your physician do most of the talking during the visits. While his input is important, it is equally important that you have the opportunity and an adequate amount of time to voice your complaints and concerns in detail. You and your physician may use various techniques to make sure you both have a clear understanding of each other. One popular technique of communication is based on the the 3Rís - includes repetition (saying something again or using some of the other personís words in your next sentence), reflection (explaining to the other person what you think he means), and reiteration (summarizing the message). Your physician should be able to empathize with you. This empathy involves an understanding that it is a difficult time for you and your family and that the emotions you feel are important. Doing so helps him help you by facilitating discussion and providing opportunities for whatever support or services you might need.

While it is important that you and your oncologist communicate effectively, it is also important that the other members of your health care team communicate with each other. This exchange of information will involve your primary care doctor as well as others who may be providing care for you. Because you will continue to see your primary care doctor for other medical concerns, it is important that your oncologist provide summaries of your care to him/her. Additionally, because the primary care doctor may be involved in providing care for your family members, he/she can better communicate with them about their health.

The diagnosis of cancer can prove to be a particularly difficult situation when maintaining communication between the patient and health care provider. A two-way street of active participation is critical. This communication can have a direct impact on your treatment and your eventual outcome, including effective palliative care. You are a part of your health care team and this partnership requires a trust that can only come when each member can communicate openly and honestly with the other. While this discussion focuses on the diagnosis of cancer, it can apply to many other serious health concerns.

printer friendly page ·

"3 Rís Approach helpful in discussing cancer with your doctor"
authored by:


Dr. Fleming earned his MD degree from the University of Louisville, Kentucky, and completed his fellowship at the University of Kentucky which included an externship at the National Cancer Institute.He became a tenured professor in hematology/oncolog...