Trials, Travails & Treatment Options for Hair Loss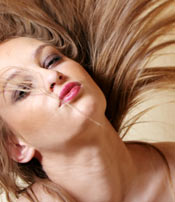 Dermatologists are the medical specialists trained to diagnose and treat hair disorders. The workup for hair loss can be involved, requiring an extensive review of medical history, nutritional and hormonal status, medications, and infectious or chemical exposures.

One of the most troubling and traumatic cosmetic problems for which patients come in for consultation to a dermatologist is alopecia, or hair loss. Hair loss can occur at different ages and for different reasons. A certain amount of hair loss is normal and programmed into the hairs' life cycle. At birth, the scalp harbors the maximum number of hair follicles it will ever have, normally about 100,000 hair follicles. This density can vary somewhat, for instance, it is somewhat higher in blonde-haired people and lower in redheads, African-Americans, and Asians. Normal physiologic scalp hair shedding is on average about 100-200 hairs per day, with substantial inter-individual and seasonal variation. Contrary to popular myth, hair numbers and growth rate are not influenced by hair cutting or shaving.



The most common pathologic type of hair loss in both men and women is androgenetic alopecia, also known as pattern baldness. The mechanism for this genetically programmed type of hair loss is partially understood and involves an increased sensitivity and activity of the male hormone testosterone in the scalp of individuals who suffer from this type of hair loss. Everyone has a certain amount of hormonally driven hair loss; where over the years the hairs cycle and grow progressively smaller in a process known as miniaturization, until the hairs may disappear completely. A proof of theory lies in the observation that males castrated before puberty do not develop androgenetic alopecia. Androgenetic alopecia looks a little different in men and women, with hair loss at the top of the scalp in both, but loss of the frontal hairline is usually seen only in men. An androgenetic pattern of alopecia may also be seen in the context of a hormonal abnormality. Therefore, a hair loss evaluation may involve blood tests for hormonal abnormalities.

Stressors such as severe illness, cancer, high fever, pregnancy, anemia, malnutrition, and eating disorders can also cause hair loss. Such hair loss, termed telogen effluvium, is due to many hairs entering resting phase in a synchronized manner, and is generally reversible, with the hair growing back to normal when the underlying stressor is removed. Typically, this hair loss first appears about three months after the traumatic event begins because it takes about this long for the resting hair follicle to fall out of the scalp. Abnormal function of the thyroid can also be a cause in this type of hair loss.


Many medications, such as chemotherapy medications, drugs for gout, blood thinners, vitamin A, birth control pills, antidepressants, and certain poisons can cause subtle or dramatic hair loss. Often in these cases, when these medications are discontinued, the hair re-grows to its previous density within a few months.

Another cause of hair loss is an autoimmune disease called alopecia areata. This disease tends to occur in individuals with other autoimmune diseases, such as diabetes. Alopecia areata tends to present with the sudden appearance of patches of complete hair loss. This type of hair loss is caused by the immune system attacking the hair and is frequently treated with serial steroid injections.

Certain types of hair loss may cause permanent scarring and hair loss of the scalp. The most common of these is known as tinea capitus, a fungal infection of the scalp that is most common among inner city African American schoolchildren. This condition must be treated with several months of oral antifungal medications in order to avoid permanent scarring hair loss. Other less common infectious causes of hair loss include the sexually transmitted disease Syphilis, which gives a 'moth-eaten' pattern to the hair loss.

Hair loss can also be caused by traumatic hair care. Traumatic brushing of hair and tight pigtails can cause breakage of hair. Years of wearing tight cornrows, hot oil treatments, permanents (commonly known as 'perms') can also cause significant long-term trauma to the hair, which may result in permanent hair loss. Avoiding these types of hair trauma is important as a preventive and therapeutic measure.

Dermatologists are the medical specialists trained to diagnose and treat hair disorders. The workup for hair loss can be involved, requiring an extensive review of medical history, nutritional and hormonal status, medications, and infectious or chemical exposures. Blood tests are helpful in eliciting the cause of hair loss. Sometimes, a scalp biopsy, a simple office procedure done under a local anesthetic, is performed in order to determine the cause of hair loss.

Just as the causes of hair loss are many, so too, are treatment options. Some hair loss resolves spontaneously, whereas others require therapy. Just as a car needs to have gas in the tank to run, certain nutritional needs are a prerequisite for the hair growth apparatus to function properly. A balanced diet is always a good starting point. Vitamin supplementation is important if there is a known relevant nutritional or vitamin deficiency, but may also be helpful in general.

Topical minoxidil, marketed under the brand name Rogaine, can help prevent androgenetic alopecia. Minoxidil allows the affected individual to hold onto the hairs he would otherwise lose by hormonal action. Minoxidil therapy may bring back about six months of hair that was lost, but will not bring someone back ten years of hair loss. Thus, it is important to instate this therapy early on in hair loss in order to achieve a maximum benefit. A common misconception is that if you use minoxidil and then discontinue it, all your hair falls out. It does not. If one uses minoxidil and then discontinues it, he /she will lose all the hairs he/she would have lost without the drug, but artificially have maintained with the drug. Minoxidil is available in formulations for men and women. For men, there is an additional option available in the form of the pill finasteride, branded as Propecia. It is a relatively safe medication, although it has been reported to affect libido. Finally, if these medical interventions fail, alternative options include altering hairstyle, scalp dye, the use of a wig, hairpiece, hair weave or hair transplantation, a cosmetic surgical procedure commonly performed by dermatologists. The important thing to remember is that if you are upset about losing hair as many people are, there are things that can be done. Seek out an evaluation and the professional advice that will empower you in addressing this very personal and sensitive issue.

printer friendly page ·

"Trials, Travails & Treatment Options for Hair Loss"
authored by:


Eve Lowenstein, MD, PhD, is Assistant Professor in the Department of Dermatology for SUNY Health Science Center at Brooklyn, where she supervises residents in training. Dr. Lowenstein is also an associate of South Nassau Dermatology PC in Oceanside a...