Be kind when calling the "doc" After Hours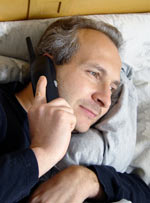 By advising you over the phone, your doctor is essentially doing you a favor. If you make that as painless as possible for the doctor, you will get better service, and both of you will be happier.

Late one night during the early days of my practice, my pager awakened my wife and me. Sleepily, I returned the call to a woman who, to my astonishment, proceeded to ask a question so routine that while it would hardly have been noteworthy by day, at that hour, it was little short of abusive. I was new to private practice, and not wishing to return the offense, I attempted to answer her question. Still, I had to ask why she had to have this information in the middle of the night. Sounding rather surprised, she replied, Oh did I wake you up? I just thought that because you were on call, you would be at the hospital. She didn't know or maybe didn't think, that if I had been at the hospital at that hour, I would have been delivering a baby or attending to some emergency, not sitting around wearing earphones like a bored night shift 800 number operator desperate for company. Most doctors can tell similar stories. For me, that one stands out after many years of experience with after- hours calls in an increasingly 24-7 world. After- hours calls are a fact of medical life. There are emergencies, of course, and there are legitimate situations that cannot wait until the office re-opens - urgent symptoms or medication questions, prescription refills (sometimes), and even the need for simple reassurance. It is usually not difficult for a doctor to understand why a patient has called after hours, and most patients do not abuse the privilege. In fairness, doctors and their practices help create the problems that exist with after-hours calls by having confusing answering machine menus and maddening waits. Front office staffs with bad telephone manners and faulty inter-office message relay systems vie with doctors who drag their feet responding to the messages paint an overall picture of poor service to daytime callers. Such things discourage all but the most persistent while encouraging many others to take their chances after hours. Harder to fix is the reality that the medical world functions best during the daytime on week days, and has not fully caught up with a larger world on a more extended schedule. Except in seriously overtaxed emergency rooms, doctors (after hours) are either off call altogether, or potentially quite busy caring for patients they may not know well since those patients see other doctors during "normal hours." Such times may not be especially convenient for a doctor who doesn't know you to speculate whether Cousin Gertrude's recent rash poses any threat to your baby. From long experience, I have developed the following list of suggestions for avoiding common pitfalls of calling doctors after hours. Much of this list may seem common sense, but you might be surprised. I know I have been.

Tips on calling the doctor after hours


Find out what your doctor's policies are regarding after- hours calls. Do you go through an answering service that also serves other practices? Who would normally return your calls, and in what time frame? How often and when is your own doctor on call, and is it possible to speak with her or him? Must calls be confined to true emergencies, or can less urgent matters be discussed after hours? Are prescription refills available – or not? Is there a charge for telephone services?



If you think you have a true medical emergency…chest pain, difficulty breathing, sudden loss of vision, new onset paralysis, serious bleeding, or severe injury, you probably should call 911 first. Doing so may save precious time. In most such cases, your doctor will advise you to go to the hospital anyway. Call the doctor only after you have taken the necessary first steps.



Don't call after hours about non-clinical matters such as billing, insurance, referrals, or appointments, unless leaving a voice mail message for the staff would do. Chances are, any doctor you might reach cannot help you, and should not be relied on to relay messages, especially when annoyed.



If you think you need a prescription called in, have ready the phone number of the pharmacy you plan to use. I would like to have back the hours I have spent listening to the riffling of the Yellow Pages when I ask for the pharmacy number. It also helps to be sure the pharmacy is open when you call the doctor because he may get busy during any delay. I still remember the person who called one Sunday for a tranquilizer for his wife; he not only didn't have the number of a new pharmacy he wanted to use (which turned out to be closed), but expected me to call directory assistance to get it.

If the prescription you need is a controlled substance – most tranquilizers, sleeping pills, and narcotic pain medications - be aware that a common ploy of prescription drug abusers is to call after hours claiming to be a patient of an off-call doctor. For this reason, many practices refuse to call in such prescriptions after hours. Sometimes, prescriptions really are lost or stolen, dropped in the toilet, or eaten by the dog. If you must call a doctor who doesn't know you, don't be surprised or offended if he/she seems a little suspicious of you. Also, be aware that certain drugs require a written prescription and cannot simply be called in. That's the law.



If you do succeed in reaching your own doctor after hours, do not assume he or she has all the facts readily available. Unless her practice is electronic, your chart is probably locked up in the office, and unless she knows you well, she may be racking her brain as she talks with you, trying to remember which of several Doris Smiths you are. Help her by refreshing her memory about when she last saw you and for what.



Remember that most doctors have (or would like to have) a daytime schedule. That's often not possible in their chosen profession, but patients can help, and in the process improve the service they themselves get after hours. The slightest acknowledgment that the doctor is a fellow human being can uplift the whole tone of an after-hours medical encounter. Speaking for myself, I will do almost anything for a caller who begins by saying, "Dr. MacIvor, I'm sorry to bother you at this hour, but…"



Finally, remember that, unlike lawyers, doctors still don't usually charge for telephone services. (Those who do charge have been overwhelmed). By advising you over the phone, your doctor is essentially doing you a favor. If you make that as painless as possible for the doctor, you will get better service, and both of you will be happier.



Publisher's note – Think about this
In most cases, when you call your attorney at night or after hours, you will not get to talk to him/her. However, you WILL get a bill from your attorney for listening to your message, if you leave one. When have you EVER received a bill from your physician for waking him/her in the middle of the night and having him or her save your or your loved one's life with a phone call?



printer friendly page ·

"Be kind when calling the "doc" After Hours"
authored by:


Dr. MacIvor's medical career has been punctuated by other endeavors, including a tour of duty as medical officer on a nuclear submarine shortly after passing his board examinations in OB-Gyn. Following a long stint in private practice gathering the ...