Are you protected?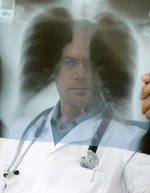 Each year, in the United States, approximately 65,000 deaths are attributed to pneumococcal disease, and that number is on the rise.

Fall has come and gone and you have probably already received your annual flu shot. This vaccination will protect you against the flu virus, but what about other illnesses such as pneumonia? Did you know that there is a vaccine to help protect you from pneumococcal disease...the bacteria that cause pneumonia? Did you know that older Americans, who get the flu, are also prone to getting pneumonia? Did you also know that those who have a preexisting condition such as heart disease, lung disease, or diabetes are more likely to get pneumonia? Here are some sobering statistics:
Each year, in the United States, approximately 65,000 deaths are attributed to pneumococcal disease, and that number is on the rise. Ninety percent of the deaths caused by pneumococcal disease occur in those Americans who are 65 years of age or older. This segment of the population is fast growing, so these numbers are expected to increase. Moreover, of those who die, one-half to two thirds were hospitalized within the previous five years, but were NOT vaccinated, and two-thirds saw their MD's as outpatients within the last year, but were NOT vaccinated!



Good news about the vaccine:
It is not a "series." One dose and you are done.
It reduces the risk of invasive pneumococcal disease by 60-70%.
It can be given subcutaneously (right under the skin) or intramuscularly (into the muscle) which is usually much less painful.
A single lifetime administration of the vaccine is sufficient for most patients.
It can be given at the same time as the flu vaccine, so if you haven't obtained your flu shot yet, ask about getting the "pneumonia" shot as well.
Causes
Pneumococcal disease refers to a group of infections caused by the bacteria, Streptococcus pneumoniae. There are 90 known forms of Streptococcus pneumoniae, so these bacteria can manifest as several different types of infections. These infections range from noninvasive otitis media (a common ear infection in children) and sinus infections to pneumonia and even bacterial meningitis. Those at highest risk for the disease are those over 65 years of age, children less than two years of age, people who have preexisting chronic conditions, HIV or AIDS, and those who have had their spleen removed.

Symptoms
General signs and symptoms of pneumococcal disease can include fever, shaking chills, headache, shortness of breath, productive cough, confusion, vomiting, sleepiness, and stiff neck, to name a few. However, these symptoms may vary based on the location, in the body, that the bacteria invade. The symptoms typically develop quickly over a period of hours, approximately one to three days after exposure. Pneumococcal disease spreads from person to person through air droplets from coughing, sneezing, or close contact. Once in the body, the bacteria can attack the lungs, but can also attack the ears or even invade the bloodstream. Unlike influenza, the pneumococcal disease threat is year round, although it is most common in winter and early spring. Annually, pneumococcal disease costs the U.S. health care system an estimated $1.5 billion.

Who should receive the vaccine?
People in the high-risk group, as outlined above, for pneumococcal infection, AND people over the age of 65 (even if healthy) should be vaccinated with the 23-valent pneumococcal polysaccharide vaccine. If five years have passed since the original dose, and the vaccine was received prior to turning 65, revaccination is warranted.

printer friendly page ·

"Are you protected?"
authored by:


Tamara Dulin, R.Ph., is a registered pharmacist with Nightingale Home Health Care in Carmel, Indiana. A 1991 graduate of Butler University College of Pharmacy, she has spent the majority of her career in consulting. She is a past president of the Ind...