Deep in the Heart of TEXAS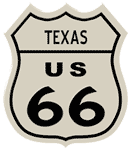 The fact that such classic hearth-and-home maxims have endured though the ages confirms their essential truth. Have you considered adopting a 'home-centered' American approach when planning your travel itineraries? In a day and age when many tourists are contemplating the advantages of domestic travel, Radius is presenting a brand new series. For the next several issues, our travel feature will focus on tried and true destinations within the U.S.A. as we discuss the highlights and how-to's of traveling 'at home' in America – one unique state at a time. In this issue our introductory stateside journey takes us to Texas…
Texas in a Heartbeat
No matter how you size it up, Texas is a BIG, friendly state that offers a wealth of experiences for visitors. A trek across Texas' 267,277 square miles brings you face to face with all kinds of natural wonders, from tumbleweeds, wildflowers, deserts, and cedar forests to angular canyons, rivers and sandy beaches with sea-green surf.
Keep in mind that Texas presents plenty of manmade attractions too. There are historic landmarks, bustling marketplaces, wineries, museums, and neatly landscaped golf greens. You can catch a glimpse of the "Wild West" at cattle ranches and rodeos or immerse yourself in the authentic traditions of Hispanic and German cultures, among others.
The most pressing dilemma for many Lone Star State tourists is, "Too much Texas, too little time!"
Too Good to Miss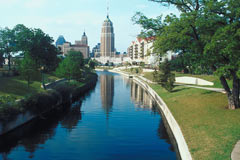 San Antonio is a simmering jumble of complementary contrasts
Like a pot of slow-cookin' Texas chili, San Antonio is a simmering jumble of complementary contrasts. From the infamous Alamo mission and modern River Walk to the Mexican marketplace, Fiesta San Antonio, ethnic music, and international cuisine - this city sizzles.
Every Texas tourist should see a real RODEO. Each autumn, Amarillo's Civic Center hosts the Working Ranch Cowboy Association's World Championship Ranch Rodeo. Real-deal cowboys and cowgirls compete in contests like wild cow milking, branding, and penning. And there are exciting daily rodeo performances, Ranch Horse Show, and cowboy-themed art, music, and poetry events that shouldn't be overlooked.
You probably know that the "Space City" of Houston is home base for NASA and Johnson Space Center, but are you aware that Houston's Livestock Show and Rodeo (held each February and March) is the largest such event in the world?
Out of the Way but Worth the Trip
In southwestern Texas' Big Bend Country, Odessa's Meteor Crater is the second largest such phenomenon in the U.S.A. Measuring 550 feet across, the crater is believed to be the result of a blitz of meteors that plummeted to earth more than 20,000 years ago.
In the southwestern region's Chihuahuan Desert near Presidio, Big Bend Ranch State Park invites aspiring cowhands to its annual autumn Cattle Drive. Participants help drive a herd of Texas Longhorns and complete traditional wrangling skills. Genuine chuck wagon meals and starry nights on the open range with cowboy musicians and poets are part of the adventure. Observations of Marfa's Lights, a mysterious spectacle of unknown origin in western Texas' night skies, have been reported and recorded for more than a century. The puzzling lights move, twinkle, change color, disappear, and reappear as they continue to fascinate modern-day observers. For prime views of Marfa's lights, park in the designated roadside area nine miles east of town, facing the Chinati Mountains.
Bracketville's Alamo Village in central Texas is a permanent outdoor movie set originally constructed for the filming of John Wayne's 'The Alamo' (circa 1959). The village contains a mock-up of the Alamo mission within a full-scale reproduction of an 1800's western town. More than 200 movie and TV films have been staged there, with stars like Jimmy Stewart, Robert Duvall, Sissy Spacek, and Tommie Lee Jones. Village visitors can explore the movie set and John Wayne Museum or mosey into the Cantina for some barbecue. Be sure to listen to country western tunes, strut your stuff at a barn dance, and watch a gunslingers' shoot-out before you saddle up to ride out of town.
Lyndon B. Johnson National Historical Park is located in Johnson City and Stonewall - in central Texas. You can see the rural childhood home of the late president and stroll around his grandfather's 1800's cattle ranch, then take a guided bus ride through the LBJ Ranch, where Hereford steers, turkeys, and springtime flowers enliven the scenery. While in the area, attend tours and tastings at the Texas Hills, Becker, and Grape Creek Vineyards Wineries.
Austin's Congress Street Bridge goes batty every evening when more than a million bats emerge from a good day's sleep into Austin's urban nightlife. The Old Wildlife Tunnel near Fredericksburg is another hot spot for routine sightings of millions of emergent bats and Bracken Cave outside San Antonio reportedly houses more than 20 million such critters!
Texas Outdoors
On-and-Off-Beat Texas Trivia
State Capital
Motto
Flower
Plant
Tree
Bird
Fish
Small Mammal
Fruit
Seashell
Established Statehood

Austin
Friendship
Bluebonnet
Prickly Pear Cactus
Pecan
Mockingbird
Guadalupe Bass
Armadillo
Texas Red Grapefruit
Lightning Whelk
December, 1845

In the town of Canyon in northwest Texas, Palo Duro Canyon State Park displays a 120-mile-long Red River gorge known as the 'Grand Canyon of Texas.' Hiking, horseback riding, and cowboy cookouts are popular park pastimes. During the summer season, learn about the state's pioneer heritage at an outdoor sunset production of 'Texas,' a captivating musical drama.
Padre Island National Seashore, south of Corpus Christi on southeast Texas' Gulf Coast, preserves the world's longest remaining undeveloped barrier island. Favorite activities on the park's 80 miles of shoreline include swimming, bird watching, saltwater fishing, sea turtle hatchling observations, and beachcombing for seashells and driftwood.
Just north of San Antonio in south-central Texas, Natural Bridge Caverns encompasses more than 10,000 awesome cave formations in expansive underground chambers that may be seen on guided tours. While you're there, be sure to pan for rubies, emeralds and other gemstones at Natural Bridge Mining Company.
Fishing enthusiasts can drop a line in one of 90 freshwater lakes or saltwater bays throughout the Lone Star State. Try casting for bass, fly-fishing for rainbow trout, or snagging a sailfish in the Gulf of Mexico. Texas' waters are a win-win-win proposition for anglers.
For the Birds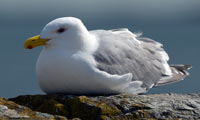 This year alone, local birders spotted 247 feathered species, including a rare arctic Glaucous Gull and a Green Jay from South America
The American Birding Association says Texas is the top state for bird watching and the Audubon Society has designated Corpus Christi as 'America's Birdiest City' for five years running (or is it flying?). This year alone, local birders spotted 247 feathered species, including a rare arctic Glaucous Gull and a Green Jay from South America.
The Great Texas Coastal Birding Trail spans Gulf shores from Beaumont to the Rio Grande Valley. The trail offers promising views of birds from boardwalks, platforms, and specially landscaped points at more than 300 sites. The World Birding Center (WBC) headquartered in Mission is another feather in Texas' birding cap. WBC covers nine diverse sites spanning 120 miles of Lower Rio Grande territory, from Roma in the west to South Padre Island in the southeast. More than 500 species - including the likes of Altamira Orioles and Plain Chachalacas - have been spotted in the region. In addition, the WBC's wide-ranging habitats and assortment of trails, towers, blinds, and boardwalks add color and interest to any birding expedition.
Another unique birding locale is Aransas National Wildlife Refuge, south of Matagorda on the state's mid-coastline. North America's aptly named tallest, noisiest birds, endangered Whooping Cranes or 'whoopers,' migrate from their Canadian breeding grounds to spend winters on Aransas' salt marshes. Lucky refuge visitors see and hear the rare cranes displaying mating rituals – head-bowing, high-stepping leaps on spindly legs and distinctive whooping cries.
Tee-Time
Golf, anyone? The great state of Texas contains more than 900 public, private, and resort golf courses planned by fine designers such as Robert Trent Jones, Arnold Palmer, and Tom Fazio. Be prepared to meet celebrity golfers out on the greens because big winners like Lee Trevino, Nancy Lopez, Byron Nelson, and Ben Hogan (to name a few) call the Lone Star State home.
What's Cookin' in Texas?
Chili is Texas' official state dish and there's no shortage of spicy variations served at statewide restaurants, festivals and chili contests. Since 1967, the granddaddy of chili events - the International Championship Chili Cook-Off – has been staged each November in Terlingua at the tip of southwest Texas near Big Bend National Park.
Consumption of Steak is another unshakeable Texas tradition, so a visit to Amarillo's Big Texan Steak Ranch (to see if you can eat the entire free 72-ouncer) is almost mandatory.
A Texas vacation is not complete without wood-smoked barbecue (BBQ) and there is a designated BBQ Trail through the center of the state to prove it. Start your BBQ binge north of Austin in Round Rock and don't stop ordering ribs, beans, potato salad, and briskets until you hit the end of the trail in Luling.
The joys of Tex-Mex cookery – fresh tortillas with melted cheese, salsa, beans, and rice - are best tested from San Antonio on down to the Mexican border.
Tour the coastal locales of Galveston, Port Aransas, Corpus Christi, and South Padre Island for your fair share of fresh seafood delights like swordfish, snapper, shrimp, and crabs.
To learn more about Texas travel opportunities, visit www.TravelTex.com; or phone (800)8888-TEX.

We invite Radius readers to share suggestions about unique, quirky, or out-of-the-way places to visit (locales, restaurants, landmarks, attractions) in your home state. Please e-mail your ideas to Paula Loehr, Radius Travel Columnist at travel@radthemag.com.

printer friendly page ·

"Deep in the Heart of TEXAS"
authored by:


Paula Loehr, R.N., B.A., worked in the fields of community health and nursing education, and was a school health nurse at the elementary, secondary and collegiate levels before becoming a fulltime journalist. Her writing specialties include family tr...