DOG FIGHTING, It's about Voilence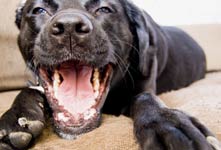 Today, it may be geese, tomorrow it's a dog, and the next day it may be a friend they could beat up side the head.

Dog fighting isn't about race, income, or culture; it's about violence," says Chicago community activist Melia Carter A new coalition of Chicago community leaders, the police, city officials, elected officials, and leaders of the faith-based community have all teamed with local humane and animal rights groups to create an initiative called Safe Humane Chicago.

Chicago Alderman, Walter Burnett says this group together "gets to the heart of the problem of dog fighting."

"It's about getting to kids before the gang bangers and other criminals do," says Cynthia Bathurst, executive director of the Dog Advisory Work Group, and (with Carter) is a co-founder of Safe Humane Chicago.

Marie Belew Wheatley, president and CEO of the Denver based American Humane Association says Safe Humane Chicago could be a national model. "When we teach empathy, the kids aren't learning violence. This initiative is about dogs; it's about kids – but moreover it's about community."

"Bottom line, these (dogfighters) are always violent offenders; they are criminals often also wanted on gambling, weapons, and/or drug charges," adds Chicago Animal Crimes Unit Officer Thomas Barker.


Crimes trickle down, to other areas in the community, even to nearby communities. Burnett says one of those crimes directly related to dog fighting is dognapping. "I have a small dog and I have a larger dog. The larger dog is a pit bull that is as sweet as can be, and I am worried about both them being stolen and used for fights. I had a neighbor who had a Rottweiler stolen that was never was violent but kids stole him to fight with other dogs."

Brendan Reilly, also a Chicago Alderman, agrees that crimes you might not think are related to dog fighting indeed may be. Robberies, for example, may be a way to get the money to gamble on a fight.

The only culture common among dog fighters, according to Carter, is the culture of violence. So, a goal of Safe Humane Chicago is to intervene, and prevent children – in particular – from getting involved in dog fighting in the first place. The goal is to teach an alternative to violence.

Reverend Dr. Walter Johnson, an influential religious and community leader in Chicago is minister at the Wayman African Methodist Episcopal Church, as well as the executive director of the Alliance for Community Peace and a member of the Safe Humane Chicago Advisory Committee. "Of course, I believe we can come together as a community and make a difference. It's a matter of education." Johnson concedes that until recently, even he never fully understood the link between animal cruelty and violence to people.

There are numerous studies which illustrate this link is real. A study by the Massachusetts Society for the Prevention of Cruelty to Animals and Boston's Northeastern University showed those who attend dogfights and witness other forms of animal cruelty are five times more likely to commit violent crimes against people.

"In Chicago, data shows that 70 per cent of dog fighting and animal abuse offenders have also been arrested for violent felonies against people," says Bathurst. "And 86 per cent of those who have committed crimes against animals have been arrested for multiple violence offenses."

Perhaps more graphic than statistics are real-life examples: Burnett says some kids in his ward recently killed geese and ducks for no obvious reason, except the 'thrill.' He says, "These were little itty bitty children, and seeing blood and killing God's creatures didn't bother them. Obviously, they have previously been exposed to violence. Today, it may be geese, tomorrow it's a dog, and the next day it may be a friend they could beat up side the head."

So, the idea behind Safe Humane Chicago is to expose kids to humane treatment of canines by using calm, trained examples of what most of the dogs in America really are. Trained handlers bring dogs to visit community centers, churches, schools, and other venues to demonstrate how to approach a strange dog, and how dogs learn through motivation rather than intimidation or force. Carter says most kids in the program previously never had a positive experience with dogs, "So they're terrified when we first bring in these well-trained dogs. But by the end of the program – everyone wants to pet the dogs."

Chicago's planning for the Safe Humane initiative began well before Michael Vick's problems, although Carter concedes, "I'm glad people are paying attention, and now the media and public see dog fighting for what it is – and just how prevalent it is."

"Educating the public and raising the awareness of cruelty towards animals can ultimately prevent many of the crimes that are a direct result of this violence," adds Interim Chicago Police Superintendent Dana Starks. "We encourage law enforcement agencies across the country to examine this newly formed partnership so their communities are aware of the potential risks and dangers,"

printer friendly page ·

"DOG FIGHTING, It's about Voilence"
authored by:


Steve Dale is certified by the International Association of Animal Behavior Consultants. He's the author of "My Pet World," a syndicated newspaper column (Tribune Media Service), and he the host of syndicated Steve Dale's Pet World and the Pet Minute...