Illinois in a Heartbeat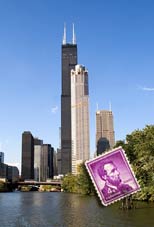 'The Land of Lincoln' offers an inviting mix of big city glitz, natural marvels, and small town charms. From Chicago's skyscrapers and Wrigley Field to the bubbling cascades at Starved Rock State Park to Collinsville's super-sized catsup bottle and Galena's historic homes, the great state of Illinois entertains travelers in a million wonderful ways.
Too Good to Miss
Wrigley Field, home base of the Chicago Cubs baseball team, hails back to 1914. The legendary park was named in honor of William Wrigley, Jr., an entrepreneur of chewing gum fame who bought the Chicago Cubs team in 1926. Unique features like a manually operated scoreboard and ivy-covered walls set Wrigley Field apart from other ballparks. Visitors can take one of Wrigley's special 90-minute tours to gain behind-the-scenes admission to the dugouts, bleachers, press box, and players' clubhouse.
Ravinia Festival in Highland Park (north of Chicago) hosts a summertime series that showcases performing artists in a 36-acre woodland setting. Ravinia presents a grand variety of acts, from the Chicago Symphony Orchestra, pop, and rock musicians to professional dance ensembles and special children's events. Attendees sit in a covered pavilion or under an open sky on the grassy green lawn. Leisurely picnics are the rule at Ravinia Festival.
Out of the Way but Worth the Trip
The Baha'i House of Worship in Wilmette (north of Chicago) counts as one of just seven Baha'i temples throughout the whole world. With its big ornamental dome, nine imposing columns symbolizing major worldwide religions, and luxuriant green gardens with calming fountains, the temple welcomes people of all faiths for contemplation and prayer.


The town of Woodstock in northeastern Illinois is the self-proclaimed Groundhog Day Movie Town

The town of Woodstock in northeastern Illinois is the self-proclaimed Groundhog Day Movie Town, a place where you can visit many of the actual locations where scenes from the Bill Murray/Andie MacDowell comedy were filmed. Upon your arrival in Woodstock, stop by the Chamber of Commerce for a complimentary map that notes local Groundhog Day attractions.
Antique car buffs should set their sights on northern Illinois' Volo Auto Museum in the village of Volo. Where else can you browse through five indoor showrooms filled with hundreds of collectible automobiles, muscle cars, military vehicles, and famous Hollywood autos such as the original Batmobile? Volo's 30-acre site also contains a string of mega-size antique malls, a food court, Straw Market stocked with gift items and local artists' wares, and a Mercantile that boasts the Midwest's most extensive assortment of die-cast cars.
Plan to spice up your tour of southwestern Illinois by driving south of Collinsville on Route 159 to see the 'World's Largest Catsup Bottle. Spectators encounter a restored 170-foot- high water tower that was erected in 1949 in honor of a nearby catsup (better known nowadays as ketchup) bottling plant. In 2002, Collinsville's towering red landmark earned a spot on the National Register of Historic Places.
The charming town of Galena in Illinois' northwest corner is tops with travelers who favor historic tours. Galena offers inside looks at several 1800's-era buildings, such as the home of the 18th U.S. President, Ulysses S. Grant. You can buy stamps at a 19th century limestone Post Office, tour the vintage Blacksmith Shop or the Old Stockade, or take a peek at the unique mosaic fireplace at the Greek Revival-style Public Library. Chase ghosts on narrated walks, stroll through vineyards, ski at local resorts, or bird watch on the Mississippi River. Galena also offers plenty of ways to maneuver around town – from horses, carriages, and trolleys to high-flying ski lifts and hot air balloons.
Illinois Outdoors
Take a hike, fish, camp, row a boat, or board a narrated trolley tour at Starved Rock State Park near Utica in northern Illinois. An extensive network of trails affords visitors outstanding views of the abundant forests, canyons, sandstone bluffs, and tumbling waterfalls that grace Starved Rock's variable landscape.
You can learn about western Illinois' Native Americans at Black Hawk State Historic Site in Rock Island on the Rock River. The site's Hauberg Indian Museum features artifacts from the Fox and Sauk tribes that lived in the area thousands of years ago. Today's visitors can see a tomahawk once used by the legendary warrior Black Hawk or enjoy a stroll and picnic lunch on the shores of the Rock River. While you're visiting the site, be sure to check out the abandoned coalmine and observe local feathered species through the big picture windows at the Singing Bird Nature Center.
Southern Illinois' Rend Lake is tops for a full complement of water sports and beach-related fun plus hunting, biking, horseback riding, and golfing. At Rend Lake, you can also view and purchase the work of 850 of the state's finest artists at the Southern Illinois Art & Artisans Center.
The central Illinois' town of Monticello is the home of the 1,500-acre Allerton Park and Retreat Center, a favorite spot for birdwatchers and cross-country skiers. In addition to experiencing the natural wonders of Allerton's forests, be sure to take a stroll through the park's fabulous, formal gardens, which are bedecked by more than 100 custom-designed sculptures, including fascinating likenesses of Chinese musicians, a Fu Dog, and a centaur.
On-and-Off-Beat Illinois Trivia
State Capital
Nickname
Slogan
Motto
Flower
Tree
Bird
Fish
Animal
Amphibian
Insect
Reptile
Dance
Mineral
Fossil
Established

Springfield
Prairie State
"Land of Lincoln"
"State sovereignty, national union"
Purple Violet
White Oak
Cardinal
Bluegill
White-tailed Deer
Eastern Tiger Salamander
Monarch Butterfly
Painted Turtle
Square Dance
Fluorite
Tully Monster
December 3, 1818

Tee-Time
Golf, anyone? Grab your clubs and swing your way through the Southern Illinois Golf Trail. It encompasses five distinctive, scenic Golf Clubs – Crab Orchard, The Gambit, Hickory Ridge, Kokopelli, and Stone Creek. All five Trail courses are located in the general vicinities of Carbondale and Marion, bordered by the splendid Shawnee National Forest.

What's Cookin' in Illinois?
Portillos' Hot Dogs' numerous award-winning locations throughout Illinois serve tasty hot dogs with plenty of pizzazz – tomatoes, onions, relish, peppers, chili, cheese, and kosher pickles.
The chefs at Orange's Harrison Street location in Chicago whip up fabulous brunches including juice blends of your choice, imaginative pancake 'flights,' steak with eggs Benedict, and a "frushi bar" brimming with fresh fruit, citrus-flavored coffee, and green tea.
Also in Chicago, De La Costa serves up new wave Latin specialties with lots of succulent shrimp, fresh tomatoes, avocados, olives, frosty mojitos, and chocolate mousse desserts to die for.
Hackney's in the town of Glenview (north of Chicago) is known for award-winning hamburgers served between slices of dark rye bread. Be sure to order Hackney's signature French Fried Onion Rings on the side.
Grafton in southwestern Illinois is the proud home of O-Jan's Fish Stand where the catfish tucked into your sandwich was just caught from the Mississippi River.


To learn more about Illinois travel opportunities, visit enjoyillinois.com; phone (800) 226-6632.
We invite Radius readers to share suggestions about unique, quirky, or out-of-the-way places to visit (locales, restaurants, landmarks, attractions) in your home state. Please e-mail your ideas to Paula Loehr, Radius Travel Columnist at travel@radthemag.com.

printer friendly page ·

"Illinois in a Heartbeat"
authored by:


Paula Loehr, R.N., B.A., worked in the fields of community health and nursing education, and was a school health nurse at the elementary, secondary and collegiate levels before becoming a fulltime journalist. Her writing specialties include family tr...