Phyllis Diller - Life is fun
"Everybody should enjoy a joke a day, laugh frequently, and smile lots," says the delightful Phyllis Diller. Perhaps it is this advice that has contributed to her own longevity, as she prepares to celebrate her 90th birthday in July 2007.
---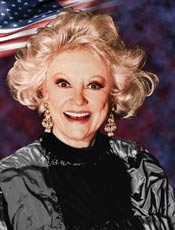 I could not resist asking if she had other health secrets that she could share, to which she was quick to respond, "Eight glasses of water per day, no smoking, and plenty of sleep…eight or more hours. Let your body tell you…listen and talk to it. If I get a pain in my foot, I talk to it and the pain goes away."

Ms. Diller, an irrepressible woman with an outrageous laugh, is recognized as the leading female standup comic in the world today. She has starred on television, in movies, and on the stage, and has headlined in venues all around the world as a professional comic.



Urged by her husband Sherwood, Ms. Diller prepared a nightclub act, based on skits that she performed for the PTA, and set out to sell her idea. She received a booking into San Francisco's Purple Onion on March 7, 1955. The club booked her for two weeks, but audiences liked her so much she stayed for 89. She then polished her act, developed the housewife and daily life routines, and took the act on the road. In a scant five years, she appeared in Carnegie Hall. During her career, she has worked with some of the all-time greats, including Bob Hope, Ed Sullivan, Jack Parr, Dean Martin, and scores of others. Once when she accompanied Hope to Vietnam for a Christmas show, he told the audience that the war would have been over in three days if Phyllis had cooked for the enemy.

Though most people remember Phyllis for her comic routines that put down her husband Fang, her wild hairdos and wardrobe, a mile-long cigarette holder, and of course, that distinctive laugh, many fans may not be aware that Ms. Diller has other accomplishments. For example, she has appeared as a piano soloist with over 100 symphony orchestras in the U.S. and Canada. Audiences have acclaimed her interpretation of such works as Beethoven's Concerto #1 and various works by Bach. Her piano virtuoso name was Dame Illya Dillya.

She is also a writer and has had four best-sellers to her credit. She is in fact promoting her latest book, by Richard Buskin, Like a Lampshade in a Whorehouse, a title that she does not like. "I let them talk me into this title, but it was a terribly grave error. The title turns people away. My comedy has always been clean. I had a rule that it had to be appropriate for the three year old as well as 103 year olds."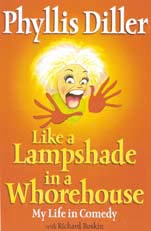 From housewife to humorist, Phyllis Diller has been making millions laugh for five decades with her groundbreaking comedy. However, her life has not been without its own set of hardships. In her book, "Like a Lampshade in a Whorehouse", readers get a glimpse of not only the humorous side of the beloved Diller, but the life version as well. The book, authored by Richard Buskin is available in most bookstores and on Amazon.com.

Despite the book's unusual title, it really is a good read. It is Ms. Diller's own story about the struggle and the pain behind her comedy and her success: her Depression-era adolescence; her marriage to a chronically unemployed first husband; the desperate attempts to stave off poverty as a professional comic while raising five children; the disastrous club engagements that coincided with homelessness and separation from her young family; and the problems that clouded her stage and screen success when a second marriage unraveled because of her new spouse's alcoholism and inner demons.

Ms. Diller is also featured in a documentary that debuted last December, "Good Night, I Love You," which is a play on her signature farewell line. The film intimately captures her press conference, rehearsal, and candid conversations in her dressing room prior to taking the stage for the very last time. This historical and hysterical farewell performance acts as the thread for the film, proving why her talents have endured for decades and resulted in a worldwide loyal fan base. During the film, she opens her heart and her home as she takes audiences on a private guided tour of her beloved estate.

So there we have it. A comedian, a film star, a writer, and a concert pianist; surely, this is the extent of this remarkable woman's talents, but not so. She is equally talented as a painter. "I really enjoy my art, and I think it is blossoming," she says proudly. After seeing a sample, I agree. I can only hope that at age 90 I can still hold a brush let alone create something beautiful with it. She is also a classic car buff. She owns a custom-made Checker Wagon, circa 1967; and Excalibur 1927 Mercedes Phaeton (red); a 1959 Silver Cloud Rolls Royce; and a 1971 Mercedes Sedan (SL200). You might wonder how one person could achieve so much; the answer is simple-- Ms. Diller is a woman who sets goals.



"Goodnight, We Love You", Ms. Diller's standard closing of her routines, is a film that chronicles her final stand-up comedy performance. Ms. Diller retired in 2002 after 47 years in the entertainment business. During the film she opens her heart and her home for the viewers…including her famous wig room. The film won the Audience Choice-Best Documentary award at the 2004 San Diego Film Festival. More information about the CD is available at info@GoodnightWeLoveYou.com. Fans can find additional information about Ms. Diller at phyllisdiller.blogspot.com.

"You have to set goals. You wouldn't go to the grocery store without a list because you would come back with candy bars and olives," she insists and punctuates it with her contagious laugh. "I always kept a notebook where I pasted pictures of things I wanted. One time I really needed a car, so I pasted a picture of a car in the notebook and looked at it every day. Now I have five cars. One time when I was between guys, I put in a picture of a man and soon, I began a ten-year romance with the most wonderful guy. Without goals and beliefs, how are things going to happen? You have to use your brain for more than just ordering breakfast!" she concludes.

Ms. Diller resides in a large, English-style home in Brentwood Park, Los Angeles. She has assistants who are kept busy with correspondence, travel arrangements, and thousands of requests from fans. "The place used to be haunted," she says, "but the ghosts haven't been back since the night I tried on all my wigs."

After 47 years in the business, Ms. Diller has finally hung up her wigs and sequins but certainly not her life, as clearly demonstrated by her artwork and various activities. For many years she has "rolled 'em in the aisles" with jokes about her figure (or lack thereof), the attempts of medical science to make her more attractive, her sex life with her mythical husband Fang, her face-lifts, her mother-in-law, and her next door neighbor. There was seemingly no particular order to her zaniness but, simply stated, she was always funny. Indeed it is good to heed Ms. Diller's advice for a joke a day… I just want her to be the one telling it.

printer friendly page ·

"Phyllis Diller - Life is fun"
authored by:

Patricia Kirby brings several years of journalism, editing, and publishing experience to Radius magazine. She is a published writer and former co-editor of Hoosier Outdoor magazine, with a distribution throughout the mid-west. Patricia is also a form...