Betty White's love affair with animals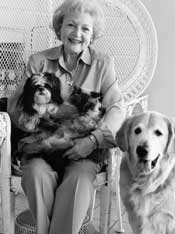 It was my dream job, coming to work, and having animals as my co-stars.

How beloved is Betty White? In a telephone interview, I suggest her neighbors stand and applaud as she walks by, and that she must get a standing ovation in the fruit section of her local supermarket. "Not true, but you should see what happens when I buy meat," says the 84 year old comedic actress. "I've just been around forever, that's all it is."

The second she appears from backstage and the audience gets a glimpse when she's on "The Tonight Show" with Jay Leno or with Ellen DeGeneres on "Ellen," they jump to their feet, and the applause is thunderous. Again, she deflects the compliment, "You know they've been sitting for so long, it feels good to get up," she pauses. "Well, at least they recognize me."

Indeed, Betty White's career pretty much parallels the history of TV. It began with a long forgotten but relatively successful show in the 1950's called "Life with Elizabeth," which she starred. In the 1960's, there were countless appearances with her late-husband Allen Ludden on "Password." A decade later, a whole new generation discovered White as happy homemaker Sue Ann Nivens on "The Mary Tyler Moore." Equally as recognizable was the Rose Nyland character from the 1980's on "The Golden Girls." And after a single guest shot on "Boston Legal" last season, producers wanted more, and she's been back for many episodes since in a recurring role as the calculating gossip mongering Catherine Piper. "She's (Catherine Piper) so much fun to play," says White. "She's not the nicest lady in the world. She commits murder and gets away with it. White chuckles and then adds, "Sue Ann, well she was, let's call her the neighborhood nymphomaniac. My favorite has to be Rose. I don't know; I just liked her optimism. We get so much negative these days; it's great to play positive."

However, she maintains her favorite program wasn't a sitcom; it was a show that lasted only about a season, back in 1970, called "The Pet Set." Most of America is aware of White's love affair with animals. "It was my dream job, coming to work, and having animals as my co-stars. We'd invite a celebrity friend who would bring in his or her pet for an interview. Then, the pet would be excused, and we would bring in other animals. Everybody thought we would have accidents all over the stage. That wasn't the case at all, and the cameras would get close up so that we'd all see these magnificent creatures."

Of course, "The Pet Set" pre-dated entire cable networks, such as the National Geographic channel and Animal Planet, which are now devoted to animal programming.


| | |
| --- | --- |
| "Look what we learned about our pets when Hurricane Katrina happened. America saw what pets mean to families. The tragedy somehow was not quite as awful when people were holding onto their cats or dogs. In some cases, that was all they had left in the world. But they were somehow better because they were with their beloved pets." | |
"Have you ever come face to face with a water buffalo?" she asks. "Anyone who works with animals can tell you how dangerous they are. Once I had this water buffalo on the show, and I began to scratch his ear. He liked it. It was a lovely moment. Then all of a sudden he turned, and he, he, he," she pauses uses her still perfect comic timing. "He gave me, a big wet kiss. If you haven't been kissed by a water buffalo, you haven't lived."

At around that same time, White began her relationship with the Morris Animal Foundation (MAF), which she continues to this day. The MAF funds humane animal health studies to advance veterinary medicine. "Oh, the research has done so much, from helping develop the vaccine for feline leukemia to funding research for the mountain gorillas (the same gorilla troupes Dian Fossey studied in Rwanda)," cheers White. "We're very proud of the work the Morris Animal Foundation has made possible by funding these talented young researchers."

The good news is that under the watch of the MAF and others funding the Rwanda Mountain Gorilla Program, the number of great apes has increased from just over 200 (which represented their number just a few years ago) to currently just under 1,000.

White believes she was born caring for animals. "I probably did begin way back in the womb," she says. "My mother was just as bad as I am. I was the lucky little kid who had parents who would bring home an animal and say, 'Oh Betty, we found it; can we keep it?'"

Walk down a street with White or join her in a personal appearance, and an interesting phenomenon occurs. People pull out photos of their pets, and White is thrilled to see them.

"I do have more in common with animal people," she says. "I find myself disappointed with those who are not interested in animals; they lack certain warmth and tend to be a little self centered. Animal people have a certain empathy – this is not just me talking now. Research has shown this to be true."

Hurricanes, the shrinking environment, threat of terrorists, War in Iraq, there is a lot to worry about. And while White understands the frazzled nerves, she says she doesn't waste her time on worry she has no control over. "Instead, think optimistic," she says, "even if it's not in your nature to do so. You'll be happier for it. Besides, you can make a difference – we all can if we think about it. Clean a small area of highway, or volunteer at a shelter. I'm sure my age is showing, but I grew up and was taught, okay you can't do anything about that, but you can do something about this. I would rather accentuate the positive. When people help animals, they're considering something besides themselves – wouldn't it be nice if we all did that?"

printer friendly page ·

"Betty White's love affair with animals"
authored by:


Steve Dale is certified by the International Association of Animal Behavior Consultants. He's the author of "My Pet World," a syndicated newspaper column (Tribune Media Service), and he the host of syndicated Steve Dale's Pet World and the Pet Minute...