Ageless... Suzanne Somers' tips for turning back the hands of time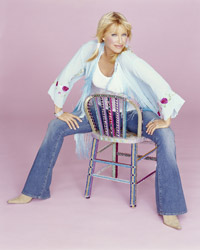 I will not start any sentence with the words 'I can't.' If I do, my mind will accept it as so, and then I won't be able to accomplish my goals. Instead, I will tell myself, 'I can' or 'I will.' In this way, success will come to me.

In the 1970's, many of us glued ourselves to the television to see what the cast of Three's Company was up to that week. What harebrained ideas would ditzy Chrissy Snow—Suzanne Somers be involved in, and how would roommates, Jack—John Ritter and Janet—Joyce DeWitt, avoid the suspicious eyes of landlord Stanley Roper—Norman Fell?

Ah…but that was then and now in 2008, Chrissy or rather Suzanne isn't so ditsy. In fact, Ms. Somers is very different from the lame-brained blonde she played on the weekly sitcom. In addition to acting, Somers has found success as an author, poet, entrepreneur, spokeswoman, nightclub performer, and talk show hostess. As a business executive, Somers has created a multimillion-dollar lifestyle empire. Through her companies ELO Somers and Port Carling Inc, where she serves as president, Somers has created hundreds of personally branded fashion, diet, beauty, and exercise products that are marketed through the Home Shopping Network, through her website, and through Suzanne, a direct sales organization.

From "thighmaster" to "facemaster," to a line of food products, beauty aides, and clothing, Ms. Somers is every woman's dream. At the age of 62, she has the look and poise of someone thirty years younger. But her climb to fame, like that of many celebrities, was not without trials. Born the daughter of a secretary and a high school athletic coach—Frank and Marion Mahoney—Suzanne faced scary days and nights hiding in a closet to avoid the outbursts of her alcoholic father. Later, she would find herself expelled from a Catholic school for passing love notes, raising a child as a single mom without income, and facing a bout with breast cancer. One can easily see that Suzanne encompasses the qualities of strength, courage, and resiliency that many of us strive for but never achieve. She is now married to Alan Hamel, her husband of thirty-one years.

Suzanne was gracious and spontaneous during our interview, and her desire to help people reach and maintain a healthy lifestyle is a goal she pursues passionately.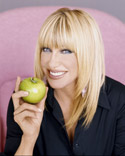 Radius: Being a health and fitness advocate…what are five tips that you would say are the most important for longevity?
Suzanne: To maintain health, vitality, and quality of life:
Explore all the new cutting-edge medical protocols;
Eat only organic food and keep alcohol consumption to four drinks a week;
Practice "health" care and not "disease" care; see your anti-aging doctor to stay healthy, and don't wait until you are sick to work on recovery;
Practice yoga and work with weights three times a week;
Read informative and proven health magazines.
Radius: Why did you write the book 'Ageless' and what do you want the reader to gain from reading it?
Suzanne: I wrote Ageless to give readers concrete information about turning back the hands of time. The book discusses the ways that bioidentical hormones are essential to help us ward off illness, weight gain, memory loss, and other symptoms associated with growing older. For the past twelve years, I have practiced anti-aging medicine. I started taking bioidentical hormones when entering menopause. I devoured books promoting the new frontier in medicine and changed my sleeping habits so that I get eight to nine hours nightly—extremely important. I got rid of all the packaged, chemically laden foods in my house. I learned how to distance myself from toxic people and how to minimize and handle my stress. I scheduled my work time and my off time, and stuck to my plan, allowing me to focus my attention on the people in my life that I love dearly. Ageless will provide readers with the tools to accomplish the above and more, and I promise that the deeper readers get into this life, the deeper they will want to get into this life.

Radius: Which chapter of the book is your favorite and how have you applied it to your life?
Suzanne: "Sex, Sleep, and Stress" is my favorite chapter. If you can get eight to nine hours of beautiful sleep, learn to "handle" stress, which we all have to deal with as part of being human, and celebrate the wonderful interactive thing that nature has given us called sex—along with balancing your natural hormones—you can continue to be the vibrant person you want to be. I embraced lifestyle changes in my sleeping habits and the ways I dealt with stress, and I enjoyed all the benefits.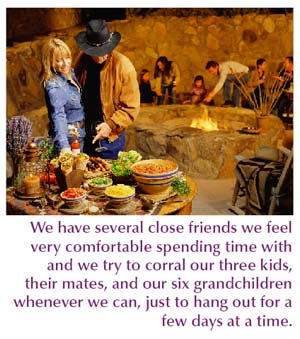 Radius: You are a breast cancer survivor. I understand that you took an alternative treatment rather than the conventional chemo… why did you choose this particular alternative…and how did you find practitioners for the method?
Suzanne: When my conventional doctors presented me with my "options"—chemo, radiation, and tamoxifin—I was horrified. I asked them if that was the best they had to offer women and decided to explore other protocols. I drilled deeply into non-pharmaceutical options and called researchers, doctors, and PhDs, to harvest all the information I needed and then made an informed decision. That decision was not an arrogant one; it was one that felt right. With all my research, I felt confident that I was headed in the best direction.

That path was to continue to keep my hormones balanced, not with fake horse hormones, but with real bioidentical hormones and not to take the harsh chemo poisons. I refused to be a good little girl and hop on the chemo-hamster wheel, listening to doctors who were practicing 50-year-old medicine. I did do radiation, which I now feel was not the best decision on my part, but everyone said, "It's a walk in the park." That's a big lie, and anyone who has had radiation knows the truth. Radiation destroyed my lymphatic system, something I continue to deal with daily. There is no such thing as the magic radiation bullet that only targets the tumor area. Radiation hits everything around it and destroys that, as well. Today, based on my knowledge and my understanding of my cancer, I would not submit to radiation. I am not telling anyone to take the path I took because there are situations in which chemo and radiation are beneficial; that was not the case with me.

Radius: Are you an active advocate for the cancer organization by giving lectures and making personal appearances?
Suzanne: I do not raise money for cancer organizations unless I know exactly where the money is going. I will not use my influence to throw more money at the same old research. If the dollars will support research that resonates with my knowledge and experience in the healthcare field, I will be there enthusiastically. Most celebrities turn out for cancer walks and cancer 5K runs and don't ever question exactly how the donations will be used. They know the host foundation but not the distribution plan and the intended final recipient. An important question to ask is, "How much of that new cancer money will go to "administration?" In some cases, I have seen the bulk of donated funds earmarked for undefined "administrative" costs, not cancer research. When big money is involved, there are sometimes unethical people lurking in the shadows looking to fill their pockets.

Radius: Are you cancer free now?
Suzanne: I have been cancer-free for seven years. My lab readings are balanced and lab results do not lie. I continue to research the new medical protocols and share this information with my readers.

Radius: How do you stay thin and fit? How much do you exercise each day?
Suzanne: When your hormones are perfectly balanced, weight is not a problem. I eat organic food, except when I am away from the house, and I have eliminated as many chemicals as I can from my life. I do yoga and free weights several times a week. I am not a gym monkey. I exercise in moderation.

Radius: What do you do for fun?
Suzanne: We are fortunate to live in California, near mountains and rivers, so we pack a picnic lunch and take long walks among the wildflowers. We have several close friends we feel very comfortable spending time with; and we try to corral our three kids, their mates, and our six grandchildren whenever we can, just to hang out for a few days at a time.

Radius: I see you on the shopping network with your clothing line, your supplements, and your exercise equipment. You also make personal appearances…with such a busy lifestyle…how do you keep balance in your life?
Suzanne: I know it sounds boring, but I practice moderation. We also take time off, shut down the phones, unplug the computers, and stay home for the week—just the two of us.

Radius: How did you get involved in the entertainment world?
Suzanne: I had planned to teach cooking and write poetry; I wrote my first book of poetry, Touch Me, in 1973. That book got me on the "Tonight Show" with Johnny Carson, which led to many additional appearances with Johnny. Fred Silverman, who was head of ABC TV, saw me and cast me as Chrissie Snow on "Three's Company," and suddenly, I was in show business.

Radius: What famous person have you met during your travels and/or appearances who impressed/influenced you most?
Suzanne: A few people have been extremely influential in my life. Jacqueline Suzanne encouraged me to publish my poetry; Johnny Carson put me on national TV; Fred Silverman saw something in me I never knew I had, and put me on "Three's Company"; Jay Bernstein took me on as a PR client, along with Farah in the '70s, and helped to make me famous, and Alan Hamel understood the value of the Suzanne Somers' brand and carefully choreographed my business career for the past 29 years, in concert with me. He is also my husband.

printer friendly page ·

"Ageless... Suzanne Somers' tips for turning back the hands of time"
authored by:

Patricia Kirby brings several years of journalism, editing, and publishing experience to Radius magazine. She is a published writer and former co-editor of Hoosier Outdoor magazine, with a distribution throughout the mid-west. Patricia is also a form...