Lucky, Lively Nevada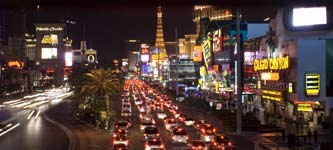 Nevada in a Heartbeat
When you travel to Nevada, there are mountains, deserts, lakes, and whitewater runs to keep you outdoors. Sagebrush, bristlecones, bluebirds, and opals keep you close to nature. Vintage trains, classic cars, and kayaks keep you moving and exploring. Slot machines, UFO's, and ski resorts keep you entertained. When it comes to all-in-one vacations, Nevada hits the jackpot!

Too Good to Miss
Boulder City is the hometown of Hoover Dam and the cool blue waters of its reservoirs - Lake Mead and Lake Mohave. Whether you choose to drive freestyle across Hoover Dam or take the official Bureau of Reclamation tour, you're bound to be awestruck by the sweeping views and forceful waters. With 550 miles of shoreline and a maximum depth of 500 feet, Lake Mead is a wonderland for water-sports enthusiasts and fishing fans seeking striped bass.

On-and-Off-Beat Nevada Trivia
State Capital
Nicknames
Colors
Flower
Grass
Trees
Bird
State Artifact
Fish
Animal
Land Area
Reptile
Song
Rock
Precious Gemstone
Semi-Precious Gemstone
Metal
Highest Point
Fossil
Established Statehood

Carson City
Sagebrush State, Silver State, Battle-Born State
Silver and Blue
Sagebrush
Indian Rice Grass
Single-Leaf Pinon, Bristlecone Pine
Mountain Bluebird
Tule Duck Decoy
Lahontan Cutthroat Trout
Desert Bighorn Sheep
110,540 square miles (seventh largest state)
Desert Tortoise
"Home Means Nevada"
Sandstone
Virgin Valley Black Fire Opal
Nevada Turquoise
Silver
Boundary Peak (13,141 feet)
Icthyosaur
October 31, 1864


Reno's National Automobile Museum (The Harrah Collection) presents chronological exhibits that showcase cars' roles in history, art, and pop culture. Displays begin with late 1800-era horse-drawn vehicles and continue through the advent of motorized vehicles, classic cars, and present-day autos. Cars once owned by Jack Benny, John F. Kennedy, and Elvis Presley are on display, as are autos that appeared in movies like Rebel without a Cause and Titanic.
Lovers Lock Plaza stands beside the Pershing County Courthouse in the northern Nevada town of Lovelock. Following a time-honored Chinese custom, loving couples, family members, and friends visit the plaza to symbolically forge permanent affection connections. They simply attach special lovers' locks to the plaza's eternal chain, then toss away the keys.
All aboard! At the Nevada State Railroad Museum in Boulder City, take a memorable train ride on a circa 1911 Pullman coach. The 45-minute, conductor-narrated excursions are offered on the Boulder Branch Line of the restored Nevada Southern Railway. In 1931, Pair-O-Dice Club - the Las Vegas Strip's original casino - opened for business, and the rest is history! Glitz, gaming, and over-the-top entertainment are mainstays in Las Vegas. At various area locales, you can climb the Eiffel Tower, ride in a gondola, or visit ancient Egyptian spectacles. See a performance of Cirque de Soleil or a dazzling musical stage production. Shopping and dining options are off the charts, too. And that's just the beginning of a Las Vegas adventure. You have to see, hear, and taste it to believe it!
Out of the Way but Worth the Road Trip
Pyramid Lake National Scenic Byway, north of Reno, outlines the sandy edges of a true blue desert lake on a Paiute Indian Reservation. Visitors are drawn to the signature, pyramid-shaped rock formation that rises out of the lake. Wildlife watchers see nesting white pelicans, antelope, and bighorn sheep while Pyramid's luckiest anglers reel in cutthroat trout. Valley of Fire Scenic Byway and State Park in Nevada's southeastern tip offers unearthly views. The valley's red sandstone formations vary their flame-like colors in radiant displays set off by the rising and setting sun. Pull over for a hike or picnic, and take a break at Rainbow
Vista for the multihued vision of a lifetime. Nevada's Extraterrestrial Highway stretches from Alamo to Tonopah on State Route 375. Well-known for multiple reports of UFO sightings and eerie lights glowing in night skies, the byway posts a speed limit of "Warp 7" and a placard cautioning travelers about alien encounters. The route traverses ghost towns, abandoned mines, and the small city of Rachel, where earthlings are warmly welcomed.
Highway 50, America's "Loneliest Highway," was so named by Life Magazine in 1986. The 287 -mile drive from Ely to Fernley has gained less-lonely status since Nevada started issuing Highway 50 Survival Guides and souvenirs. Highway 50 actually sports an assortment of pleasant distractions - Ely's colorful murals, Eureka's elegant opera house, and mountain biking trails in Austin. The Nevada Shoe Tree, a legendary cottonwood decorated with stray shoes, stands tall in Middlegate, and Fallon is favored for bird-watching.

What's Cookin' in Nevada ?
Where good food is concerned, the Silver State shines. These three eateries are just the start of a full deck of possibilities.

In the town of Jackpot in northeastern Nevada, hit Cactus Pete's Resort Casino's Desert Room for a classic cowboy breakfast of chicken fried steak and eggs. For dinner, consider the Seafood Feast at Pete's Canyon Cove Buffet.
Patrons can expect luscious Italian pastas and a 'California cool' sense of style at Dolce in Reno's Grand Sierra Resort.
Toby Kieth's I Love This Bar and Grill at Harrah's in Las Vegas is pure country. Toby's hang-out features the requisite bar and dance hall, plus Southern-style delicacies like buttery grits, seasoned turnip greens, and deep-fried bologna sandwiches. No calorie counting allowed!

Above ground, Great Basin National Park near Baker in east-central Nevada is a remote desert landscape with bristlecone pines, sagebrush, and starry night skies that delight astronomy buffs. Below ground, Great Basin contains Lehman Caves, exceptional limestone caverns that are bedecked with a full complement of stalactites, stalagmites, flowstone, and other amazing formations. Located in downtown Reno's resort area, Truckee River Whitewater Park offers year-round water-based fun for visitors of all ages and ability levels. In the half-mile run on the Truckee River, you can plunge into your whitewater adventure via inner tube, raft, canoe, or kayak. Water access is easy, and experienced paddlers can practice kayaking maneuvers in the park's eleven drop pools.
Lake Tahoe in western Nevada is a study in shimmering water, towering pines, and frosted mountain peaks. From hiking, skiing, snowboarding, and cycling to swimming, sailing, and extreme fishing, you can play it your way at Tahoe. Are you ready to try snowshoeing, sand-boarding, or paddle-wheeler cruising? Does a snowy escape sound inviting? Eighteen Tahoe-area ski resorts can deliver the goods (as in good times). And downtown Reno's casino action and nightlife are close at hand.
Remember to keep your eyes on the southern Nevada sky when you visit Tonopah, a popular spot for stargazers. Look for 7,000 twinkling stars and the Milky Way galaxy - all reportedly visible in Tonopah's inky night heavens . You'll be watching the same stars once pondered by famed former Tonopah residents, Wyatt Earp and Jack Dempsey.
Gold-Diggin'
When you tour Nevada's Historic Mining Towns, get ready to rewind (back) to the 1800's and early 1900's when eager prospectors searched for treasures of silver, gold, and gemstones. You can retrace the plucky miners' glory days in the museums and vintage buildings of mining settlements such as Virginia City, Goldfield, and Carson City, state capital and long-ago home of Mark Twain. Today's prospectors try their luck at mining for opals at Rainbow Ridge Opal Mine and Bonanza Opal Mines, both located in the Virgin Valley lake bed near the town of Denio.
Tee-Time
With well over 100 golf courses statewide, it's easy to go green in Nevada. Start swinging through the state around Lake Tahoe at more than 30 golfing venues in captivating mountain settings. Area greens include the likes of Edgewood Tahoe, site of the annual American Century Celebrity Golf Championship. At Incline Mountain Golf Course, game challenges aren't fabricated; they arise from the natural lay of the land. Resort at Squaw Creek , an Audubon certified cooperative sanctuary, ups the standard for environmentally sensitive golf.
To learn more about Nevada travel opportunities, visit travelnevada.com; phone 800-NEVADA-8.

We invite Radius readers to share suggestions about unique, quirky or out-of-the-way places to visit (locales, restaurants, landmarks, attractions) in your home state. Please e-mail your ideas to Paula Loehr, Radius Travel Columnist at Travel@radthemag.com.

printer friendly page ·

"Lucky, Lively Nevada"
authored by:


Paula Loehr, R.N., B.A., worked in the fields of community health and nursing education, and was a school health nurse at the elementary, secondary and collegiate levels before becoming a fulltime journalist. Her writing specialties include family tr...