From the Pharmacy ... Fall Allergies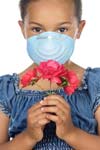 Ah, Fall! A most beautiful time of year! For me, not only does fall mean the glorious "changing of the leaves" (here in the Midwest), but also the start of football season! (Go Colts!). But, to others, fall and returning to school marks a time to prepare. Those who suffer from allergies and asthma must prepare in other ways for the season, which is worst for triggering attacks. Indeed, ragweed, pollen, mold, and dust are at their peaks due to spring and early summer rains followed by intense heat of the long, hot summer days. And unfortunately, these allergens circulate maximally starting in August and lasting through the first frost, typically in November.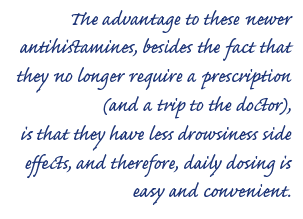 There are several tips to consider when fighting allergies and asthma triggers during this time of year. These include staying indoors when allergen counts are high, limiting outdoor activities to early mornings, keeping windows closed, and cleaning furnace filters; but the most important tip for alleviating allergic asthma and allergy symptoms, is to prepare and be proactive.

The symptoms associated with allergies bring consumers to seek the pharmacist's professional advice. Because the allergens are highest at this time of year, allergy and asthma triggers can be predicted. The best defense is to be prepared, especially after the lazy summer months when people tend to leave their routines behind and symptoms aren't as bothersome. Fall is the time to return to those medication routines and "brush up" on the practices that help prevent allergy and asthma attacks.

For allergy sufferers, the most often pharmacist-recommended treatment is antihistamines. Antihistamines work by inhibiting histamine, a protein released by the body during allergic attacks. Histamine can cause sneezing, itching, hives, runny nose, and watery eyes. It can also trigger an asthma attack by constricting the airways in the lungs.

Since attaining OTC (over-the-counter) status, Claritin® has become the most common pharmacist-recommended antihistamine, and Zyrtec®, which has been available without a prescription since February 2008, is second. (The traditional antihistamine, Benadryl®, is now third).The advantage to these newer antihistamines, besides the fact that they no longer require a prescription (and a trip to the doctor), is that they have less drowsiness side effects, and therefore, daily dosing is easy and convenient. Indeed, taking one of these oral antihistamines on a daily basis during the fall allergy season is wise to prevent the possibility of an allergy attack.*

There are many treatments used to control allergic asthma symptoms, but all are available only by prescription. Steroid inhalers, which should be used daily to prevent an attack, as well as bronchodilators and oral medications, like Accolate® or Singulair®, are the mainstays of treatment for the asthma sufferer. And in severe, uncontrollable cases, a course of tapering prednisone or an injection, Xolair®, may be warranted. Hopefully, though, with a little proactive preparation this fall season, allergy sufferers will breathe easier!

* If you are taking other routine medications, first check with your doctor or pharmacist about potential interactions.

printer friendly page ·

"From the Pharmacy ... Fall Allergies"
authored by:


Tamara Dulin, R.Ph., is a registered pharmacist with Nightingale Home Health Care in Carmel, Indiana. A 1991 graduate of Butler University College of Pharmacy, she has spent the majority of her career in consulting. She is a past president of the Ind...