KEVIN EVERETT, Triumph of the human spirit
We are bringing Kevin's story to our readers to offer hope and inspiration to others who suffer paralysis… not necessarily from a sports injury…but perhaps from a stroke, an accident, or other mishap.

Imagine this: One day you are running a 4.5 in a 40 yard dash, bench-pressing 375 pounds, playing tight-end for a professional football team, and earning 4.5 million dollars—but in just seconds you find yourself lying face down on the ground…completely paralyzed!

Shocking… but a true scenario of Kevin Everett, player for the Buffalo Bills who suffered a paralyzing injury during the opening game of the NFL season against the Denver Broncos on September 9, 2007. Right there on the field, Everett was diagnosed a quadriplegic by team physicians, and it was believed he would not regain the ability to move again.

We are bringing Kevin's story to our readers to offer hope and inspiration to others who suffer paralysis…not necessarily from a sports injury…but perhaps from a stroke, an accident, or other mishap. Kevin came to our attention through the writing of his book titled: Standing Tall: The Kevin Everett Story written by Kevin and Sam Carchidi—a sportswriter and columnist at the Philadelphia Inquirer.

Kevin Everett's strong character is revealed in his book and in this interview—not only as a team member and as individual player— but as a loving and devoted son to his mother, Patricia Dugas. In turn, it was this mother's love and loyalty to her son that contributed greatly to Kevin's full recovery. In the book, Standing Tall the author writes: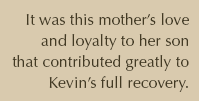 In the hospital, Patricia stroked Kevin's arm. Even though he was unable to speak because of a tube in his mouth, he managed to communicate by pursing his lips together. "He needed a kiss. He wanted some sugar," Patricia said. "I felt much better then."

As Patricia watched Kevin drift back to sleep, she daydreamed back to happier times in his life. There was Kevin taking his first steps as Patricia and her dad cheered loudly; there was Kevin climbing atop his first bike—the one Patricia's dad bought him for Christmas—and never once taking a spill; there was Kevin making his first career touchdown catch as a member of the Miami Hurricanes, with Patricia and her three daughters screaming and hugging each other as they watched the play unfold on TV.

Then she imagined Kevin reaching another milestone: walking. Again. Staying positive was the only way to get through this ordeal, the only way to stay sane.
Wiande Moore, Kevin's fiancé who kept a vigil throughout Kevin's confinement and recovery was instrumental in his recovery as well. She not only kept watch, but also took daily progress notes and asked countless questions of his therapists, nurses, and physicians. The staff good-naturedly nicknamed her the investigator.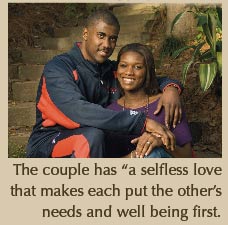 Wiande's mother reported in the book:
"Kevin and Wiande have a beautiful relationship based on mutual faith in God, love and respect for each other and their family members,' she said, adding that the couple has "a selfless love that makes each put the other's needs and well being first. Kevin will do anything for Wiande, and Wiande will do anything for Kevin. That's the agape love that caused Wiande to get on the plane the day after Kevin's injury, leaving her teaching and coaching job at Spring High School to be by his side. That's the love that make you know they are going to succeed, no matter what obstacles they face in life."

Of course credited with making the most dramatic change in Kevin's condition was Kevin's health care team, headed by surgeon, Andrew Cappuccino who made an unpopular decision among some of his peers to try a hypothermic procedure—used in treating strokes, brain injuries, and cardiac arrest. The treatment involves risks such as cardiac arrhythmia and major infections—in Kevin's case, Dr. Cappuccino thought the risks were worth it.

Radius - I read in your book that you were in and out of a semi-conscious state for several days…when did it first register with you that you were paralyzed?
Kevin- I knew I was paralyzed immediately after the hit. I couldn't feel anything, so I knew right then and there while I was on the turf.

Radius - You could have sat back and adopted a bitter attitude…what was your motivation to keep going?
Kevin - I kept going because of the support of my family – my mom, my fiancée, and my sisters all played a major role and of course, my faith sustained me. A bitter attitude wouldn't have put me where I am today.

Radius - What would you like to say to others…a young person with a similar injury…a middle-age person who has just experienced a stroke…to motivate them to recover?
Kevin - Just have a positive attitude, keep faith in God, and believe in yourself.

Radius - Was there ever a time when you thought about what you would do with your life if you did not get well from the paralysis…or did you always see yourself as recovered?
Kevin - I always knew I would get better, so I didn't allow any negative thoughts to enter my mind. I wouldn't accept anything but a positive outcome.

Radius - I read that you want to be a motivational speaker…is that still your plan?
Kevin - That is definitely something I'm interested in pursuing, but I have many other things coming my way and am just trying to take advantage of every opportunity and figure out what's best for me right now.

Radius - Have you had any offers from the football organization?
Kevin - For now, football is on the back burner. I need to focus on continuing to improve the dexterity in my hands and, of course, other possible endeavors.

Radius - Are the plans still on for a 2009 wedding?
Kevin - Actually, plans have changed and we are getting married this year instead, but we are keeping the date to ourselves.

Radius - Has your mother grown accustomed to the idea of losing her son? Would you want to share what she said to you that day in the hospital after you made the engagement announcement and she asked the others to step out?
Kevin - Without getting specific, I'll just let you know that my mom has always been a constant in my life, and she is a strong woman. Without her, I wouldn't be where I am today. She is proud of me and feels blessed with all of the progress I've made since the injury.

Radius - Wiande's incredible faith in God and willingness to trust Him completely for the outcome is so strong. Do you share her beliefs and faith?
Kevin - My faith has always been strong. This experience has made it even stronger.

Following is an excerpt from the book, Standing Tall: The Kevin Everett Story: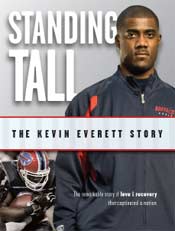 "I told him he has a very important story to tell," said Rafferty Laredo, the TIRR occupational therapist. "He has experienced something (amazing), and at this point, he has ears that are listening…and I think his experience is so important that people need to hear it. People need to hear about the power of the human spirit, the power of having people close to you, the power of being physically fit and knowing that that has a component of happiness." Those who recover from paralyzing injuries seem to have an air of confidence, an air of invincibility. They are at peace, grateful to be able to walk, grateful to be alive, grateful for the small things—a stroll through a park, a visit around a mall—that most of us take for granted. Barth Green, the neurosurgeon who cofounded the Miami Project, said he has witnessed many spinal cord patients discover "a spiritual side" after they recover. "Anyone who suffers a catastrophic injury finds out things about themselves that they didn't know," he said. "They find new strengths and new abilities that they didn't know they had. It brings out the best in people."

Standing Tall-The Kevin Everett Story is available at http://www.triumphbooks.com and major book retailers.

printer friendly page ·

"KEVIN EVERETT, Triumph of the human spirit"
authored by:

Patricia Kirby brings several years of journalism, editing, and publishing experience to Radius magazine. She is a published writer and former co-editor of Hoosier Outdoor magazine, with a distribution throughout the mid-west. Patricia is also a form...