Explore America's Crossroads in Indiana
Indiana in a Heartbeat
From rolling rivers and dazzling cityscapes to limestone bluffs and deep green forests, Indiana welcomes you!

You can begin your tour of Indiana with the slow, serene pace of the Amish horse and buggy lifestyle, then rev up your engines until you reach the mega-speed and high-tech beat of the Indy 500... or you can set out to experience everything in between. The 'Hoosier State' is a crossroads of transportation styles, highway and byway miles, distinct yet complementary cultures, and urban versus rural locales. From rolling rivers and dazzling cityscapes to limestone bluffs and deep green forests, Indiana welcomes you!

Too Good to Miss
Conner Prairie in Fishers is a fascinating outdoor historical museum where costumed, role-playing guides transport visitors back in time to a working farm and an Indian camp occupied by enterprising fur traders. A simulated pioneer village, barn full of baby animals, and realistic 1800's homestead help provide engaging living history adventures at Conner Prairie. throughout the "Hoosier State" are both pleasing and plentiful. The good news for wine lovers traveling in Indiana is that there are 30-plus wineries in various regions and three designated wine trails to investigate. Simply follow the green and white wine trail road signs to wineries with names such as Wildcat Creek, Grape Inspirations, and Windy Knoll. You can tour vineyards and orchards and participate in tasting events while taking in splendid views of country landscapes and rushing rivers. When planning your wine trail excursions, be sure to allow ample time to browse through local antique shops, art galleries, and cafes.
Conner Prairie in Fishers is a fascinating outdoor historical museum where costumed, role-playing guides transport visitors back in time to a working farm and an Indian camp occupied by enterprising fur traders. A simulated pioneer village, barn full of baby animals, and realistic 1800's homestead help provide engaging living history adventures at Conner Prairie.
On-and-Off-Beat Indiana Trivia
State Capital
Time Zone
Meaning of name
Nickname
Slogan
Song
Flower
Tree
Bird
River
Stone
Largest Natural Lake
Largest Cities
Famous Universities
Established Statehood

Indianapolis
Central
"Land of the Indians"
"Hoosier State"
"The Crossroads of America"
"On the Banks of the Wabash"
Peony
Tulip Tree
Cardinal
Wabash River
Limestone
Wawasee
Indianapolis, Fort Wayne, Evansville
Notre Dame, DePauw, Purdue, Valparaiso
December 11, 1816

Out of the Way but Worth the Trip
Northern Indiana's Amish communities in Elkhart and LaGrange Counties include simple, seemingly old world towns such as Shipshewana and Nappanee. They are picture-perfect places for learning about the family-oriented Amish lifestyle. You can expect to see a tranquil countryside with clip-clopping horses hauling big-wheeled buggies. Look for farm-fresh vegetables, floral gardens, hand-sewn quilts, and finely-crafted wooden furnishings. In addition to introducing travelers to a quieter side of life, the area hosts a major Midwestern flea market, weekly public auctions, and 'The World's RV Capital' - where half of America's recreational vehicles are made.
Legends surrounding Lost River in southern Indiana's Washington and Martin Counties involve tall tales about a horse and buggy that ran off the road into the underground span of a river, never to be seen again. Although reports of the buggy's disappearance are sketchy, Indiana's 'Underground Grand Canyon' really is a river that abruptly detours beneath the surface of the earth for a run of many miles. The fast-flowing water's effect on its relatively soft limestone riverbed is responsible for the multiple sinkholes, deep springs, underground channels, and cave formations that make Lost River a watery masterpiece worth exploring.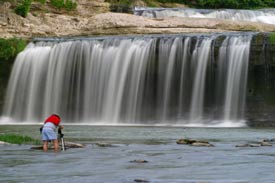 Sports Fever
The Indianapolis Colts are without a doubt the state's favorite pro football team. Much to the delight of Midwestern pigskin fans, the city of Indianapolis is set to host SuperBowl XLVI in the retractable-roof Lucas Oil Stadium - on February 5, 2012.


At Notre Dame University in South Bend, you can learn about young star athletes from all over America at the College Football Hall of Fame. While on campus, don't miss visiting Notre Dame's celebrated stadium with its remarkable view of the granite and stone Word of Life Mural – 'Touchdown Jesus.'


The 'Hoosier State's' longstanding love of basketball rules at Indiana Basketball Hall of Fame in New Castle. Hoops champions from high schools, colleges, and pro teams are honored, and the history of Indiana basketball is portrayed via exhibits of memorabilia, videos, and still photography.


Indiana's auto racing fervor reaches its peak each May at the Indy 500 at Indianapolis Motor Speedway. Participants in the 97-years-running event average a driving speed of 167 miles per hour for 200 laps (or as the name implies, 500 miles) while they vie for a top prize that exceeds a million bucks.


Avid golfers get into the swing of things on Indiana's extensive selection of greens. You can play on the bluffs and wetlands at Warren Golf Club at Notre Dame in South Bend, in the windy woods at Chestnut Hills in Fort Wayne, on Lake Monroe at Eagle Pointe Resort in Bloomington, and so on. The options are many and varied, but any way you swing, the golfing is good in Indiana.
Indiana Outdoors
Wyandotte Cave in the Harrison-Crawford State Forest of southern Indiana contains 35 miles of subterranean chambers and passageways, distinguishing it as one of the U.S.A.'s biggest caves.
Cataract Falls State Recreation Area in Owen County contains the largest waterfall in the state of Indiana. The two-tiered cascade plunges 86 feet into Mill Creek, inspiring awe in observers along the way. Just four miles south of the falls, don't miss shopping for bric-a-brac at the Cataract General Store in Spencer. The old-fashioned mercantile first opened for business in the mid-1800's and today's shelves are still stocked with this and that, from pocket knives and pottery to fishing and camping gear.
Gardening enthusiasts, this one's for you! In addition to namesake dunes, beaches, and hiking trails, Indiana Dunes National Lakeshore in Porter and LaPorte Counties boasts some surprising botanic delights - more than 20 varieties of orchids plus prickly pear cacti, lichen mosses, and other quirky foliage.
What's Cookin' In Indiana?
The Beef House Restaurant in Covington is known for serving char-broiled steaks over an open hearth and tender filet mignon wrapped in bacon strips. Before you leave the restaurant, be sure to purchase some edible souvenirs - yeast rolls, apple butter, and strawberry jam. Dine at Das Dutchman Essenhaus in Middlebury for broasted chicken and homemade noodles served family-style in the Amish and Mennonite traditions.
The original Black Buggy Amish Restaurant and Bakery in Washington offers daily buffets with trusty standards like meatloaf, smoked sausages with sauerkraut, plus fresh-baked pies and cakes to die for. You can go German at Schnitzelbank Restaurant in Jasper where hearty dishes such as knackwurst, sauerbraten, and wiener schnitzel are menu staples.
Sound the alarm! The Old #3 Firehouse Café in Fort Wayne is located in the second story of a real vintage fire station that serves themed menu items such as the Hook and Ladder tuna sandwich. If you like to order your lunch with a side of nostalgia, the Fort Wayne Firefighters' Museum on the ground floor of the same building is an onsite bonus.
Each Christmas season, the festive town of Santa Claus, Indiana receives a whopping 500 thousand letters addressed to the cheerful guy with the elves, jingle bells, and reindeer. Another noteworthy local attraction is Holiday World & Splashin' Safari, an amusement park complex where the restaurants offer special allergen-free versions of popular fare such as chicken nuggets, brownies, pizza, and ice cream.
Gluten-free, wheat-free, and dairy-free foods are readily available at park eateries, as are nutritious snacks like carrots, applesauce, and corn chips. HO-HO-HO! Merry munching!
For a crunchy gourmet treat that's more than memorable, stop by Not Just Popcorn in Edinburgh. The store's 240-plus popcorn flavors include novel specialties like mint mocha, jalapeno cheese, and cherry cordial.
To learn more about Indiana travel opportunities, log on to VisitIndiana.com or phone (800) 677-9800.

We invite Radius readers to share suggestions about unique, quirky or out-of-the-way places to visit (locales, restaurants, landmarks, attractions) in your home state. Please e-mail your ideas to Paula Loehr, Radius Travel Columnist at Travel@radthemag.com.

printer friendly page ·

"Explore America's Crossroads in Indiana"
authored by:


Paula Loehr, R.N., B.A., worked in the fields of community health and nursing education, and was a school health nurse at the elementary, secondary and collegiate levels before becoming a fulltime journalist. Her writing specialties include family tr...