Solving the Generic Riddle
Recently, I was asked to speak to a group of seniors about generic drugs. What are they? Why are they cheaper? Are they just as effective? This topic, alone, prompted many questions for me and brought to light several different issues relating to prescription medications. What about Internet purchasing? What about medications that come from other countries? Many questions.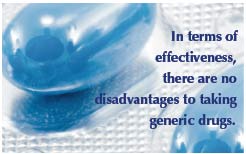 When a brand-name drug's patent expires, other manufacturers can copy it and create generic versions. Generic drugs are the same as brand-name drugs in that they have the same active ingredient, the same dosage amount and are taken the same way. This is referred to as pharmaceutical equivalency. According to the FDA, generic drugs must be pharmaceutically equivalent. On the other hand, generic drugs must differ from brand-name drugs in color and shape because trademark laws prohibit generics from looking the same as the brand name drug. Generic drugs must also be comparable in bioavailability—the amount of time that it takes the body to absorb the drug under identical circumstances. According to the FDA, bioavailability must not vary by a statistically significant amount (considered no more than 20 percent from the mean). Essentially, the time it takes the body to absorb the medication may be a little different, but not by enough to change the effectiveness of the drug. Generic drugs may also have different inactive ingredients or "fillers."

Based on pharmaceutical equivalency and bioavailability, each generic drug is determined to be bioequivalent, or not, and given a "therapeutic equivalence rating," by the FDA. These ratings are published in a document entitled Approved Drug Products with Therapeutic Equivalence Ratings, better known as the "orange book." The orange book provides physicians, pharmacists, and consumers the appropriate therapeutic rating of a generic so that they can be confident in the interchangeability. Only generic drugs with approved therapeutic equivalency ratings can be substituted when the prescriber indicates so. The orange book can be accessed online.



Is Internet purchasing safe?
Research has shown that some Americans are purchasing drugs over the Internet, even from foreign countries, in an apparent effort to avoid obtaining a prescription. This practice can pose a serious health hazard to those Americans. Basically, the use of any prescription drug without the oversight of a medical practitioner is dangerous. Americans must also be alerted to drug names that are the same, yet contain different active ingredients in other countries. This, obviously, is another dangerous risk.

Overall, there is no reason why a generic drug should not be tried, given that it's available, in place of a brand name drug under the supervision of a physician. The cost savings could be great.



Are Generics cheaper?
Generic drugs are less expensive because the company manufacturing the generic did not have the investment costs of developing a new drug. Brand name drugs are protected by a twenty-year patent, which helps to ensure that the company that develops the drug from inception can recoup the development and marketing costs. After twenty years, generic manufacturers can copy it. Another reason why generics are cheaper is that once generic medications are approved, more competition is created, which helps drive costs down. Are Generics as effective as brand names?

In terms of effectiveness, there are no disadvantages to taking generic drugs. The same strict guidelines set forth by the FDA for the brand name manufacturers are also applied to the generic companies. The FDA conducts approximately 3500 inspections of the manufacturing processes per year to ensure adherence to these guidelines. In fact, it is estimated that almost half of all generics come from brand name companies. However, if a person has an undesirable reaction to a generic drug (after switching from a brand name drug), an intolerance or allergy to one or more of the inactive ingredients may be the cause.

printer friendly page ·

"Solving the Generic Riddle"
authored by:


Tamara Dulin, R.Ph., is a registered pharmacist with Nightingale Home Health Care in Carmel, Indiana. A 1991 graduate of Butler University College of Pharmacy, she has spent the majority of her career in consulting. She is a past president of the Ind...