For a Golden Getaway… visit California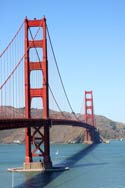 Whether you view the state's natural wonders at close range or at a distance, as recommended by Mark Twain, there's no denying that California also has abundant cultural and recreational opportunities for travelers.

California in a Heartbeat
"All scenery in California requires distance to give it its highest charm," commented Mark Twain in 1872. Twain's travel-based observation was likely inspired by the sheer enormity and splendor of the 'Golden State's' landscapes and seacoast vistas. Well over a century later, the Redwood forests, frosty mountain peaks, vast deserts, and Pacific shores within California's 158,693 square miles still shine. Whether you view the state's natural wonders at close range or at a distance, as recommended by Mark Twain, there's no denying that California also has abundant cultural and recreational opportunities for travelers.

Please spend a few minutes reading our short takes on selected 'Golden State' locales and attractions. You can pick spots that pique your interest, and then hatch a plan to venture west for a memorable California-style getaway.

Too Good to Miss

Balboa Park in San Diego, 'the nation's largest urban cultural park,' contains more than a dozen art associations and museums. Fine presentations of photography, Latino culture, science, anthropology, and aviation (to name a few) are housed within the park's 1,200 acres. You can get lost in a display of antique trains, applaud award-wining regional performers at the Old Globe Theatre, or delight in an organ concert at Spreckel's Pavilion. And Balboa's fabulous San Diego Zoo introduces visitors to domino-colored pandas, paddling polar bears, roaring lions, seventeen species of deer, and an endearing elephant calf.
At Monterey Bay Aquarium, don't miss the awesome, two-story-tall sea otter habitat. Within one million gallons of watery exhibits, the stand-out aquarium showcases more than 35,000 types of marine life, from kelp forest dwellers to shuffling penguins to sea dragons.
As a kid, did you ever wish that Charlie Brown and Snoopy were your neighbors? Now you can gain a first-hand perspective of thousands of original Peanuts cartoon strips at the Charles M. Schulz Museum near Santa Rosa.
If thoughts of perfect waves, antique surfboards, and Beach Boys' harmonies make you want to hang ten, flip-flop through Santa Cruz Surfing Museum, the International Surfing Museum in Huntington Beach, or Oceanside's California Surf Museum.
Surf n' Sand
Speaking of waves, California's legendary 1,264-mile-long coastline invites you to check out its extraordinary beaches.
Point Lobos State Reserve, three miles south of Carmel, is tops for hiking, exploring tide pools, wildflower viewing, and scuba diving.
Santa Cruz Beach Boardwalk has it all, from a classic seaside amusement park with circa 1924 wooden roller coaster to beach volleyball games and world-class surfing action at Steamer Lane.
Try your hand (and heart rate) at hang-gliding through blue skies over Torrey Pines State Beach between La Jolla and Del Mar.
At Piedras Blancas, four miles north of San Simeon, score amazing, close-up observations of elephant seals.
For birding, whale watching, and harbor seal sightings, check out Limantour Beach at Point Reyes National Seashore.
A more urban beach experience may be found at Santa Monica Pier, where arcades, jugglers, cotton candy, and a Ferris wheel contribute to the sandy fun.
Winter Magic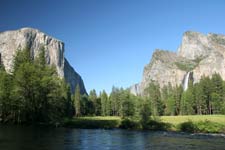 California has plenty of nippy white stuff. Some top spots for snow-time fun are as follows:
Shasta-Trinity National Forest in northwestern California and North Lake Tahoe's Royal Gorge Cross Country Ski Resort are good bets for cross-country skiing and snowshoeing.
Downhill skiing and snowboarding are popular pastimes at a whole host of Lake Tahoe area resorts, at Mt. Shasta in the northern reaches of the state, and from Bear Valley to Mammoth Mountain in the Central Sierras.
Spa Heaven
If aromatherapy, mud baths, herbal care, and revitalizing facials sound like promising vacation elements, consider visiting…
Stewart Mineral Springs Resort in the Shasta Cascades where trail hikes and warm soaks are part of an essential, outdoorsy spa experience.
Osmosis in Sonoma, an ultimate 'green' spa that focuses on organics and eco-friendly practices to complement cedar enzyme baths and walks through bonsai gardens.
Esalon in Big Sur for a classic California wellness retreat, complete with genuine hot springs, yoga, massage, and meditation.
Ojai Valley Inn and Spa, a golf course hideaway where you can alternate tee-times with a little spa-style pampering.
On-and-Off-Beat California Trivia
State Capital
Time Zone
Nickname
State Colors
Motto
Song
Dance
Tree
Flower
Animal
Bird
Marine Mammal
Reptile
Fish
Rock
Gemstone
Mineral
Fossil

Sacramento
Pacific
The Golden State
Yale blue and golden yellow
Eureka! (Greek word for "I have found it.")
I Love You, California
West Coast Swing
California Redwood
Golden Poppy
Grizzly Bear
California Quail
California Gray Whale
Desert Tortoise
California Golden Trout
Serpentine
Benitoite, a rare sapphire blue crystal
Native Gold
Saber-toothed Cat

How about Golf?
If you're into golfing, chances are you will want to swing through some of California's most exhilarating public access greens.
You might rub elbows with Hollywood celebs when you play a round at Arnold Palmer's Four Seasons at Aviara in San Diego.
At Mammoth's Sierra Star Golf Course, expect to see wildflowers, plenty of pine trees, snow-topped mountain crests, and an occasional black bear.
The Golf Club at Whitehawk Ranch in Clio treats golfers to the fragrant cedar trees, chilly streams, and bubbling waterfalls of the Mohawk Valley.
The greens at Pebble Beach's The Links at Spanish Bay offer sweeping, splendid views of the Pacific Ocean.
East of San Francisco at The Course at Wente Vineyards, you can stroll from the 18th green to a wine tasting room without missing a beat (or a stroke).
A World of Wine
Now that we've touched on the topic of vineyards, let's note that more than 90 percent of U.S. wine comes from California. 'Wine Country' runs throughout the state and there are 800-plus commercial wineries, so it' s always convenient to take a tour - and a taste - of 'Golden State' bounty.
Established in 1966, Robert Mondavi Winery was an early mission-style winery in Napa Valley, and its popularity with tourists still runs strong today.
Frey Vineyards in Redwood Valley has surpassed 'organic' standards to become a leader in the California wine industry's self-sustaining 'certified biodynamic' trend.
You can catch a glimpse of North America's largest mountain vineyard estate at the 365-acre Renaissance Vineyard & Winery in Oregon House.
Modesto's E.J. Gallo Winery enjoys the distinction of being the largest winery in the whole wide world.
Iconic California
Signature photo ops are everywhere in the 'Golden State,' and the following classics make many travelers short lists.
Say cheese in front of the Hollywood sign or on the Hollywood Walk of Fame.
Strike a corny pose with Mickey Mouse at Disneyland in Anaheim.
Snap a few pics of the super-scenic central coast between Monterey and Morro Bay on California Highway 1.
Become a shutterbug on San Francisco's one and only Golden Gate Bridge.
Sports Fever
There's no shortage of sports venues in California, where more than 20 professional baseball teams and a dozen-plus men's and women's football teams reside. The sports-minded state also boasts three pro basketball leagues representing both genders, seven hockey teams, two soccer organizations, and a pro tennis team. It's easy to attend your favorite sporting events during a California vacation because games and matches are played in all major metropolitan areas.

Shopping Sensations

Visit pedestrian-friendly towns such as Carmel and Monterey to shop at trendy galleries, and one-of-a-kind boutiques featuring jewelry and antiques.
If high-end retail collections and celebrity sightings sound intriguing, stroll down Rodeo Drive in Beverly Hills, where labels like Valentino, Cartier, and Armani are the norm.
Browse a major shopping mall with brand name merchandise and mega department stores at South Coast Plaza in Orange County.
Hit the outlet center circuits at Vacaville Premium Outlets or Preferred Outlets at Tulare.
Throughout the shopping zones of the Golden State, local artisans' handcrafted wares and international fair trade items are sold. At Wild Thyme Gifts and Gardens in Redding, you can purchase decorative iron trimmings and pretty pots brimming with native flora. In San Francisco's Haight Ashbury District (the quintessential center of 60's flower power), go to Genesis Imports for Tanzanian statues, Peruvian jewels, and assorted masterworks from around the world.
What's Cookin' in California?
Also in Haight Ashbury, don't miss the savory fish tapas, plantains, and other delectable Caribbean specialties at the wildly chic Cha! Cha! Cha!
The Buellton roadside cafe called Pea Soup Anderson's specializes in –you guessed it – the tasty green soup first simmered by Juliette Anderson in 1924. After you indulge in a bowlful of the hearty namesake dish, buy some flaky pastries at the Anderson bakeshop.
For unique Asian-California twists on seafood and sushi, dine at one of Zip Fusion's three Los Angeles and Corona locations.
Opened in 1886, San Francisco's Fior d' Italia is America's oldest Italian restaurant. Grateful patrons rave about Fior's fine calamari, gnocchi, veal, and pasta dishes.
To find incredible variety in a single stopover, make tracks for Old California Restaurant Row, a San Marcos mall that houses 18 different dining venues.
What's for dessert? Pop into Golden Gate Fortune Cookie Factory in San Francisco to pick up some visionary sweets that will likely predict what you want to hear.
To learn more about California travel opportunities, log on to http://www.ca.gov/Tourism.html, phone (800) 862-2543 or (916) 444-4429.

We invite Radius readers to share suggestions about unique, quirky, or out-of-the-way places to visit (locales, restaurants, landmarks, attractions) in your home state. Please e-mail your ideas to Paula Loehr, Radius Travel Columnist at Travel@radthemag.com.

printer friendly page ·

"For a Golden Getaway… visit California"
authored by:


Paula Loehr, R.N., B.A., worked in the fields of community health and nursing education, and was a school health nurse at the elementary, secondary and collegiate levels before becoming a fulltime journalist. Her writing specialties include family tr...