Discover Central America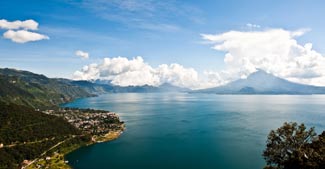 Where else can you explore black sand beaches, lush green countryside, banana plantations, and wild rivers teeming with bug-eyed crocodiles – all in one afternoon?

The name 'Central' America implies a middle-ground status, and the descriptive title is generally accurate in terms of geography. It's true that the seven-country cluster known as Central America (C.A.) is located midway between North and South America. But there's nothing middle-of-the-road or ordinary about the expansive landscape, welcoming people, and dynamic cultures of C.A. When you factor in the wealth of activities for visitors and remarkable range of political persuasions from one country to the next, it's safe to say that Central America is nothing short of extraordinary.

Repeat visits to C.A. become the norm for many travelers. "The Central American people are humble and hard-working. There is so much more to them than what the average tourist sees," says Veronica Tempone, an Assistant Professor of Spanish who has studied and traveled extensively throughout C. A. Veronica suggests bypassing mainstream travel packages and opting instead for purposeful tours that are locally owned and operated.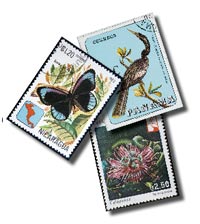 Central America is affordable, has exotic wildlife, beautiful vegetation, and friendly people who are happy and focused on enjoying life.

My oldest son, Ross Loehr, an Investment Consultant, also travels frequently to Central America. "Each country has unique differences that make it intriguing," Ross comments. "Central America is affordable, has exotic wildlife, beautiful vegetation, and friendly people who are happy and focused on enjoying life. The pace is more relaxed, and with the temperate year-round climate, it's a nice way to escape winters in the States."

If you decide to flee to peaceful, scenic Costa Rica, you won't be alone. Eco-tourists from all over the world flock to Costa to visit its protected public lands and private preserves, which together occupy more than one-third of the country's glorious acreage.

Where else can you explore black sand beaches, lush green countryside, banana plantations, and wild rivers teeming with bug-eyed crocodiles – all in one afternoon? Two oceans – the Pacific and Caribbean Sea – grace Costa's borders. And its rugged mountain ranges, Central Valley volcanoes, and tropical rainforests are simply amazing.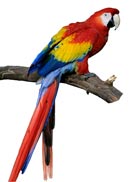 Visitors to the forests see white-faced monkeys scurrying up teak trees, true-blue butterflies fluttering, and scarlet macaws gliding overhead.

Costa Rica's abundant wildlife is also engaging. Visitors to the forests see white-faced monkeys scurrying up teak trees, true-blue butterflies fluttering, and scarlet macaws gliding overhead. On the beach, look for iridescent crabs scuttling through sand, big brown pelicans swan diving for fish dinners, and drowsy iguanas sunbathing at the mangroves' edge.

On two of my family's visits to Costa, we stayed in a real neighborhood on the second floor of a local family's home. Our cheerful resident host, Ramiro, and his family made us feel that we truly belonged. A talented and generous cook, Ramiro prepared customary breakfasts of rice, beans, and scrambled eggs with pineapple and mango slices from his garden. He even treated us to fresh coconut juice served in just-picked coconut husks - with our names artfully carved on the sides. One starry evening, Ramiro invited us to celebrate his son's twelfth birthday at his family's beach party. While he grilled chicken and corncobs on a blazing campfire, his wife, son, and daughter patiently encouraged our wobbly attempts to communicate in Spanish.

Natural splendor and the warm hospitality of Costa Rica's people are just the start of the country's appeal for American tourists. While the average price tag of a Costa Rican holiday has gradually increased during recent years, it's still a good value compared with stateside vacation options.

Outdoor activities for tourists suit every level of ability and interest.

You can raft down a river, surf off sandy shores, or sportfish for marlin, snook, or tarpon. Catch a fleeting glance of a leafy rainforest canopy on a zip line ride, or stroll among the treetops on a self-paced suspension bridge tour. The choices are all yours in Costa Rica. Compared with ever-popular Costa Rica, Nicaragua is generally less developed, less crowded with tourists, and more affordable. Nicaragua presently provides an outback-style travel experience, whereas most regions of Costa have been somewhat 'tamed' by a steady stream of international visitors.

Nica attracts adventurous American visitors with its smoking volcanoes, surf-able waves, and rich rainforests teeming with exotic critters. Local people are instantly welcoming and openhearted with foreigners, especially those of us who make any effort (however awkward) to converse in Spanish. Roads are often unpaved and somewhat rugged, but positive interactions with gracious residents, exquisite land- and-seascapes, and tropical fruits from wayside markets make trips through Nicaragua's untamed countryside worthwhile.

Picture green banana trees and pineapples fields, awesome volcanic views, shimmering lakes, oxcarts laden with corn, smiling children skipping on sand, luminous sunsets, fresh boiled lobsters, and big blue Pacific waves. Viva, Nicaragua!

As for the other five Central American nations, Panama's tourism reputation rests on sandy white shorelines, thick green jungles full of watchable wildlife, plus one very notable canal. Guatemala boasts vibrant marketplaces featuring hand-woven textiles, the visual pleasures of Antiqua's colonial architecture, and authentic glimpses of Mayan culture. Beautiful Belize is best known for its coral reefs, wildlife sanctuaries, broadleaf jungles, and intricate cave systems. Honduras attracts the likes of birdwatchers, expert hikers, scuba divers, and river rafters who really want to get away from it all. Although El Salvador's pristine beaches, volcanic mountains, and archaeological sites have the potential to attract rough n' ready travelers, political issues and damage from natural disasters limit the influx of American tourists.



Who invests in Central America?

On trips to Central America, Baby Boomers and other middle-aged travel buffs find themselves rubbing elbows with a dynamic twenty and thirty-something crowd of nature-loving tourists. Visitors are likely to encounter a mix of rainforest enthusiasts, wildlife watchers, lifelong surfers, and spirited anglers– as well as those who just want to immerse themselves in a friendly, laid-back Latin culture. While you're there, expect to meet returning tourists who aim to set up permanent residence in Central America.

Americans who invest in and/or relocate to Central America do so for a fascinating variety of reasons. Some pursue action-oriented adventures in an unfamiliar land. Others seek slower-paced, simpler lifestyles. Many are exploring cost-crunching strategies for more secure retirements.

"Real estate investment near the Costa Rican Pacific coast is relatively inexpensive compared to the U.S.," says Bill Rowe, a Costa real estate investor. "Plus, it's reassuring to have a foreign retreat, particularly one in a country as democratically stable as Costa Rica. The investment negatives have to do with the very slow pace of doing business in Costa Rica and the different 'rules' that apply down there." In any case, potential landowners should proceed cautiously. "If you choose to invest in Costa Rica, contract the services of a reputable lawyer," Rowe advises.

Reflections… Panama
"I enjoyed surfing by myself in Panama on a secluded beach, and returning to camp at sunset. I didn't see a single human footprint the whole way back."
- Ross Loehr, Investment Consultant

Reflections … Belize
"My Belize vacation was heaven because I spent most of it underwater looking at the most beautifully colored fish and corals in crystal blue water. To top it all off, we ate awesome Belize-style food that was so tasty that we brought back the recipes to share with our American families. I would definitely go back to heaven on earth at the Belize atolls."
- Liberta Scotto, Biologist

Reflections … Guatemala
"In Guatemala, I loved Lake Atitlan and Tikal. In Tikal, I took a morning hike and we climbed the main pyramid to meditate and watch the sunrise. We could hear the howler monkeys in the background. It was an ethereal experience, one I would do again. Antiqua, the ancient capital, is absolutely precious. I studied there in 2006. The streets are cobble stoned, and the buildings are multi colored. We visited a co-op of widows from the Guatemalan strife who make tablecloths, napkins, etc. from natural fibers and natural colors from veggies and flowers."
- Veronica Tempone, Assistant Professor of Spanish

Reflections… Nicaragua
"Nicaragua has a geographical landscape that is awesome. It is the land of lakes and volcanoes, located between two oceans – the Pacific and the Caribbean Sea. Most important, the people of Nicaragua are friendly and will offer instant hospitality with a smile. They make everyone welcome and at home from the start and will help you at any time. "
- Maria Elena Barrow, Court Interpreter

Reflections… Costa Rica
"Costa Rica is a small nation full of natural beauty – beaches, mountains, rainforests, volcanoes, and interesting wildlife - especially the monkeys. The people of Costa Rica are quite friendly. If you enjoy unspoiled scenery (including undeveloped roads full of potholes), take a journey back in time by traveling throughout the Nicoya Peninsula and spending time in laid-back beach towns like Nosara, Montezuma, and Mal Pais. In the small inland town of Guaitil, artisans who are descendents of indigenous people create pottery."
- Bill Rowe, Psychology Professor



Immunization Alert

Prior to visiting any Central American country, consult your personal physician or local Health Department for recommendations on pre-travel immunizations. Requirements change frequently and are country-specific, so it's important to obtain immunization updates before each trip.

Grassroots Tips for C.A. Travelers
Costa Rica's dry season (summer) runs from December through April and the wet or green season (winter) occupies the remainder of the year. If you choose to tour Costa Rica during the wet season, rent a four-wheel- drive vehicle. Seasonal rains hinder car travel on unpaved roads.
"I discourage people from visiting Nicaragua during September and October," says Maria Elena Barrow, a Nicaraguan native who presently divides her time between her country of origin and the U.S. "It rains too much, the roads get very bad, and it is no fun."
On C.A. road trips, buy gas whenever and wherever it is available. On most secondary roads, gas stations are few and far between.
"Don't drive at night," cautions Bill Rowe, whose family presently makes an annual visit to their condo in Cost Rica. Bill and his wife, Helen, intend to spend more time in Costa after they retire.
"I love the black sand on some Costa Rican beaches, but the sand in the summer is overwhelmingly hot, so wear flip flops," suggests Miranda Spencer, a teacher and journalist.
The higher peaks of many Costa Rican mountains are shrouded in low-lying clouds as each day progresses. Visit volcanoes early during morning hours before the afternoon 'mist cover' rolls in.
Too Good to Miss

Costa Rica


At Manuel Antonio National Park, you can swim off perfect coral sand beaches, explore tropical forest trails, and share your day with all four varieties of Costa Rican monkeys.
The two-hour-long Jungle Crocodile Safari Boat Tour on the wild Tarcoles River is the real deal for eager croc-lovers and birders.
Butterflies, big-beaked toucans, floral wonders, and Costa's tallest waterfall (Manantial de Agua Viva) entertain you at Pura Vida Gardens & Waterfalls near Jaco.
"Montana del Mar in the Guanacaste region has beautiful mountains, beaches, and convenient access via the Liberia Airport. It is a rustic country and you're living in a rainforest. It's very different and more peaceful than in the U.S," says Marc Valente, I.T. Administrator and Costa Rican real estate investor.
Bosque de Paz Rain/Cloud Forest Lodge and Biological Reserve in San Pedro is a privately owned conservation area that contains orchid gardens, jungle trails, and exceptional birding and wildlife-watching prospects.

Nicaragua


At Volcan Masaya National Park in Masaya, you can drive a car all the way up to the smoking crater of an active volcano. Be sure to spend time in the park museum, where skillfully constructed exhibits and murals address everything from basic volcanic geology to shorebird identification to colorful folk art.
Pick up a hand-woven hammock, carved stone figurines, and hand-painted pottery at The Old Market (National Handicrafts Market) in Masaya.
The colonial city of Granada on the shores of Lake Nicaragua has a bustling central park (Parque Central) with ornate golden cathedral, traditional Spanish architecture, and lively marketplace full of crafts, fresh foods, and textiles.
"Rancho Santana (west of Tola in the Province of Rivas) is my favorite destination," says Maria Elena Barrow. "To me, it is a very special place with the Pacific Ocean and its volcanic rocks, and Playa Rosada, with its pink beach sand – the product of the waves crushing little pink shells. Rancho Santana has been developed to U.S. standards with comfortable housing, clubhouse, restaurant, and amenities."
Ometepe Island in Lake Nicaragua features two volcanic cones, a dreamy cloud forest, sandy freshwater beaches, and numerous archaeological sites with pre-Columbian rock engravings.
"On a zip-line canopy tour in San Juan del Sur, I loved zipping along the forest canopy past exotic birds as monkeys howled below," says Lianne Bickmeyer, an Advertising Media Buyer and frequent C.A. visitor.
Spend an evening (or all your evenings) on the thatched-roof patio at Yolanda's Restaurant near Popoyo, where modestly priced lobster dinners include creative veggie medleys, plus heartfelt smiles and hugs from Yolanda and her beautiful granddaughters.


printer friendly page ·

"Discover Central America"
authored by:


Paula Loehr, R.N., B.A., worked in the fields of community health and nursing education, and was a school health nurse at the elementary, secondary and collegiate levels before becoming a fulltime journalist. Her writing specialties include family tr...