Are You at Risk?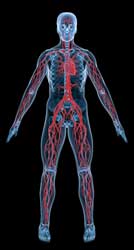 300,000 will die this year from a little known disease.

Each year, millions of Americans are affected by a potentially life-threatening condition, yet most aren't aware of the signs, symptoms, or risk factors for developing it.

The condition is deep-vein thrombosis, commonly referred to as DVT, and as many as two million Americans suffer from DVT annually, and approximately 300,000 die each year from a related complication called pulmonary embolism, also known as PE. In fact, complications from DVT kill more Americans than breast cancer and AIDS combined.

Despite these sobering statistics, most people know far less about DVT than they do about allergies. A recent survey from the Coalition to Prevent DVT found that only 25 percent of the public reported knowing something or a great deal about DVT, while 79 percent said they know something or a great deal about allergies. A staggering 75 percent of people surveyed say they know little to nothing about DVT.

As the chief medical officer at Thomas Jefferson University Hospital and a steering committee member for the Coalition to Prevent DVT, I find these statistics troubling, but the good news is that the risk of DVT can be reduced if you and your doctor are aware of the risk factors, warning signs, and symptoms of this serious public health issue.

What is DVT?
Deep-vein thrombosis is a blood clot that forms inside a deep vein, most often in the lower leg. Once formed, a blood clot can break off and may cause severe complications, such as pulmonary embolism (PE) or even death, if not diagnosed and treated effectively.

Although DVT can occur in almost anyone, certain people may be at a greater risk for developing the condition. Some common factors that can increase risk include:
Congestive heart or respiratory failure
Restricted mobility
Cancer
Obesity
Age over 40 years
Recent surgery
Smoking
Prior history of venous thromboembolism (VTE)
DVT can be difficult to diagnose because as many as half of all episodes have minimal symptoms or are completely "silent." However, pain, swelling, tenderness, discoloration or redness of the affected area, or skin that is warm to the touch may indicate the presence of a DVT.

Improving Your Safety through Risk Assessment
Building awareness of this often under-recognized condition is a critical first step, especially in light of the fact that DVT-related PE is the most common cause of preventable hospital death in the United States. But it is also critical to turn that awareness into action, which is why the Coalition to Prevent DVT has this year chosen to focus on increasing awareness of the importance of screening and risk assessment.

To assess your risk, you can visit the Coalition's Web site where you can complete a DVT Risk Assessor at http://www.preventdvt.org/riskfactors/assessmentTool.aspx

printer friendly page ·

"Are You at Risk?"
authored by:


Dr. Geno Merli is a board-certified specialist in internal medicine, Director of the Jefferson Center for Vascular Disease at Jefferson Medical College and Senior Vice President and Chief Medical Officer at Thomas Jefferson University Hospital. Dr. M...