Cool Buds, Worth A Million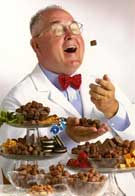 Can it be true—a person's taste buds are worth one million dollars? If you are the official taster for Edy's Grand Ice Cream…the answer is yes!

I had the opportunity to meet John Harrison, the man with the golden tongue, when he came to Indiana to introduce Edy's healthy fruit bars and ice cream snacks. Any headline that mentions health catches my interest, but pair that with ice cream and I was intrigued. You see, I had an ulterior motive… I love ice cream!

So, how can ice cream be healthy?

"It's all about portion control," claims Harrison. "We now package some of our more popular products in 120 calorie portions—like Edy's Dibs—so people can enjoy ice cream without the guilt."

Dibs are bite-sized chunks of ice cream with a chocolaty coating—one of my personal favorites. It took Edy's five years to develop the technology behind the Dibs product, which also comes with a Nestlé Crunch® and Nestlé Drumstick® coating.



The famous ice cream company keeps the health of their customers front and center in other ways too by manufacturing their fruit bars with real fruit. They are also low in calories and a good source of vitamin C.

The health benefits of the fruit bars must be apparent because many hospitals in the U.S. endorse the bars for their patients who have had tonsillectomies. Tonsillectomies remain one of the most common medical procedures performed on children every year. Although the number of tonsillectomies dropped from just over one million in 1959 to 260,000 in 1987, the number has returned to as many as 400,000 a year, with much of the increase attributed to sleep apnea relief, says the American Academy of Otolaryngology. "That means there are lots of sore throats out there just waiting for a cool, fruity frozen pop, and we are happy to offer them," says Harrison.

But, let's get back to the man with the golden taste buds—worth $110 per bud to be exact.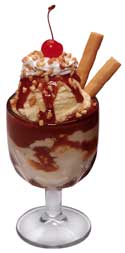 Radius: How are you able to maintain a trim physic after tasting 200 million (yes, you read it right) gallons of ice cream?
H: The operative word is "tasted." I didn't say swallowed.

R: Do you have a regimen similar to one that athletes or singers follow to keep their bodies and voices in shape…in your case for the tongue?
H: Actually, I do. I am careful to avoid certain foods like garlic and onions because they can clog the taste buds. I avoid alcohol as well…and I start my day with a cup of herbal tea.

You can compare what I do with wine tasting—you have to clear the palate between tastes—I usually use unsalted crackers. When sampling ice cream, the focus of the taste buds is to decipher the quality top notes and balance of the fresh cream, sweeteners, and natural flavors. I take a bite, swirl it around, aerate the product, and then spit it out. Tasting is actually a science that took me years to develop.

R: How did you get into this occupation?
H: I have been involved in the ice cream business for 40 years. I am the fourth generation that began with my great grandfather who owned an ice cream parlor in New York and then my grandfather started the first dairy-coop in Tennessee followed by my father's ice cream ingredient factory in Atlanta. As a kid, I grew up in my uncle's ice-cream factory in Memphis, drinking forty percent heavy whipping cream, milk, condened milk, raspberries, caramel and fudge sauce. My blood runs 16 percent butterfat.

To his credit, Harrison is the developer of seventy-five flavor s of Edy's ice cream, including the fifth most popular flavor in the world—Cookies 'n Cream.

Cookies 'n Cream was always a favorite in our household when we still had kids around, and possibly one of the reasons that I have accumulated some extra pounds over the years. Unlike Harrison…I don't spit after tasting.

As the official taster for Edy's Grand Ice Cream, Harrison provides the final word on what new flavors will be available to ice cream lovers worldwide. "It's like being Willy Wonka," confides Harrison. "I have the best job in the world!"

Edy's is also marketed under the name of Dreyer's in honor of the original founder of the company. You can find the Edy's brand east of the Rockies and the Dreyer's brand throughout the western states. Whether the name is Edy's or Dreyer's, the tasty, cool dessert is always a favorite among young and old, and when you can market it as healthy…who can resist?

printer friendly page ·

"Cool Buds, Worth A Million"
authored by:

Patricia Kirby brings several years of journalism, editing, and publishing experience to Radius magazine. She is a published writer and former co-editor of Hoosier Outdoor magazine, with a distribution throughout the mid-west. Patricia is also a form...