Add Annuals for color and design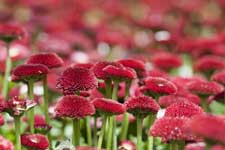 The majority of annuals are easy to grow and relatively inexpensive. Many, like marigolds, zinnias and cosmos, can be directly seeded into the garden providing you with a lot of color at a minimal cost.

Searching for a way to brighten your summer landscape? Then be sure to include plenty of annuals for a season-long display of color. Few plant types offer such an incredible diversity of color, shapes, growth habits and sizes, enabling them to fulfill a variety of roles on the home grounds.

Whether you are a novice gardener or one who has cultivated a green thumb over the years, annual flowers can be an important addition to your garden. The majority of annuals are easy to grow and relatively inexpensive. Many, like marigolds, zinnias and cosmos, can be directly seeded into the garden providing you with a lot of color at a minimal cost.

Before you actually purchase seeds or plants, spend some time deciding how best to integrate them into your landscape. A few factors to consider include the colors of nearby buildings, fences or patios, site conditions, and how much time you plan to devote to caring for your plantings. Also, take into account neighboring plants whose bloom times will coincide with your annuals. It makes sense to select colors that will complement or enhance objects or plants that are permanent features in the landscape rather than to have them clash.

Flowerbeds can be formal or informal. Often their shape is somewhat determined by the style of the dwelling be it a contemporary ranch asking for clean lines or an elaborate Victorian where intricate bedding patterns can be put into play. Approach your house from different sides when positioning new beds. Decide if beds will be viewed from just one or from all sides. Visualize both in your mind and on paper, what the plantings will look like. If you are not sure, whether they would be appropriate, implement them in steps and gauge their effect. That way you can modify the size and shape of the bed as you go. Color is perhaps the most memorable of garden qualities. Yet, it also is the most personal. There is no right or wrong way to use color and one should feel free to experiment. What you might think incompatible, others find exciting. Since annuals live for only one season, if you are unhappy with the results of your design or color choices, you can change them next year.

If you are unsure of what colors would best complement your house and grounds, start with a monochromatic color scheme. This would mean using various shades of one color such as soft pink petunias, rosy geraniums and maroon snapdragons. The next step would be to experiment with an analogous color scheme, which would be something like yellow zinnias, orangey-yellow marigolds and dark orange tithonia. Once you feel comfortable with harmonious color arrangements, you may want to throw in an occasional contrasting color for some excitement, for instance, blue salvia next to coral zinnias, or purple nierembergia with buttercup yellow Dahlberg daisies.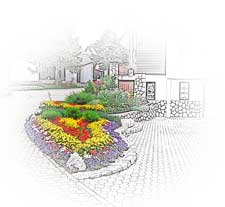 To keep your gardens from having a patchy appearance, plant in groups of at least three of a kind. Usually a staggered or triangular arrangement is more attractive that a straight lined planting. Repeat your favorite combinations so the eye moves along smoothly. Set plants close together for a full look but do not overcrowd them.

Use window boxes and other containers to enhance your garden design and color schemes. Line the walkway with rose annual vinca while using pink and white multi-flora petunias in the window boxes. Containers are perfect for experimenting with different color arrangements and to evaluate plant performance before using a new variety for larger scale plantings.

While annuals can make a spectacular statement in a bed alone, they are also effective combined with bulbs, perennials and woody plants. Cold tolerant sweet alyssum or pansies can be set out early to complement tulips or daffodils and left to mingle with fall mums or flowering kale. Taller annuals can be inter-planted among spring flowering bulbs to hide the ripening foliage. They can be used the same way to cover the bottom stems of leggy perennials as well as adding a touch of color to the garden when not much else is in bloom.

Impatiens, browallia, balsam, wax begonias, lobelias, mimulus and polka dot plants can brighten shady areas. Do not overlook annuals for drying or as cut flowers. These can be included in mixed flower gardens or grown in a separate patch. Use annuals also for colorful accents in the vegetable or herb garden. Several annuals are grown primarily for their decorative foliage among them dusty miller, coleus, amaranthus, snow-on-the mountain, castor bean and ornamental kale and cabbage. Try combining them with flowering annuals or other plants for unique but attractive displays. For instance, white edged snow-on-the-mountain, white nicotiana and pale lavender impatiens will lighten up a semi-shaded garden corner.

If fragrance is important to you, plant stock, heliotrope, sweet alyssum, old-fashioned sweet peas, sweet sultan and nicotiana under windows and next to doorways or anywhere else you will have the opportunity to enjoy their fragrance.

Select healthy transplants with good foliage color. Avoid scraggly plants that are root bound or otherwise look stressed. Resist the temptation to buy transplants in full bloom as you would rather have plants in a more vegetative stage that are still putting their energy into shoot and root growth. Plant them as soon as you can and the weather allows. Wait until all danger of frost has passed before setting out tender annuals such as impatiens. The majority of annuals will put on their best show if given a well-drained soil with a pH between 5.5 and 7.0. Fertilize with a low nitrogen or balanced blend such as 5-10-10 or the organic equivalent. Without a soil test, apply fertilizer as directed on the package. Water newly planted annuals well. Even drought tolerant varieties need moisture to become established. For prolonged bloom, many plants require dead heading or removal of spent blooms. This will stimulate plants to produce more blossoms and not seeds.

Do take a little time deciding how best to incorporate colorful annuals into your landscape. A few well-placed plantings can make your yard the envy of the neighborhood.

printer friendly page ·

"Add Annuals for color and design"
authored by:


Dawn Pettinelli is an Extension Instructor in the Department of Plant Science at the University of Connecticut. She manages the UConn Home and Garden Education Center and the UConn Soil Nutrient Analysis Laboratory. Both facilities provide informatio...