Blueberries, Lobsters, and Loons… 10 reasons why Maine summers shine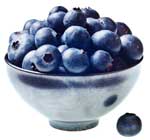 In the state of Maine, skies are clearer, the air is fresher, blueberries taste sweeter, and pine trees are greener than anywhere else on earth, or so it seems.

Let's look at ten reasons why Maine excels as a summer vacation destination.
Maine blueberries are bigger, bluer, and juicier. The state's summer blueberry harvest gives fortunate visitors a chance to sample some of the plumpest, most flavorful specimens known to berry enthusiasts. With their dark blue skins, powdery luster, and glossy green bushes, Maine's blueberries are also delicious from a visual perspective. And there's a whole host of edible delights associated with berry picking or purchasing.
Consider the immediate joys of eating sweet, ripe blueberries fresh from the fields, as well as longer-range indulgences like blueberry pies, muffins, pancakes, and jam.
If you're an amateur wildlife watcher who's trekking into blueberry country for the first time, please take note. Pickers who gather their blueberries in secluded rural fields often share the terrain with one or more of Maine's famous berry-munching black bears.


It's estimated that ninety percent of the state's surface area is covered by fragrant green forests.

Pine trees are plentiful. Why else would Maine be dubbed "The Pine Tree State?" There are so many evergreens in the Maine woods that the white pine and tassel is the official state flower. In fact, the scent of a traditional balsam-needle sachet is one of Maine's best aromatic masterpieces. But you don't need to fashion a pillow stuffed with balsam boughs to score an authentic whiff of Maine pine. Be ready to inhale as soon as you cross over the Maine border. It's estimated that ninety percent of the state's surface area is covered by fragrant green forests.
The air is fresher. The essence of pine isn't the only 'nosey' delight in the northernmost continental state of the U.S.A. With so many trees working around the clock to filter the air for a relatively small population, it's no wonder that Maine smells remarkably fresh and clean. Some souvenir shops even go so far as to sell cans of 'Maine Air' to receptive tourists. Whether you buy a can of it or just fill your grateful lungs with it, Maine contains some of the most invigorating air you will ever breathe.
Maine lakes shimmer. Chilly, glistening waters fill the state's 2,500 lakes and ponds, and there are 5,000 rolling rivers and bubbling streams in Maine. "The Pine Tree State's" brisk, clean freshwaters provide lots of active fun for boaters, kayakers, windsurfers, skiers and fishing enthusiasts. If you're a capable angler, you can expect to snag hefty catches of rainbow trout, salmon, and sunfish when you cast your line into Maine's lakes and streams.
A loon's call sounds more mysterious in the Maine woods. One of the state's most beloved icons is the common loon. The black and white speckled, water-dwelling bird is widely recognized by its characteristic appearance and plaintive call. With superb diving and swimming skills, and an ability to trot several yards on top of water before going airborne, loons amuse birdwatchers with their uncanny body moves and vocalizations. Few earthly experiences are more surreal than observing a chorus line of calling loons on a glassy, moonlit Maine lake.
Ospreys soar higher. Far above the loons, lakes, and rivers of Maine are big, bright, blueberry-colored skies where elegant ospreys, bald eagles, and peregrine falcons glide past pure white wisps of clouds. Altogether, more than 300 species of birds are at least temporarily at home in Maine.
And beyond the flocks of birds, there's yet another kind of air show to admire. Deep in the woods (far from glaring city lights), inky black skies feature twinkling stars. Nighttime sky watches are over the top in Maine.
Maine's mountains are majestic. America's highest coastal peak happens to be in Maine at Cadillac Mountain on Mount Desert Island in Acadia National Park. The view of churning sea, big sky, and rockbound coast from Cadillac's apex is just breathtaking. And in the landlocked center of "The Pine Tree State," regal Mount Katahdin, northern gateway to the Appalachian Trail, reigns as Maine's tallest summit. Altogether, fourteen Maine peaks approach 4,000 feet in height, so the opportunities for mountain magic are many.
The state's hills and mountains are certainly a wondrous playground for hikers of every age and ability. Lush pine and hardwood forests, wild blueberry bushes, spring-fed streams, and the heady scents of cedar and pine are all parts of the experience when you follow a hiking trail to the crest of a splendid Maine mountain.
A moose might wink at you. Well, let's just say there's a story my three sons like to recall about a "winking" baby moose they sighted during a long-ago Maine fishing trip with their grandfather. Winking or not, there are plenty of moose to view or photograph in Maine's abundant forests. Other watchable wildlife such as beaver, fox, porcupine, lynx, and deer are likewise on the scene.
Maine lobster feasts are the tastiest. The northernmost state's windswept coastline shelters quaint fishing villages where visitors can observe lobster trappers at work along the shore. In fact, Maine's annual commercial lobster catch is the largest of any American state. It's a good thing there are many lobsters to catch in Maine, because lobster-lovers everywhere regard the Maine variety of the marine crustacean as an ultimate seafood delicacy. Once boiled, the lobster's originally muddy-colored shell switches to signature red, and the enclosed white meat (dipped in melted butter) becomes the mainstay of a savory meal. Just for the record, an authentic Maine lobster feast takes place on a rustic wooden picnic table that overlooks the Atlantic Ocean. No exceptions!
The Atlantic coast shines. For centuries, the lobster-yielding, rugged, rocky coast of Maine has inspired artists, photographers, dreamers, writers, and vagabonds. Maine's shoreline tends to have a similar positive effect on vacationers too. Scenic green islands, churning waters, boulder-bound shores, misty veils of fog, and charming lighthouses come together to welcome visitors to the Maine coast.
There are seemingly endless contrasts to behold. You can peek into luminous tide pools dotted with tiny, blue-gray periwinkles and spiny purple sea urchins, or take in a sweeping view of huge, furious waves pounding full-force onto vertical rock cliffs. There's also the possibility of going whale watching or exploring a beach full of wave-weathered oval pebbles that 'sing' clickety-clack with the rise and fall of Atlantic tides.
From the bluest of blueberries to dense green forests, from the haunting call of a loon in a frosty lake to a lobster tail dipped in warm melted butter, it's all so grand, so engaging, and so typical of Maine. It's a state you really shouldn't miss.
******

To plan your Maine getaway, contact the Maine Office of Tourism at www.visitmaine.com or (888) MAINE45.

printer friendly page ·

"Blueberries, Lobsters, and Loons… 10 reasons why Maine summers shine"
authored by:


Paula Loehr, R.N., B.A., worked in the fields of community health and nursing education, and was a school health nurse at the elementary, secondary and collegiate levels before becoming a fulltime journalist. Her writing specialties include family tr...