If you're a Perfectionist,Camping Might Cure You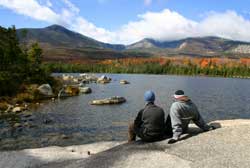 Whatever road to relaxation they choose, campers seem to have perfected the skill of taking it easy.

I have a confession to make. During my family's B.C. (Before Camping) years, I was a practicing perfectionist. There was only one correct way to approach life's requirements – the perfect way. I effectively completed tasks most of the time, but in my quest for perfection, I unintentionally tormented Dennis, my almost perfect husband and myself.

Then Dennis and I embarked on a cycle of more than three decades of camping, our A.D. (Absolutely Delightful) years. We tried out every imaginable style of camping equipment - from pup tents to travel trailers to shipshape motor homes - while criss-crossing our way around the U.S.A., Mexico, and Canada. As time passed, we gradually added (and recently subtracted) three active sons to (and from) our camping party.

In the early A.D. years, our weekend camping trips were preceded by two frantic weeks of intensive planning, organizing, and packing. Eventually, my obsessive micro-management tactics gave way to easier, speedier methods of preparation, based on old-fashioned common sense and practical experience.

Ever so slowly but surely, I became a reformed perfectionist. Nowadays, I still appreciate a job well done, but I accept (from others and myself), a job well enough done. This lesson in moderation was learned on the road, from my own family and from other seasoned campers who discovered the trade secrets of free and easy camping trips.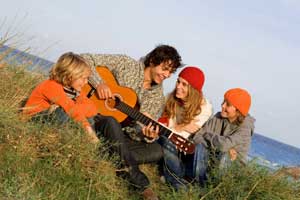 We simply learned to live with less space while enjoying it (and each other), more.

Have you ever wondered why veteran campers seem genuinely relaxed and unruffled by life's minor irritations? Here's why!

Camping is perfectly fun, even if all the details aren't perfect. Who cares if the sleeping bags are sandy and you forgot to pack your favorite pillow? Go ahead and spend a lazy afternoon with your family, prepare a tasty campfire supper, and stroll along a beach or mountain trail. As night falls, you can gaze at the starry sky, watch the pale moon rise, and inhale a few big whiffs of authentic fresh air. By bedtime, you will feel so serene and sleepy that you won't even notice the sandy bed or missing pillow.

A camping lifestyle and stress are incompatible. There's no reason to fret over things that aren't "just so" when you've chosen to simplify your life through camping. Getting back to basics frees you from the gritty details and strains of everyday life. Phones and computers are optional accessories at campgrounds, so you can choose to be free from workaday distractions. Camping is the ultimate stress management program, a great energy booster, and a surprising time saver. Use those bonus hours to pedal a bike, surf a few waves, or swim across a lake. Outdoor exercise helps alleviate stress and magically melts away concerns about real or imagined imperfections.

Camping is a lesson in compromise and consideration. Camping couples and families need to master the fine art of give and take in order to appreciate each other's company within the confines of a tent or recreational vehicle. There's limited indoor living space and storage capacity. The elaborate trappings of perfection won't fit in most tents or RV's. During my family's early camping years, we crammed two adults, three boisterous, growing boys, plus a lively Labrador retriever into a cozy twenty-one foot motor home. Next came the requisite assortment of groceries, fishing gear, surfboards, books, and card games. We simply learned to live with less space while enjoying it (and each other), more.

Experienced campers come to expect the unexpected, and they rise to the occasion. Adaptive abilities are put to the test when you're camping. No matter how well you plan, a road trip has an imperfect, unpredictable side. Flat tires, mistaken turns, and mechanical mishaps are inevitable parts of a camping adventure. When anticipating road emergencies, it's essential to pack plenty of confidence, a double dose of patience, and a healthy sense of humor. If all else fails, your up-to-date emergency road service policy is a handy safety net.

Campers know how to improvise. My good friend Dale is an expert at improvisation and a longtime RV camper who drives a dinosaur of a motor home. In his 'real life,' Dale is a music professor who applies the standards of perfection to all his endeavors in the classroom and on stage. On weekend campouts, however, Dale follows the path of least resistance. Instead of relying on a toolbox, Dale's routine response to minor repair projects is a jumbo roll of silver duct tape. From broken cabinet drawers to frayed carpeting to punctured shower hoses, duct tape is Dale's universal remedy. He flat-out refuses to tinker with trouble when he's camping.

Campers elevate relaxation to new levels. The contented campers we have encountered during our A.D. years share a common characteristic. They are all quite accomplished at 'chilling out.' Some campers lounge in umbrella-shaded chairs, visit with campsite neighbors, or listen to music, from Bach to rock. Others savor a good book, watch billowy clouds glide by, or write a letter to a faraway friend. Whatever road to relaxation they choose, campers seem to have perfected the skill of taking it easy. Kicking back is the name of the camping game.

Campers are genuine people. Down to earth, friendly, courteous, unhurried, cheerful, calm—the descriptive list could go on and on. It's hard to top the wide smiles, helpful suggestions, and openhearted kindness of the folks you meet at campgrounds. They could qualify as goodwill ambassadors, and they reflect the fact that camping is a great escape from reality - an extra-strength, 100% natural mood elevator.

Who needs perfection when imperfection is so much fun?

printer friendly page ·

"If you're a Perfectionist,Camping Might Cure You"
authored by:


Paula Loehr, R.N., B.A., worked in the fields of community health and nursing education, and was a school health nurse at the elementary, secondary and collegiate levels before becoming a fulltime journalist. Her writing specialties include family tr...