An age-old vegetable packed with vitamins, useful for good health and decorating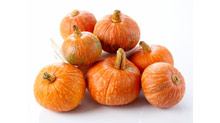 Not many plants can boast about their culinary adaptiveness to the extent that pumpkins can.

Can you name a nearly ten thousand year old native American plant that can reach over 1000 pounds, is packed with nutrition, is the feature for numerous autumn festivals and celebrations, was thought to remove freckles, and is even found in a fairy tale? That would be the pumpkin, of course! From Cinderella's coach to the 1,689-pound behemoth that set the world's record in 2007, pumpkins have been part of literature and history and folklore and dinner for quite some time.

Not many plants can boast about their culinary adaptiveness to the extent that pumpkins can. Though primarily sought after for the flavorful, golden, vitamin-packed flesh perfect for traditional autumn fare, the seeds of pumpkins along with pumpkin blossoms, immature fruit, and sometimes the leaves are also savored around the world. Pumpkins are even made into wine!



The orange color signals that pumpkins are loaded with beta-carotene, an antioxidant linked to reduced risk of certain cancers, heart disease, and other ailments. A cup of cooked pumpkin contains about fifty calories, an appreciable amount of vitamin A and measurable amounts of dietary fiber, calcium, iron, potassium, magnesium, manganese, selenium, vitamin C, niacin-1, foliate 21, and vitamin E. Pumpkin seeds supply protein, manganese, zinc, phosphorus, magnesium, and phytosterols. The latter are reputed to benefit the liver and immune system.

In addition to all their health benefits, pumpkins are fairly easy to grow and can be cultivated in most parts of the U.S. The biggest pumpkin growing states are Illinois—where more than 90 percent of the pumpkins used for processing are grown—followed by Ohio, Indiana, Pennsylvania, and California. According to Penn State, about 1.5 billion pounds of pumpkins are grown each year in the U.S. The state of New Hampshire has made the pumpkin its state fruit and holds quite an elaborate pumpkin festival each fall in Keene.

Botanically speaking, pumpkins are members of the Cucurbita family, which also includes squash, cucumbers, melons, and gourds. Much confusion arises when differentiating pumpkins from squash. Technically, although some purists may argue, pumpkins are primarily members of the Cucurbita pepo and C. mixta species but may include specific varieties of C. moschata and C. maxima. Simply speaking, pumpkins are edible, mature fruits of cucurbit species that are used in baked dishes like pies, soups, stews and breads. Pumpkins are used in these dishes because their flesh is coarsely grained and/or strongly flavored and therefore, better suited than the finer textured, milder tasting winter squash, which is often served as a table vegetable.

There are many, many varieties of pumpkins. It helps to group them into categories according to characteristics and uses. Standard orange pumpkins can be used for decorations or eating and come in small, medium, or larger varieties. Usually the smaller varieties are the very tasty and are good for pies. Mini pumpkins like 'Jack Be Little' measure three to four inches in diameter and are used for decorating, but they can be consumed. Extra large or giant pumpkins such as 'Dill's Atlantic Giant' are grown for fun and competition but may not be the best choice for pies.

White skinned pumpkins are becoming quite popular and can be used for ghostly décor, but also are good for cooking. Heirloom varieties include 'Long Island Cheese' (my favorite) and the Cinderella pumpkin, 'Rouge Vif d'Estampes.' Cushaws are another group that contains heirlooms, which are adored by specialty cooks. The fruits are elongated and sometimes striped. Lastly, there is the naked seed group. 'Triple Treat' can be cooked and carved, and they produce tasty hull-less seeds.

To grow great pumpkins, you need lots of sunshine, water, and elbow room. First, select an area that receives sun all day long. Add to that plenty of nutrients, minimal weed competition, and control of the more common pumpkin pests. Then enough pumpkins can be harvested to fill all your decorating desires and baking needs.

Pumpkins are a warm season vegetable, which means the seeds cannot be planted in the garden until after the threat of late frosts have past and the soil warms to at least 60 degrees F. In the New England region where I garden these conditions are not met until Memorial Day. I always plant seeds instead of transplants because the seeds germinate and grow so quickly that they usually catch up to and even surpass the transplants, which require a bit of time to recuperate from being lifted from their pots and planted in the garden.

Novice pumpkin growers often ask what it means to plant pumpkins in hills. A hill simply refers to a small grouping of seeds. Usually four or five seeds of small to intermediate sized pumpkins and two to three seeds of larger varieties are planted in an eight to twelve inch circle. Planting this number helps to "up your odds" so to speak in case some seeds rot or are eaten. If they all germinate, they can be thinned out.

Your pumpkins will thrive if they are planted in soil with about a 6.5 pH and if they receive between one and two inches of water each week. Under these conditions, the plants can obtain all the nutrients they need either from chemical or natural sources. Many pumpkin varieties produce very large, rambling plants so plan at least sixteen to twenty square feet for a hill of the smaller species and up to 150 square feet of growing space if you want to grow a pumpkin as big as a Volkswagen, as one of my clients stated on his soil test questionnaire. A new pumpkin called 'Summer Ball' is very compact and suitable for small gardens or large containers.

Pumpkins produce both male and female flowers separately on the same plant. The male flowers will be produced first; they are nature's way of telling honeybees and other pollinators to get ready to go to work. The female flowers produce easily recognizable little pumpkin shaped fruits at their base. Never apply pesticides to the blossoms. If using pesticides, wait until late in the day when the flowers close and bees are no longer active.

The two most common insect pests encountered in New England are the notorious squash vine borer and squash bugs. Also, powdery mildew—a disease—often creates havoc in the pumpkin patch. Chances are that at least one if not more of these plant pests will have to be controlled if you are wanting an abundant harvest. Contact your local Cooperative Extension Center to learn about the pumpkin pests in your area. Start at www.extension.org to find one near you.

Legend has it that an Irish farmer named Jack was an unsavory character and not welcome in heaven or hell. Doomed to wander the earth, he was tossed a lump of burning coal to light his way, and he placed it in a carved out turnip. The Irish referred to this ghostly character as Jack of the Lantern, which was shortened to jack o' lantern. In Ireland, Scotland, and England, scary faces were carved out of beets and potatoes as well and placed in windows and doorways to keep Jack and other evil spirits at bay. When they migrated to America, pumpkins were found to make great jack o' lanterns and remain so even today.

printer friendly page ·

"An age-old vegetable packed with vitamins, useful for good health and decorating"
authored by:


Dawn Pettinelli is an Extension Instructor in the Department of Plant Science at the University of Connecticut. She manages the UConn Home and Garden Education Center and the UConn Soil Nutrient Analysis Laboratory. Both facilities provide informatio...