A kinder, gentler lipo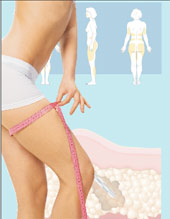 Gentle Liposuction is an approach, which utilizes the Body-Jet to rinse, release, and remove excess, unwanted fat deposits from areas of the body. It has been used with great success overseas for several years. Now, there is a wave of enthusiasm in the U.S. for water-assisted liposuction.

Traditional liposuction, suction-assisted lipectomy (SAL), infuses large amounts of wetting solution (tumescent fluid). This solution blows up the fat cells and constricts the arteries and veins, making removal easier and less bloody. However, stretching the tissues also damages the connective fibers necessary to support skin retraction to the new, slimmer contours. All subsequent liposuction techniques, power assisted liposuction (PAL), ultrasound -assisted-liposuction (UAL), and even laser-assisted-liposuction (LAL), require this same damaging step of blowing the tissues up to allow fat removal.

Sound Activated Article
Play:

Click to download this for your media player.


Water–assisted liposuction (WAL), utilizing the Body-Jet, is the first contemporary liposuction technique to allow fat removal without the tissue-damaging phase of excessive distension of wetting fluid. In fact, the volume of pre-infiltration is one-third that of other techniques. The Body-jet reduces the volume by utilizing a fine but firm spray of wetting solution from the microcannula tip throughout the gentle suctioning process. Thus, the tissue is constantly bathed in the numbing/drying solution as it is loosened for removal. This allows lower suction pressures, a more gentle motion, and less tissue/skin distortion.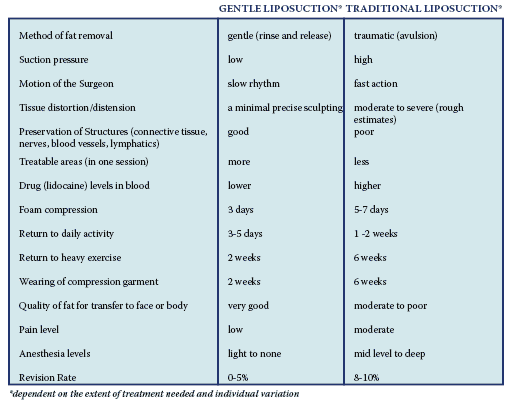 Traditional and power-assisted liposuction techniques physically traumatize the tissues with the blunt force required for fat removal. Ultrasound and laser-assisted approaches apply energy and heat, which cause damage that is not limited to the cells being removed. Water-assisted liposuction with the Body-Jet limits trauma because the spray of saline loosens the fat cells. This technique is less traumatic, more akin to playing a violin than operating a jackhammer.

With this Gentle Lipo technique, the smaller pre-infiltration volumes avoid "ballooning" of the skin contours, allowing better visual assessment of endpoints. This technique enables the surgeon to better "sculpt" with the Body-jet. Research indicates much lower revision rates—0%-5% with Body-Jet, 8%-10% without Body-Jet.

The Body-Jet makes liposuction available to a larger population. It is helpful in contouring irregularities in revision surgery and optimizing skin elasticity in patients with less than ideal skin quality. In revision cases, the pulsating spray breaks down adherences and evens irregularities. This "remodeling" yields a smoother contour. Patients with skin, which has lost some of its youthful elasticity, retain their residual connective tissue. This works with a more even adipose contour under the skin to produce an aesthetically pleasing result.

Clinical studies have demonstrated 30%-50% less pain, swelling, and bruising compared to traditional liposuction. The reduced trauma of minimal distortion and less traumatic fat removal shortens the recovery period by 70%. Typically, patients are back to daily activities within five days and out of garments and returning to full activities within two weeks.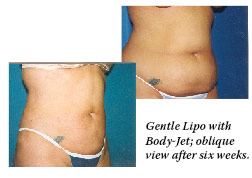 The nature of the fat from water-assisted liposuction differs from that of other removal techniques. A much greater percentage of the fat is alive than with other approaches. Early studies indicate 80%-90% viability of cells obtained with the Body-Jet versus 0%-50% with other techniques. The fat is smoother and uniform and is less diluted by blood and fatty oils. This creates wonderful opportunities for additional uses for the adipose tissue. Grafting to the face to reinvigorate drawn or deflated features as well as transfer to other areas of the body (breast, buttock, irregularities, etc…) is more opportune, efficient, and predictable. In addition, researchers are excited about the potential use of this fat in stem cell therapy, and active study of this application is ongoing.

Gentle Lipo advances body contouring from an era of "hi tech" to one of "good–tech." The concept of water-assisted liposuction is deceptively simple and the mechanism of the Body-Jet is logical and refined. Because it represents a "new direction" in liposuction, surgeons must be properly trained in application of the technique and technology. The advantages of less traumas, enhanced skin retraction, less pain, and quicker recovery ensure that Gentle Lipo will play a large role in body contouring for years to come.

printer friendly page ·

"A kinder, gentler lipo"
authored by:


Scott R. Miller, M.D., F.A.C.S., is Board certified by the American Board of plastic surgery. He is a Clinical Assistant Professor of Plastic Surgery at the University of California, San Diego and frequently writes and lectures on Aesthetic Plastic S...