TV doc and comrades are Changing lives…one face at a time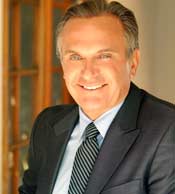 Through SFF, the physicians are able to offer their surgical skills and facility in Beverly Hills, California free of charge to people in developing countries and the US who otherwise would never be able to afford reconstructive surgery.

While chatting with Dr. Andrew Ordon, the words of a song ran through my mind. In the song, a young man asks his mother, "What would this gift do?" as he pulls a dollar from his pocket.

"My son, a gift like that can change the world…it can feed a multitude," she responded.

Dr. Ordon and his colleagues, Drs. Kami Parsa and Jay Calvert may not be feeding a multitude, but they are changing a multitude…one face at a time. The trio of plastic surgeons comprises a group called Surgical Friends Foundation (SFF). Through SFF, the physicians are able to offer their surgical skills and facility in Beverly Hills, California free of charge to people in developing countries and the US who otherwise would never be able to afford reconstructive surgery.



Prostate exam should begin at age 45

A prostate exam is a test to screen for prostate cancer. The goal is to detect cancer early, when treatment is most successful. The most common prostate exam is the digital rectal exam (DRE), performed by the doctor inserting his or her gloved, lubricated finger into a man's rectum to blindly feel the prostate gland and surrounding tissue.

A PSA test measures prostate-specific antigens (PSA), a substance produced by the prostate gland. Elevated PSA levels may indicate prostate cancer or a non-cancerous condition such as prostatitis, or an enlarged prostate.

The Cleveland Clinic recommends annual prostate exams beginning at age 45. They recommend a prostate exam accompanied by a PSA blood test for the following:
All men beginning at age 50
African American men beginning at age 40
Men with a family history of prostate cancer, beginning at age 40 (or younger, if recommended by a doctor)
Men who develop persistent urinary symptoms
Ordon brings nearly thirty years of experience in the field of plastic surgery to the table, while Parsa's experience ranks him at the top in a very small field of oculoplastic surgeons in the U.S., and Dr. Calvert's innovative "rib graft" technique is the hallmark of revisional rhinoplasty.

Though each surgeon in SFF is renowned in his own right, Dr. Ordon has become a household name and known to millions through the ABC hit daytime show, "The Doctors," which airs at 4:00 p.m., EST. Ordon, who was handpicked by Dr. Phil McGraw (Dr. Phil), is referred by McGraw as the "governor of plastic surgery," "and plastic surgeon to the stars."

"The Doctors," which is produced by Jay McGraw and his celebrity dad, features three other physicians: Drs. Jim Sears – pediatrician; Travis Stork – ER; and Lisa Masterson – obstetrician/gynecologist; who give valuable information about health, medical care, and drugs in a compelling, informal, easy-to-understand, and entertaining format. Along with breaking news about techniques, treatment options, and preventive measures, the quartet fields questions from the studio audience and from viewers who send questions through the show's website at www.thedoctorstv.com.

During the show, the physicians not only offer answers to viewer's questions, but also bring the "real deal" to the stage by subjecting themselves to many of the preventative tests that they recommend everyone get. One of these tests could have won Ordon the "Gipper" award when he voluntarily underwent a prostate exam, which was filmed for the show. Viewers watched in amazement while urologist, Dr. Jennifer Berman nonchalantly discussed the test and described what the audience was seeing while probing rhythmically with an ultrasonic probe in Ordon's exterior. Did he falter? Not a bit. "We want people to know how these tests are conducted and how important they are, says Ordon. That's why I subjected myself to this test, by a female urologist no less, and looked right into the camera during the procedure."

It should be noted that an ultrasonic procedure is the next step after the typically performed digital exam and PSA test. Men over fifty should have an annual exam, and Afro-American men or men with a family history of prostate cancer should start at age forty.

Managing a fulltime practice and co-hosting a TV show takes monumental organization, but Ordon gives credit to his associate, Dr. Ritu Chopra, also a plastic and reconstructive surgeon who keeps the home fires burning while Ordon is taping the show. After spending half of his week taping, he devotes the remaining half to his patients at his California practice.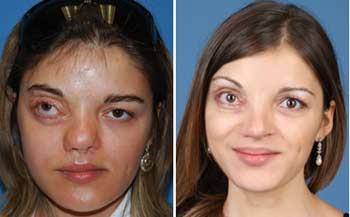 Young Elena from Romania came to the US seeking help after several surgeries left her disfigured. Elena describes that being accepted by the Surgical Friends Foundation (SFF) and its trio of surgeons was the happiest day of her life. Photo courtesy of SFF

No stranger to television, Ordon has been featured on major shows including 20/20, Entertainment Tonight, Inside Hollywood, BBC, 48 hours, NBC News, ABC News, and Hollywood 411. He has been quoted in notable publications and is the author of Revealing the New You, a Guide to Plastic Surgery and Everything You Always Wanted to Know About Plastic Surgery. He also contributed to one of the best textbooks in the field of plastic surgery entitled Facial Aesthetic Plastic Surgery. In addition, he has an extensive list of papers, presentations, and honors to his credit.

Dr. Ordon is a Phi Beta Kappa graduate of the University of California Irvine where he earned his undergraduate degree with honors in biological sciences. He then received his medical degree from the USC School of Medicine with honors in medicine. His general surgery and head and neck surgery training were completed at USC, UCLA and Loma Linda respectively. He then completed his training program in plastic and reconstructive surgery at the prestigious Lenox Hill Hospital/Manhattan Eye and Ear Infirmary Program in New York City. Affiliated with Cornell University and NYU, this program is recognized as one of the oldest and most renowned centers for aesthetics and reconstructive surgery in the world. He currently serves as an assistant clinical professor of plastic surgery at Dartmouth Medical College and the UCLA School of Medicine.

Ordon says he is a physician first, but considers himself an artist…"using your hands, being creative," he says. "As a plastic surgeon you don't deal in life/death situations, but you can offer quality of life. In some cases, you can give a patient their life back. With plastic surgery, you should never be able to tell that someone has had work done. It should be natural…improving on the normal, not fake or overdone."

In other interviews, Ordon confessed that he had some non-invasive procedures himself…a little laser tightening, some filler, stating that if you don't believe in the processes then you aren't an advocate of your profession.

Near the end of our interview, I just had to ask how the show "The Doctors" was fairing with its placement at the exact same airing time as Oprah. "Well, you know," reminded Ordon, "Dr. Phil started under Oprah, and then Dr. Phil invited us (the cast) to his show. Then, Dr. Phil's son began this show and...here we are. We are catching on though…we are into our second season now".

Actually, "The Doctors" is a bit more than just in its second season, having been nominated for an Emmy award and named the top new talk show of last season.

But let's get back to Ordon's real passion—reconstructive surgery and how he and his colleagues at Surgical Friends Foundation are changing lives. "Typically, my practice centers on facelifts, eyelifts, and non-surgical procedures that help people feel better about their physical appearance, which in many cases improves their mental status. But my real passion is reconstructive surgery, and the foundation allows me the opportunity to practice my passion. We formed SSF—so named because we are friends and we are also surgeons—because we wanted to give people who would never have the resources to afford reconstructive surgery a second chance at life. The people who are disfigured because of congenital deformities, trauma, or by environment are considered freaks by their family and friends. Some of them never leave their houses…they just have no life."

"We have two trips coming up—Cambodia and later to the Caribbean. Dr. Parsa is actually orchestrating the trips. He is a phenomenal surgeon whose specialty is oculoplastic so he is the expert when it comes to the complexities of the eye and its framework. Our mission is to help people by giving them a second chance at life," says Ordon.

Each doctor in SFF donates their time and surgical expertise to the reconstruction and treatment of individual patients. However, even with the generous donation of their time and their facility, there are multiple expenses involved including equipment, hospital stays, medications, implants, devices, and more. Thus, the idea to form a foundation was conceived to defray some of the costs.

Meanwhile, Ordon and his surgical comrades will be off to lands afar to take the gift of second chances to a young villager.

And what will their gift do? "My son, a gift like that can change the world…it can feed a multitude."

printer friendly page ·

"TV doc and comrades are Changing lives…one face at a time"
authored by:

Patricia Kirby brings several years of journalism, editing, and publishing experience to Radius magazine. She is a published writer and former co-editor of Hoosier Outdoor magazine, with a distribution throughout the mid-west. Patricia is also a form...