Keep Your Pets Safe, Happy, and Healthy This Springtime Season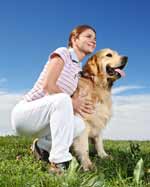 Five Steps to Ensure a Happy, Pet-Loving Family.

As you bid farewell to the winter cold and the hustle and bustle of welcoming a new year, Loving Pets Products wants to share five tips on keeping your favorite four-legged companions happy, safe, and healthy to welcome the warmer weather of the spring season.

With a few simple precautions, our lovable pet companions can enjoy this season safely and in healthy style.



Fertilizing - If returning to work in the yard, pulling weeds, and fertilizing, it is important to be aware of the products you are using because some can be toxic, or even fatal, to pets. Take the time to read product labels, apply the products in correct quantity and recommended application method, store unused chemicals in an area your pet cannot access, and as extra precaution, verify products with a gardening specialist or your veterinarian before applying any products to your lawn or yard. If your dog is exposed to chemicals, wash your dog's feet thoroughly, and watch for signs of danger that range from skin irritations to difficulty breathing, pawing at the mouth, increased salivation, frequent swallowing, increased thirst, or watering of the eyes or nose. Also be aware of swings in body temperature, vomiting, or shivering; these could also be signs of exposure to chemicals or poison.



Planting - In choosing your springtime planting arrangements, make sure that you use only pet-friendly plants that are safe if they are ingested. Toxic plants can include lilies, azaleas, rhododendrons, and oleander. While poisonous plants should certainly be avoided, it is also a good idea to discourage your dog from nibbling on any plant material because even non-toxic plants can lead to stomach upset. Dogs often dig in the yard when the new plants start coming up. After pets have been cooped up all winter long, make sure they are getting enough exercise. Chew toys, healthy snacks, and longer walks together are a great way to bond and keep them busy so that they are not looking at your newly planted rosebush for entertainment.



Celebrations - With celebrations surrounding the Easter holiday, remind your friends and kids to keep the chocolate bunnies away from the dog. Chocolate can cause stomach irritation; or if ingested in a large enough quantity, ultimately can be fatal due to a caffeine derivative (theobromine), which dogs cannot digest. Also, the plastic grass used in Easter baskets can prove fatal if swallowed because it can become twisted around intestines or in the stomach. During Easter egg hunts and other related activities, make sure you have special, all-natural, and affordable dog treats to occupy pets. Loving Pets' Vitahide contains 100 percent real chicken breast wrapped around all-natural rawhide and dipped in vitamins and supplements. You can find these products at national pet retailers, your local pet product store, or www.lovingpetsproducts.com.



Fleas and Ticks – Not the most glamorous of topics, but with the arrival of warmer spring weather, fleas and ticks become a bigger concern for dog owners and can potentially be a costly and challenging health risk if not treated. After a long winter, many U.S. parks are again filled with dog owners and their furry four-legged companions. But while dogs enjoy the freedom of running through grassy fields, please be aware of lurking, disease-carrying dangers like fleas and ticks, more prevalent in warmer months. Fleas and ticks are not only an irritant to your dog; they are, in fact, parasites that can transmit disease. If left unprotected, your dog runs the risk of contracting a number of harmful diseases such as Lyme disease. Talk to your veterinarian about easy-to-apply preventive treatments, which kill most ticks before they can attach, significantly reducing the risk of infection. Other effective measures to avoid infection include staying clear of wooded, shady, or moist areas with your dog and performing regular tick checks.



Allergies - Just as people experience an increase in allergies in the spring when pollutants and allergens are at their peak, dogs also experience springtime allergy symptoms. Pollens: Inhaled allergens from pollens can come from grass, trees, or blooming bushes. Two signs of pollen allergies are itchy skin and hair loss, usually evident toward the front of your dog's body - on the neck, head, ears, or under the front paws. If your dog experiences pollen allergies, speak to your veterinarian. Food: Allergies to food can exhibit the same pattern of itchy skin and hair loss on the front of your dog's body. The difference is that these allergies are not seasonal. You likely can manage your dog's allergies with a special nutrient-rich diet recommended by a veterinarian; and for everyone's happiness, it is important to adhere to the new diet and not allow exceptions. An option for treats is Loving Pets' Gourmet All-Natural Premium Meat Snack, which are 100 percent natural, containing no fillers or preservatives, and are antibiotic and hormone-free. With unique and healthy flavor combinations like chicken and apple, carrot and chicken, and sweet potato biscuit, your dog's tail will be wagging for more. Allergies are relatively common in dogs and cats, but with proper care and regular veterinarian visits, these allergic conditions can be easily managed.

printer friendly page ·