Restaurant Round-Up – Local Legends across Small-town U.S.A.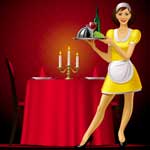 Some small-town restaurants almost feel like home sweet home. The meals on their menus are tasty, original, and pleasantly familiar. There's a welcoming, 'come as you are' atmosphere, and staff members - from owners and cooks to servers and dishwashers –aim to please their guests, many of whom are their neighbors and friends.

We've compiled an overview of four very different, geographically diverse American eateries with well-earned reputations as popular local landmarks that are too good to miss. These iconic restaurants might inspire you to drop by for a tempting 'house special, ' or to visit a one-of-a-kind café in your own community.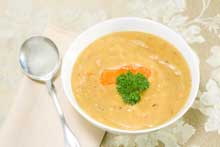 Pea Soup Andersen's
376 Avenue of the Flags
Buellton, California 93427
(805) 688-5581

In June 1924, Danish settler Anton Anderson and his French wife, Juliette, established a modest family restaurant in Buellton, the gateway to California's scenic Santa Ynez Valley. Although Anton was once a chef at exclusive eateries in Europe and New York City, it was Juliette's wholesome, delicious split pea soup that gained immense popularity with truck drivers, tourists, and salesmen who traveled through town. Thanks to Juliette's special recipe, "Pea Soup Andersen's" became the roadside cafe's official name. While a taste-tempting variety of menu choices are presently offered at Andersen's, Juliette's original split pea soup remains the all-time favorite. Thousands of bowls are served every day. In fact, the restaurant purchases so many peas that Idaho's associated pea growers have named Andersen's the official kick-off location for their annual "National Split Pea Soup Week" each November. At Pea Soup Anderson's, you can indulge in a bowl or two of green goodness, pick up some piping-hot pastries at the bakery, and stop by the gift shop for a bag of split peas labeled with Juliette's not-so-secret soup recipe.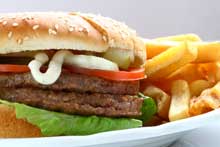 Double T Diner
6300 Baltimore National Pike
Catonsville, Maryland 21228
(410) 744-4151

Since 1959, the Double T Diner has been feeding hungry Marylanders from sunrise to sunrise. That's right, folks. Catonsville's favorite diner is open around the clock, so you'll never need to wait to satisfy your budding appetite. Double T is the real deal, a classic fifties diner with shiny chrome exterior and quarter-per-play jukeboxes at every booth. And there's no doubt, the size and scope of the menu will knock your socks off. Breakfasts are served 24/7, and the options are mind-boggling, from eggs prepared every which way to griddled goodies like banana pancakes to healthful fruit n' dairy gems. Beefy burgers and hot or cold sandwiches come in all shapes, sizes, and flavors; and the list of appetizers and salads rambles on and on. How about a broiled steak, authentic Maryland-style crab cake, Italian dish or savory Greek specialty? Double T can do it all. Is your sweet tooth dominating the day? Try one of Double T's sundaes, topped with genuine whipped cream. Fresh-baked desserts include wonders like honey-drenched baklava, cheesecake, coconut macaroons, and tiramisu.

So, what are you waiting for? Motor on over to Double T Diner and let the feast begin.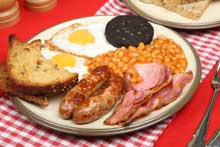 Snappy Lunch
125 N. Main Street
Mount Airy, North Carolina 27030
(336) 786-4931

True-blue fans of the classic Andy Griffith Show should pay a visit to Mount Airy, the real-life North Carolina town that served as a model for the TV sitcom's fictional borough of Mayberry. While you're reminiscing about the wholesome adventures of Andy, Opie, Barney, Aunt Bea and the rest of the folks from Mayberry, don't miss the chance to grab a yummy meal at Mt. Airy's oldest restaurant. The circa 1923 Snappy Lunch is an eatery hoisted to star status by its repeated mentions on Griffith's show.

For breakfast, the Snappy team serves traditional egg n'meat medleys, as well as a nice variety of flaky biscuit combos. Lunch fare includes old standards like hot dogs, grilled cheese and bologna, plus Snappy Lunch's "Famous Pork Chop Sandwich," a winning original recipe created by longtime restaurant owner, Charles Dowell. For a hefty slice of Mayberry nostalgia and a lip-smacking pork chop delight, pop into the Snappy Lunch, where prices are small and flavors are big. Just tell them Andy sent 'ya.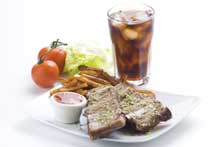 Dale's Bar-B-Q
3900 Okeechobee Road
Fort Pierce, Florida 34947
(772)464-6766

Florida's central Atlantic coast is best known for sandy beaches and saltwater fishing piers, but just a few miles inland, there's another kind of landscape with grazing cattle and cowboys on horseback. The best (and tastiest) way to catch a glimpse of Florida's colorful cowboy country is at Dale's Bar-B-Q West in Fort Pierce. Legendary Dale's Bar-B-Q is always packed with lunch and dinner customers, many of whom the gracious waitresses greet by name. Every year, the community-minded restaurant buys prize-winning pigs and cows raised by local 4-H Club kids who've earned top honors at the St. Lucie County Fair. Since 1962, Dale's has served authentic cowboy food in a cabin-like atmosphere with rustic wooden booths and elk antlers hanging from the wall. Menu favorites include sandwiches made with tender sliced pork or beef doused with Dale's own barbecue sauce, then slow-cooked over an open wood fire. There's also mesquite chicken, charbroiled steaks or ribs, tangy coleslaw, and mouthwatering barbecue beans plus more than enough fresh-brewed iced tea to quench a cowboy or cowgirl's thirst.



printer friendly page ·

"Restaurant Round-Up – Local Legends across Small-town U.S.A."
authored by:


Paula Loehr, R.N., B.A., worked in the fields of community health and nursing education, and was a school health nurse at the elementary, secondary and collegiate levels before becoming a fulltime journalist. Her writing specialties include family tr...