Another summer of closed toe shoes?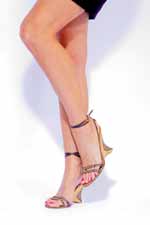 Treatment options to get nails in tip-top shape

Sandal season is upon us in the Midwest. Feet and toes should be in tip-top shape, especially at this time of year. Unfortunately, toenail fungus will prevent many from enjoying the "open-toe" feeling this season due to unsightly discoloration, thickened, brittle, flaky, distorted, and possibly odorous nails. Onychomyocosis, or toenail fungus, affects nearly 30-35 million Americans.

Onychomyocosis is caused by several different fungi, which can enter the nail through an opening or break in the skin around the nail or trauma to the nail. In addition, athlete's foot, diabetes, increased age, male gender, immunodeficiency, peripheral vascular disease, poor hygiene, and prolonged exposure of the nails to water are risk factors for this type of infection.

Treatment of onychomyocosis can be difficult and take many months to resolve because of the location of the infection. The nail bed is difficult to penetrate for treatment. Prior to the development of newer medications, the options were limited to oral and topical agents, which would only stop the progression of the infection, not cure it; or surgical removal of the nail, which can be very painful.

The newer oral medications indicated for the treatment of toenail fungus includes itraconazole (Sporonox®) and terbinafine (Lamisil®). Both of these agents have drug interactions that may be significant and both of them require some type of blood work at both the start and during therapy. Both drugs can adversely affect liver function. However, they are very effective agents in the treatment of onychomyocosis with cure rates of 73 percent and above. Another advantage to itraconazole and terbinafine is that each of these may be given by pulse dosing. This type of dosing is characterized by taking a higher dose for a limited amount of time followed by times that no drug is administered, for example, 200mg once a day for one week per month over three months.

Fluconazole (Diflucan®) is also used to treat toenail fungus although it is not approved for that use. Fluconazole is taken once per week for several months, which makes the dosing regimen easy. However, it must be taken for up to six to eight months to be effective, and the cure rates are not as high as with itraconazole and terbinafine.

Topical treatments for onychomyocosis are not very effective when used alone and until recently the only products available were those that are used for the over-the-counter treatment of athlete's foot. Ciclopirox (Penlac®) has been approved for treatment of mild to moderate onychomyocosis by prescription. It is a lacquer that is painted on the nail and surrounding tissue once daily for seven days, removed with alcohol on the seventh day, and then the cycle is repeated. Although this seems like a safer alternative, it must be used for an extended period of time (up to a year) and the cure rate is not nearly as high as the oral agents described above.

Many home remedies including bleach solution, hydrogen peroxide, Ajax®, vinegar, Vicks Vapor Rub®, Listerine®, and tea tree oil have been suggested for the treatment of onychomyocosis. But, because the dose and duration of these home remedies remains a "guessing game", and there have been no clinical studies for them, the likelihood of any of them getting rid of the fungus is slim. The best course of action is to visit your physician, determine the best treatment plan for you, and follow the plan. Just know that the road to once-again healthy nails may take time, patience, and diligence.

printer friendly page ·

"Another summer of closed toe shoes?"
authored by:


Tamara Dulin, R.Ph., is a registered pharmacist with Nightingale Home Health Care in Carmel, Indiana. A 1991 graduate of Butler University College of Pharmacy, she has spent the majority of her career in consulting. She is a past president of the Ind...