Triple Treat, Standout American Parks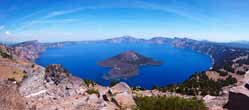 It's summertime, the supreme season for easy living. There's no better way to promote your easy-going summer lifestyle than with an outdoor adventure. America contains an abundance of picturesque spaces and fascinating outdoor places – in its national and state parks. Take a few minutes to consider the bountiful vacation prospects at three standout parks profiled here. Then make travel plans for an unforgettable park visit of your own.
Crater Lake National Park, Oregon
Chances are you'll never see truer, bluer waters, brighter, clearer skies or more enchanting waterfalls than you'll experience in southeastern Oregon at Crater Lake National Park. During a mid-summer trip to this evergreen paradise, you're likely to encounter all kinds of marvels, from chilly snow banks and color-drenched wildflower meadows to lumbering elks and swooping bald eagles. And the 1,932 foot-deep lake, originally formed by the cataclysmic collapse of Mount Mazama's volcano, is a breathtaking sight to behold. Visitors of all ages are awed by the intensity of Crater Lake's blue hue and the rugged beauty of the surrounding Cascade Mountains.

Within Crater Lake National Park, you can take a self-guided thirty-three-mile driving tour around Rim Drive, a super-scenic, high-in-the-sky roadway that encircles the uppermost edge of the six-mile-wide lake. Be sure to keep your binoculars handy to zoom in on views of local animals. In the woods around Crater Lake, you can expect to see creatures such as black bears, bobcats, mule deer, and yellow-bellied marmots.

When my family visited Crater Lake one fine July afternoon, my three Florida-born sons were more impressed by the deep white snow than the sapphire waters and wildlife. "This is the best day of my life!" declared then seven-year-old James, while clutching a big chunk of snow in each hand. Building a summer snowman and riding a sled down a big white-powdered hill rated as his peak vacation experiences. Even during early summer months, drifts and thick blankets of snow are available for frosty fun at Crater Lake's higher elevations. The area averages a whopping forty-five feet of snowfall each year.

Are nature hikes on your recreational wish list? Lace up your walking shoes and head for Sun Notch Viewpoint Trail, an easygoing path where spectacular western sunsets close the curtain on your day. And don't miss the national park's Volcanic Boat Cruise. It's a guided tour that offers an opportunity to watch birds, hike, and fish for Kokanee salmon and rainbow trout from the shores of Wizard Island in the middle of America's deepest lake.

For information about Crater Lake National Park, phone (541)594-3010 or visit www.nps.gov/crla.

Assateague Island National Seashore, Maryland and Virginia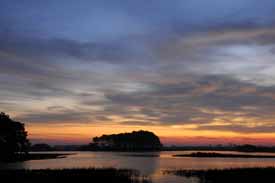 Just off the coast of southern Maryland and Virginia, there's a barrier island that's brimming with natural wonders—nothing more, nothing less. Assateague Island National Seashore is a classic beach retreat with a sandy shoreline that's clobbered by Atlantic surf from the east and caressed by the calm waters of Chincoteague Bay from the west. Assateague and its watery surrounds are inhabited by the likes of wild, wooly ponies, timid deer, terrapin turtles, and diving dolphins. Yet it's just eight miles south of Ocean City, Maryland's bountiful tourist attractions, and two miles north of the town of Chincoteague, Virginia.

Shaped by incessant winds and wave action, Assateague's preserve contains nearly forty thousand shifting, sandy acres. The thirty-seven-mile-long island attracts more than two million visitors each year. It's presently managed through a cooperative effort of the National Park Service, U.S. Fish and Wildlife Service, Maryland's State Parks system, and Chincoteague National Wildlife Refuge.

The Maryland-based Barrier Island Visitor Center on Assateague's northern end and the Tom's Cove Visitor Center at Virginia's southern entrance introduce you to what's available up and down the island. Browse through touch tank exhibits with creatures such as sea stars and live oysters. See puffer fish and seahorses swim in aquariums. Watch nature videos about local flora and fauna, and be sure to check out the schedule of ranger-led interpretive programs that run during summer months. Assateague's most celebrated residents are free-ranging ponies that amble around the island. Their probable ancestors - small domestic horses that were likely imported for grazing – are believed to have lived on Assateague for hundreds of years. Today's ponies still delight tourists with their shaggy coats and manes, sweeping tails, and spontaneous 'public appearances.' If you're lucky enough to visit the island at the end of July, don't miss seeing ponies in action at the Chincoteague, Virginia Volunteer Fire Company's annual pony swim, penning, and auction.

Although the Virginia-based pony herd is fenced inside Chincoteague's wildlife refuge, Maryland's roaming horses are likely to turn up anywhere, from sandy beaches to parking lots to salt marshes. And there are lots and lots of ponies to see! The current combined pony count on the Maryland and Virginia portions of Assateague Island is close to 300 strong.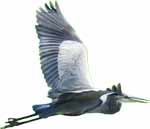 If you decide to wander the marsh area in search of ponies, allow extra time to try crabbing or clamming. Paddle a canoe or kayak through the secluded cove. Look for river otters, fox squirrels, and spotted sika elk. You're likely to see lanky-legged white egrets perched on ponies' furry backs in search of their favorite snacks – flies and ticks. As for the ponies themselves, they prefer munching on beach grass, seaweed, bayberry, and (gasp!) poison ivy. Please don't try imitating their snack habits.

But it's perfectly all right to follow the ponies onto Assateague's splendid beaches, provided you keep your distance. You can surf fish for red drum, striped bass, and king mackerel or drop a line in an inlet for summer flounder. Go for a swim, ride the waves into shore, or comb the sand for seashells. Watch for dolphins, spouting whales, and an occasional gray seal.

And here's good news for birdwatchers. Assateague Island shelters nearly 300 varieties of birds, including snow geese, great blue heron, peregrine falcons, and endangered piping plovers.

Are you a hiking enthusiast? Plan to explore more than thirty miles of sandy coastline or stick to developed nature trails that wind past Assateague Lighthouse or cut through marshes and forests. How about cycling? Pedal through the national seashore on paved pathways, sidestepping parking crunches while viewing island sights at an up-close, leisurely pace.

For information about Assateague Island National Seashore, call (410) 641-1441 (Maryland District); (757)336-6577 (Virginia District) or visit www.nps.gov/asis.

Stone Mountain Park, Georgia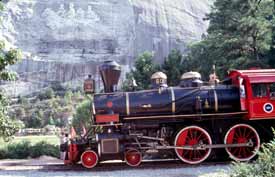 Ten miles northeast of metropolitan Atlanta, Georgia, Stone Mountain Park is best known for the tall, rocky dome that lent the state park its name. Stone Mountain - the world's largest exposed chunk of granite - towers 1,600 feet above sea level. The mountain's visible surface covers 583 acres and its rock-solid foundation stretches beneath half of Georgia plus a portion of North Carolina. The top of the dome affords outstanding views of the area's natural grandeur, Atlanta's urban sprawl, and distant Appalachian Mountains.

Throughout the ages, Stone Mountain has commanded the attention of Native Americans, European explorers, southern pioneers, and international tourists. In 1958, the state of Georgia purchased 3,200 acres around the mountain and today, more than four million folks visit the resulting Stone Mountain Park each year. Beginning in the early 1900's and culminating in the seventies, a series of ambitious sculptors chiseled a memorial carving of three famed Confederate leaders– Jefferson Davis, Robert E. Lee, and Stonewall Jackson – into the north face of Stone Mountain. The so-called Confederate Memorial Carving is currently recognized as the biggest relief sculpture on earth. To get a clear sense of the enormity of the sculpting project, consider that the carving surface spans three acres, rendering it larger than a typical football field.

The Discovering Stone Mountain Museum at Memorial Hall is a good place to begin your park adventure. Learn about local history, legends, and geology and watch videos about the Civil War in Georgia as well as the intrepid artists who engraved the face of Stone Mountain. The museum's grounds offer the finest views of the Memorial Carving.

Although the dome serves as a centerpiece, there's much more to Stone Mountain Park than chiseled granite and recollections of war. The Lasershow Spectacular is touted as the world's largest such display. It's a dazzling forty-five-minute presentation with neon laser lights, engaging stories, toe-tapping music, images of heroes like Martin Luther King, Jr., and a rousing fireworks finish.

You can tour the park in a number of ways. Take in awesome vistas from a high-flying Swiss cable car on the Summit Skyride or hike along three wooded nature trails, where you might see magnolias, dogwoods, and sweet gum trees. A five-mile Scenic Railroad excursion circles the base of the mountain. If you prefer to travel by water, you can choose to cruise around Stone Mountain Lake on a replicated Mississippi Riverboat, propel a pedal boat, or hop aboard a 1940's army amphibious vehicle for a Ride the Duck romp that concludes with a splash in the lake.

Are you ready to travel back in time? The Antebellum Plantation and Farmyard replicates life on an 1800's Georgia farm, complete with working cookhouse, gardens, and animals. Crossroads, a charming recreation of an 1870's southern town, boasts lively musical performances and Tall Tales of the South 4-D Theatre. Watch a candle maker, glass blower, and blacksmith demonstrate their crafts or interact with an unpredictable talking fountain named Stoney. See flour being ground at the Gristmill, catch a whiff of cinnamon rolls fresh from the adjacent bakery's ovens, and share a meal at Miss Katie's Sideboard, where hand-tossed rolls and authentic southern cooking rule.

To learn more about Stone Mountain Park, phone (770)498-5690; (800)401-2407 or visit www.stonemountainpark.com.



printer friendly page ·

"Triple Treat, Standout American Parks"
authored by:


Paula Loehr, R.N., B.A., worked in the fields of community health and nursing education, and was a school health nurse at the elementary, secondary and collegiate levels before becoming a fulltime journalist. Her writing specialties include family tr...