Marsha Mason is in touch with the land at her medicinal herb farm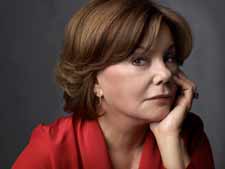 How does a four-time Academy Award nominee for Best Actress from Hollywood fame become a farm girl in New Mexico?

Perhaps it's her Midwest Missouri roots that were planted in St. Louis in 1942 that spawns a yearning to dig in the soil, but then again…Marsha Mason has a different story to tell about how she became the owner of Resting in the River Organic Farm in historic Abiquiu, NM.

"I needed to get away from LA," says Mason," so I threw up the pieces of my life and let them take me where they landed."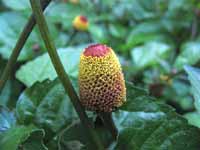 Acmella oleracea, also known under its old names Spilanthes oleracea and Spilanthes acmella, is a flowering herb in the plant family Asteraceae, also known as toothache plant or paracress as the leaves and flower heads contain an analgesic agent spilanthol used to numb toothache. It is native to the tropics of Brazil, and is grown as an ornamental (and occasionally as a medicinal) in various parts of the world. A small, erect plant, it grows quickly and sends up gold and red flower inflorescences. It is frost-sensitive but perennial in warmer climates.

Mason is readily known for her movie roles in The Goodbye Girl, Cinderella Liberty, and Chapter Two; TV roles - Fraiser with Kelsey Grammer and Lipstick Jungle, starring Brooke Shields. She was married to playwright and screenwriter Neil Simon who wrote several of the movie roles in which Mason starred.

"I had no intention of becoming a farmer when I left LA," claims Mason. "Shirley MacLaine who lives behind me told me about the property in New Mexico and when I saw it, I fell in love with its serenity. I have always been interested in herbs, natural healing, and being a good steward of the land, and so one day when I was talking with my acupuncturist he said if you want to grow things why not grow medicinal herbs. That's how it all began and now it's become a passion."

Mason often confers with master herbalists, attends workshops, and works with an herbal company—Vitality Works—to develop the formulas that are contained in a line of herbal skin products that she has named Resting in the River Restoratives. The full line of topicals includes hydration mists, body butters, soaps, and creams for the nose, lips, and most body parts that are in need of TLC. They include medicinal herbs such as Echinacea, chamomile, licorice, lavender, rose, St. John's Wort, and Aloe Vera.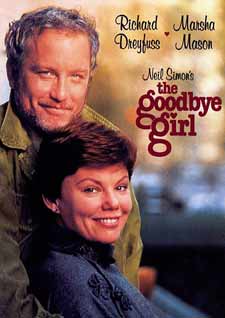 Mason is readily known for her movie roles in The Goodbye Girl, Cinderella Liberty, Chapter Two, and TV roles in Frasier and Lipstick Jungle.

According to Mason, New Mexico is an ideal growing area because of its 300 days of sun. A small number of farm hands and crew take advantage of the warm growing days to bring the harvest from the 247 acres to fruition.

"I don't allow the workers to come to work with any sort of negativity." Mason believes negative vibrations will affect the growth and health of the plants. "If anyone comes with an attitude we get that out of the way before they start to work in the fields. Keeping negative energy away keeps the workers and the plants happy. We practice biodynamic farming, which means that everything is interconnected. If that is true with the earth, wind, soil, rain—nature in general—then that should be my management style for the farm as well."

Mason includes Spilanthes in her bath and body products, which she credits to Mitch Coven of Vitality Works for development of her successful formula.

Spilanthes is a small low-growing wild herb that was wildcrafted for many years in central and south America. The tribes called it the toothache herb. They would chew a small amount of the herb, which made the mouth salivate, which in turn flushed out bacteria from the mouth. Mason claims that she noticed that after applying Spilanthes topically that it enhanced healing as well as drew out whatever was causing an irritation. She also confessed to ingesting Spilanthes, which is digestible, when she feels a tickling in her throat, swollen glands, or general feelings of unwellness. She doesn't advocate them for everyone, but says they work well for her. Adding Spilanthes to a line of her topicals has medicinal benefit and are included in most all of the body butters, soaps, and creams.

When she first began her farming career, fifteen years ago, Mason said she spent the first two years simply designing the fields. I started with trial beds, learned about irrigation practices, composting, and production. It was around that time that I read Rudolf Steiner's works and became interested in biodynamics. I liked his idea about using the Stella calendar—planting according to the moon, sun, and planets and how they interconnect with the land. Once we started farming using those techniques, the harvest measured substantially more.

So with such a successful herbal farm business does that mean that Mason has left the stage forever?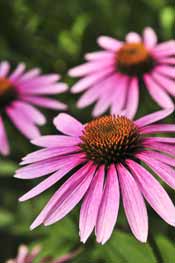 Resting in the River Organic Farm & Natural Products' preparations vibrate with life force and health-enriching properties. Each herbal ingredient is carefully chosen to enhance and activate the body's natural healing processes. What we have created is a profoundly effective line of skin care and herbal supplements -- right down to the cellular level.
Resting in the River's energetically infused herbal products are made mostly from the herbs and flowers grown at our certified organic medicinal herb farm located in the magnificent Chama River Valley in Abiquiu, New Mexico. Our commitment to agriculture goes well beyond our farm's organic certification to include biodynamic principles and Spiritual Agriculture.
Spiritual Agriculture emphasizes the integrity of Nature and the health of soil, water, air, and all living creatures. The farmers who practice Spiritual Agriculture are connected to the land by recognizing spirit in themselves as well as in nature. They embrace the spiritual qualities and sacredness of growing medicinal plants for all fellow human beings. They practice reverence towards the life of the soil, and honor the inner as well as the outer life of our medicinal plants that heal and nourish us.
The fruits of this commitment to these principles and practices are natural products of unquestionable quality, vitality, and purity for your well-being, as well as the planet's.
www.restingintheriver.com

Actually, no. Mason is currently working off Broadway in limited runs and performing regionally in Chicago. "I just need to downsize and be more mobile", she claims. "I will never leave New Mexico fulltime, but I want to spend more time back east and do things on a smaller scale".

However, doing things on a small scale is not the style of Mason who was nominated four times for the Oscar award, is a two-time Golden Globe winner, and a Broadway star. Mason cited her favorite roles were Only When I Laugh and Cinderella Liberty. When asked who has had the greatest influence on her life, Mason credited Muktananda as a great influence in her personal life, and actors such as Meryl Streep, and former greats… Geraldine Page and Eleanora Duse. Duse was the first woman to be featured on the cover of Times Magazine and was the guest of honor at the first-ever White House tea, given by First Lady Frances Cleveland.

In the meantime, Mason plans to continue farming herbs in New Mexico so if you are looking for natural-healing, soothing remedies you may want to check out her website at www.restingintheriver.com.

Or, if you are planning a trip to the east coast, be sure to read the marquees when you get to New York because you just may see the former Goodbye Girl saying hello to Broadway once again.



How it all started
In the early 1920's a group of practicing farmers, concerned with the decline of the soil, sought the advice of Dr. Rudolf Steiner, founder of anthroposophy, who had spent all his life researching and investigating the forces that regulate life and growth. From a series of lectures and conversations held at Koberwitz, Germany, in June 1924, there emerged the fundamental principles of biodynamic farming and gardening, a unified approach to agriculture that relates the ecology of the earth-organism to that of the entire cosmos. This approach has been under development in many parts of the world ever since. Dr. Ehrenfried Pfeiffer, who worked with Dr. Steiner during the formative period, brought biodynamic concepts to the United States in the 1930s. It was during this period that the Biodynamic Farming and Gardening Association was founded in 1938.

What distinguishes it from other agricultural attitudes and techniques?
Essentially, biodynamic farming and gardening looks upon the soil and the farm as living organisms. It regards maintenance and furtherance of soil life as a basic necessity if the soil is to be preserved for generations, and it regards the farm as being true to its essential nature if it can be conceived of as a kind of individual entity in itself — a self-contained individuality. It begins with the ideal concept of the necessary self-containedness of the farm and works with furthering the life of the soil as a primary means by which a farm can become a kind of individuality that progresses and evolves.

The maintenance of soil life is vital also in order to protect the soil from erosion and to create, improve, and augment the humus content. The result will be a fine, crumbly structure containing the necessary organic colloids. This leads to the production of high-quality crops, which in turn means better feed for livestock and better food for human beings.

http://www.biodynamics.com



printer friendly page ·

"Marsha Mason is in touch with the land at her medicinal herb farm"
authored by:

Patricia Kirby brings several years of journalism, editing, and publishing experience to Radius magazine. She is a published writer and former co-editor of Hoosier Outdoor magazine, with a distribution throughout the mid-west. Patricia is also a form...