How to plan a safe and enjoyable pet-friendly travel experience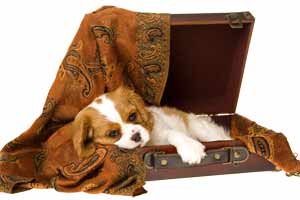 Pets are more a part of our family than ever before. We want to include them in our experiences and adventures.

With an ever-increasing number of hotels, resorts, and recreational areas rolling out the "welcome mat" for your four-legged family members, record numbers of Americans and their pets will take to the road and the sky during this summer's travel season.

Why such an increase in pet-friendly travel? First, pets are more a part of our family than ever before. We want to include them in our experiences and adventures, and we hesitate to leave them behind in a kennel or boarding facility. Also, new products are being introduced each year that make it easier and more convenient to travel with our furry friend. Lastly, more accommodations like hotels, resorts, and campsites, as well as airlines, have realized that instead of sitting on empty rooms or seats by turning away customers and their pets, they can fill more capacity and generate customer loyalty by welcoming the pet traveler. But, before you book your airline reservations or hit the open road in the family roadster, here are a few things to keep in mind to make your pet traveling experience safe, fun, healthy, and enjoyable for all.



Making the most of plane travel with your pet
Plan early. Book your reservations well in advance and check the airline's latest pet policies. Be prepared to provide a general health certificate and a rabies vaccination certificate from your veterinarian, which should be issued within ten days of your departure.
To minimize your pet's anxiety and avoid delay potentials with multi-location connections, choose nonstop flights if possible. Consider the time of year you are traveling and the weather conditions of your place of origin and your final destination. Early morning or late evening flights work best in warmer weather.
You will not be able to fly with a dog or cat that is less than eight weeks old. Pets must also be weaned at least five days before traveling by air.
Allow plenty of time to exercise your pet and give it a "potty break" when you arrive at the airport and before you enter the security area. Soothe your pet with words of reassurance as you place your pet in the carrier or crate, and consider placing a familiar toy or blanket inside for added comfort.
In lieu of feeding your pet a large meal, bring along healthy, all natural, and easily digestible snacks. A good treat suggestion is Vegitopia™ from Loving Pets.
Vegitopia comes in six vitamin-rich, 100 percent fruit and vegetable snacks (apple, banana, carrot, pineapple, and sweet potato), and contains no added preservatives or flavors. Additional health and digestive benefits can be found at www.lovingpetsproducts.com/pet-treats/vegitopia.
By Plane
When preparing for air travel with your pet, make sure your pet's physical condition is conducive to flying. An ill, injured, pregnant, very young, or senior pet has a higher risk to travel. Before booking a reservation, check the latest airline pet policies (posted on all pet-friendly air carrier's websites). Airlines typically require immunization and health records for traveling pets, and have size regulations to determine approved pet carriers for both under seat and cargo area transport. All carriers should properly fit your pet and have good ventilation. In extremely hot weather, some airlines do not allow pets to be transported in the cargo area.

By Car
Before taking to the open road on an extended driving vacation, help prepare your pet by taking several short jaunts across town and back to get it used to being in the car. A carsick pet can make the trip difficult for everyone. A seat upholstery protector, such as a pet hammock or waterproof seat cover will make clean-ups easier in case your pet does get sick or has an accident. And be sure to take along a few cleaning supplies to avoid having to search out a place to purchase them at the last minute. Also, keep your pet safe and secure inside the vehicle with a soft place to sit and in a safety-restraint seatbelt. If your pet is micro-chipped, bring the phone number of the company, as well as your pet's microchip identification number, in the event of a separation. For additional suggestions, help, and support for making pet-friendly travel plans, you can also check out these online resources:

Tips for safe travel by car
Safely secure your pet in a harness or pet car seat. Just as you wouldn't think to not wear your seatbelt, an unrestrained pet can become a projectile in the event of a sudden stop or crash, causing serious injury or death to itself, you, or your passengers. Never attach a restraining device to a pet's collar. Always use a harness to prevent injury.
Cats should be contained in a secured crate, or if possible, with a seat belt. Never allow your cat to roam freely inside your vehicle; it could get tangled around the driver's feet or get in the driver's sight of the road.
"Pit stops" are important for you and your pet. A good suggestion is to stop every couple of hours for your pet to stretch its legs, walk around, and take a potty break. Never let your pet jump out of the car without a leash, which is not only an essential for you to have control of your pet when you go outside, but also to erase the risk of your pet getting scared in unfamiliar surroundings and running away.
Bring your own supply of clean water and your pet's bowls; fresh water is not always available when you need to stop. Pets will feel comfortable using their bowl from home. Easy-to-clean Bella Bowls™ from Loving Pets bring a taste and comfort of home, and are easy to transport. Patented Bella Bowls' slip-resistant rubber base allows stability on a variety of ground surfaces or in a moving car. http://www.lovingpetsproducts.com/pet-accessories/bella-bowls.
Encourage your pet to consume small amounts of food and water, but don't allow it to overeat or drink if you still have more driving to do. Reserve your pet's main meal for the end of the day, preferably when you have reached your final destination for the night.
Be considerate and practice good "petiquette" by cleaning up after your pet. Always keep a supply of pick-up bags with you.
Check with your veterinarian before you leave about flea and tick treatments or repellent, heartworm medication and other preventives.
Leaving a pet in a parked car is never a good idea. Temperatures in confined spaces in the spring and summer can heat up fast, causing heatstroke or even death.
A pet first-aid kit is an essential item to pack and should contain things such as antiseptic cream, assorted bandages, tweezers, eye drops, gauze, and tape. Know what items are in your kit and how to use them before leaving home.
Pack your pet's medical records, medications, and health certificate. Take phone numbers for your pet's veterinarian, the National Animal Poison Control Center hotline, and emergency 24-hour pet hospitals in the areas where you plan to travel.
A travel tag on a pet's collar will help someone locate you should you and your pet become separated. The travel tag should contain information about where you are staying locally (while away from home) or a cell phone number that you will be using on the trip.
So, whether you and your loving pet plan to travel by land or air, the bottom line is to be prepared. With a positive attitude, and the right preparations that your pet will appreciate, the experience of traveling with your furry friend will be fun and very rewarding for the whole family. To find these Loving Pets' products at a pet product retailer near you, visit this convenient locator service at www.lovingpetsproducts.com/store-locator.

printer friendly page ·