It's not sci-fi…it's skin-sci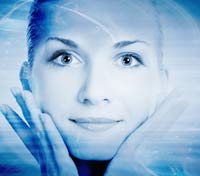 As the technology marches forward, the manner in which we address the aging face will certainly keep pace.

When people hear the word "lasers," they generally do not think of skin care. Many do not realize the role of medical lasers for many skin conditions that fall into the category of cosmetic dermatology. With the start of a new decade in 2010, we also recognize the 50th anniversary of lasers…an amazing technology that keeps advancing rapidly.

The word "LASER" is an acronym for "Light Amplification by Stimulated Emission of Radiation." Put quite simply, a laser provides a very specific, focused wavelength or beam of light energy that is powerful, precise, and effective. Medical lasers work by having a specific target that they seek based upon the wavelength. It is this concept that allows us to treat a variety of skin conditions. As the technology marches forward, the manner in which we address the aging face will certainly keep pace.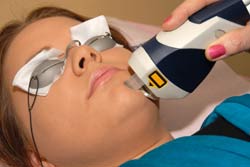 "Pigmented lesions" is a term that refers to brown spots, sunspots, liver spots, old acne scars, or freckles. These are effectively treated with class IV medical lasers with treatments being safe for all skin types. Treatments usually are for the face, chest, hands, or practically anywhere on the body.

As we age, we begin to develop a menu of concerns or changes that we become acutely aware of. We may know what's changing but often don't realize why or what options there are to address these changes. Many will be surprised and caught off guard at the quick onset of these conditions. For example, we begin to see the skin take on a roughened texture with more laxity. Fine lines and wrinkles will accompany these changes as well. The bountiful collagen found in young skin becomes less with the aging process. The color of the skin will begin to change from years of exposure to sun and elements, which results in a more sallow and dull appearance. Superficial blood vessels will become more noticeable with these skin changes as seen with spider veins and facial redness. However, most common are conditions that pertain to brown pigmentation. Regardless of one's concerns, most would agree that they are not in pursuit of looking twenty years younger – just a better version of themselves.

Redness to the face or chest from superficial blood vessels may be effectively treated with lasers specifically for these conditions. The texture or topography of the skin will also improve when these conditions begin to resolve.

When pore size becomes more noticeable, lasers are effective in shrinking the sebaceous glands, which in turn, reduce pore size. Using a daily regimen of topical products such as Glycolic Acid will also be part of a healthy skin care regimen that manages this condition.

Besides non-downtime (non-ablative) laser treatments, there are also those modalities that are considered ablative. These types of treatments involve "social" downtime during the healing process. Generally, undergoing an ablative procedure usually renders a more dramatic, quicker outcome. However, not all ablative treatments are appropriate for all skin types or lifestyles. It is this particular category of laser technology that has experienced the most growth and generated much interest over the last few years. The terms fractionated, resurfacing, plasma, erbiums, etc. all work to promote collagen stimulation, improve fine lines, remove wrinkles and sun damage, and address acne scars.

Cosmetic lasers have advanced to bring an excellent option for consumers of all skin types and most skin conditions. Treatment plans are tailored to address skin care goals, budget, and lifestyle.

Laser technology has brought an entirely new concept to how we are able to address the aging process. The technology is ever evolving, but one's concern with appearance remains constant.

printer friendly page ·

"It's not sci-fi…it's skin-sci"
authored by:


Lori Haney, RN serves as Nurse Educator for Celibre Medical, CA. In this role, she serves as a source of information for the nursing staff, patients, outside medical professionals as well as consumers. She has received training and certification as a...