Its leaf raking time…tips to save your back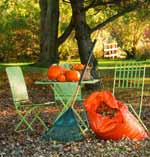 Mow and mulch. If leaves aren't too deep, mow with a mulching lawn mower and leave them on the grass.
Use a leaf blower. It will work very well on smaller lawns. For larger lawns, you might want to use a leaf blower mainly on flowerbeds and small spaces.
Rake your leaves. There are varieties of lightweight ergonomic rakes available, some with handles that allow you to rake with a straight back. Some allow you to rake, and then pick up leaves.
To bag leaves, rake the stack onto an old sheet or a tarp, then dump the stack into a leaf bag.
The American Academy of Orthopaedic Surgeons suggests wearing gloves to prevent blisters and bending at the knees rather than the waist. Avoid twisting motions while raking and take extra care when leaves are wet and slippery.

printer friendly page ·