American City Sampler
Three Gems for Savvy Travelers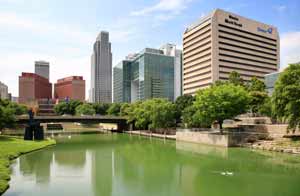 As tumbling leaves and brisk breezes usher in the autumn season, it's a fine time for a scenic drive and a self-guided excursion through a captivating American city. In the travel pages that follow, you can read quick previews of three promising urban destinations. Next, plan to actually explore one of our 'best bet' locales, or choose to tour another remarkable city that's within driving distance of your hometown.

Omaha, Nebraska
At the center of 'America's Heartland' lies Omaha, Nebraska, a historic riverfront city with outstanding cultural venues, frontline family attractions, and hospitable residents who greet visitors with smiles.

Omaha's Arts and Entertainment District is a great place to dive into your self-guided tour. For a good overview of downtown, hop aboard a carriage tour or rent a bike for a leisurely pedal past city sites. While you're in the vicinity, don't miss the chance to learn about life on the Missouri River while cruising on the famed River City Star.

Downtown's bustling Old Market, a circa early 1900's marketplace, features a dozen art galleries that showcase everything from contemporary arts and original designs in gold and silver to clay crafts and images borrowed from nature. The District also boasts eight theaters for performing arts where you can experience a night at the symphony, an opera, or a dance production.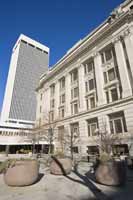 For a good overview of downtown, hop aboard a carriage tour or rent a bike for a pedal past city sites.

The city's Heartland of America Park is best known for its spectacular fountain with 300-foot-high waterspout and light show. The park is also the launching point for authentic gondolas that offer visitors memorable rides.

Omaha's roster of museums is impressive too. The Joslyn Art Museum is well respected for its extensive collections of American and European art. Highlights include works by Monet, Renoir, Jackson Pollock, and Mary Cassatt as well as a thoroughly modern sculpture garden.

Durham Western Heritage Museum is housed in a restored 1931 Union Pacific Railroad Station. It's a Smithsonian Institution affiliate and an art deco-style architectural treat. You'll see antique train cars, a vintage soda fountain, and exhibits about the history, people, and neighborhoods that make Omaha shine. Does the prospect of a green hideaway sound inviting? See blooming roses, an arboretum, and Victorian-themed botanicals at Omaha's Lauritzen Gardens Henry Doorly Zoo is another not-to-be-missed Omaha attraction. Among its many fascinating exhibits are a world-renown aquarium and rainforest, Desert Dome ecosystem, Bear Canyon, and Gorilla Valley. The Wildlife Safari transports zoo guests back in time to a wilder, woollier Omaha; and the Lozier IMAX Theater screens 3-D movies about ancient mummies, thundering dinosaurs, and the infinite mysteries of the deep blue sea.

At the National Historic Landmark campus of Girls and Boys Town, take a tour to learn about the kindly priest and children's home made famous by Academy Award-winner Spencer Tracy in the classic "Boys Town" film. Pop into the Visitor Center and visit the Village where today's kids live, study, work, and play. See the inspiring Hall of History and take a peek at Father Flanagan's House and Dowd Memorial Chapel.

Are active pastimes on your vacation to-do list? Fifteenarea golf courses, including one designed by Arnold Palmer, keep golfers swinging in Omaha and surrounding areas. And if someone in your traveling party prefers water-based action, check out Fun Plex, Nebraska's standout water amusement park. You'll be gliding down five-story waterslides, hanging ten in the wave pool, and floating on the Lazy River faster than you can say, "Oh my! Omaha!" For information about Omaha, Nebraska, go to www.visitomaha.com or phone (402)444-4660 or (866)937-6624 (toll-free).

Austin, Texas
Whether you're ready to listen to cowboy music, see the spectacle of a million bats taking flight, or savor the taste of real Lone Star State barbecue, the capital city of Austin merits a visit to the lively heart of Texas. You can choose to tour Austin's attractions in a number of appealing ways – on foot, in a bright pink sightseeing van, or via conventional cruise boat, paddle wheeler, or 'duck,' an amphibious vehicle that transitions readily from street roundabouts to lake splashes. Sunny Austin, the "Gateway to Texas Hill Country" was once a Native American buffalo hunting ground and a Colorado River trading post. Today, it's still surrounded by shimmering waters and a gently rolling countryside.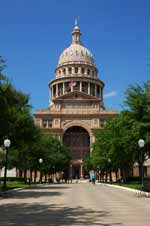 Be sure to take a complimentary guided tour of the towering pink granite State Capitol.

The "Live Music Capital of the World" re-earns its lofty title every day with hundreds of nightly performances by all sorts of musicians - from rock n' rollers, blues stylists, and country crooners to Latin jazz singers and Western swingers. Music lovers should plan to browse the entertainment clubs and restaurants on Austin's Sixth Street and in the Warehouse District for virtually non-stop musical venues. If your vacation timing permits, arrange to attend a taping or studio tour of PBS's long-running 'Austin City Limits" musical television series.

Yes, music is magic in Austin, but history buffs are likewise wowed by the Hill Country's gateway city. Be sure to take a complimentary guided tour of the towering pink granite State Capitol. In addition, don't miss the chance to check out the Bob Bullock Texas State History Museum, where eye-popping IMAX shows and a Texas Spirit Theater present compelling tales of the state's colorful past and present. Best of all, theater presentations are punctuated with radical 3-D images, extraordinary lighting, and sound effects.

At the LBJ Presidential Library & Museum, history buffs can learn about the remarkable personal and political life of legendary native son and former President, Lyndon Baines Johnson.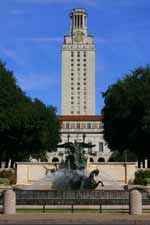 The University of Texas campus, is a point of historical interest in its own right

The University of Texas campus, just north of Austin's State Capitol Building, is a point of historical interest in its own right, with its landmark UT tower, renowned art museum, and cultural archives center. At the campus's Texas Memorial Museum, you can see an ancient fossilized pterosaur, sparkling gemstones, and a genuine meteorite.

Sports enthusiasts should note that Austin's three lakes, rivers, and developed trails keep boaters, paddlers, cyclists, and hikers amused. The chilly Barton Springs pool in Zilker Park is a favorite spot for swimmers, and Zilker's Japanese-themed and prehistoric gardens are simply lovely. Austin Nature & Science Center in the city's mid-section offers a dinosaur pit, more botanic adventures, and soothing nature paths. And if you decide to spend a day on the greens, twenty-four area golf courses will keep you driving, chipping, and putting.

Here's the scoop on Austin's 'darker' side. The musical city's much-celebrated nightlife is best kicked off with a customary stop at the Congress Avenue Bridge, where a gathering of a million-plus Mexican free-tailed bats emerge each evening at dusk (April through October) to swoop through sunset skies. To get ready for your Austin excursion, contact the Austin Convention and Visitors Bureau at (866) GO-AUSTIN or visit www.austintexas.org.

Chattanooga, Tennessee
Mountains, valleys, and the familiar old song about a signature railroad are just the beginnings of a trip to the welcoming town of Chattanooga, Tennessee. The Choo Choo city's revitalized waterfront on the Tennessee River features quality attractions such as the famed Tennessee Aquarium and the awesome collection at the Hunter Museum of American Art. Chattanooga's bustling riverfront also boasts a 160-foot-long pier and slips for boats, plus eclectic shops and restaurants.

'The Passage' is the city's unique underground pathway to the Tennessee River. It originates at Ross's Landing, a traditional meeting site established long ago by prominent Cherokee Chief John Ross. The walls of the passageway contain significant symbols of local Cherokee culture, representing Chattanooga's official commemoration of the Cherokee Nation's infamous Trail of Tears.

Are you ready to let someone else do the driving? Chattanooga's convenient, complimentary Downtown Shuttle system circulates electric buses every five minutes, with frequent stops at the city's major tourist spots, shopping centers, and eateries. Public parking is available at Shuttle Park North near the Tennessee Aquarium and Shuttle Park South near the site of the Chattanooga Choo Choo Hotel.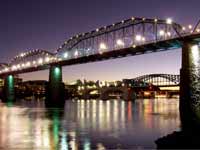 The Choo Choo city's revitalized waterfront on the Tennessee River features quality attractions

If you're interested in venturing out on the water while you're in Chattanooga, consider making reservations for an evening sail on the Southern Belle Riverboat, which departs from Ross's Landing. Tasty prime rib dinners, lively musical acts, and dancing are part of the package.

For landlubbers who prefer to keep their feet firmly planted on the ground, the famed Tennessee Aquarium offers fascinating views of critters from all sorts of watery habitats. Playful river otters splash around their cove, alligators lurk in swampy surrounds, eerie-looking sharks glide by in overhead tanks, and stingrays flap gracefully through their aquatic domain. Be sure to watch a movie at the nearby, six-story-tall IMAX theater where three-dimensional perspectives carry observers up and out of the everyday world.

At Rock City Gardens, you can expect to see rocks, rocks, and more rocks, from large to larger to largest. Gardens visitors are also treated to colorful seasonal blooms and foliage, a swinging and swaying pedestrian bridge that's not suitable for cowards, and panoramic views of a lifetime at Lover's Leap.

The area surrounding towering Lookout Mountain beckons guests with rolling hills, soft green valleys, and more breathtaking river views, Lookout Mountain's Ruby Falls, an awesome underground waterfall that's available for guided public tours, is a 145 meter-tall cascade that plummets inside a cavern deep below the earth's surface.

Also at Lookout Mountain, the Incline Railway is a National Historic Site that fully earns its distinction as "America's Most Amazing Mile." As if the steep, 70-degree-plus climb up the side of Lookout Mountain isn't enough of a thrill, the railway's specially outfitted cars sport glass ceilings. Whatever you do, don't forget to "keep looking up" while you ride.

If you're seeking a blast from the past in the city commonly associated with choo choos, plan to board a refurbished railcar on the vintage Tennessee Valley Railroad. Trip services and train schedules vary by season.

How about extreme (and not-so-extreme) sports? Hiking, cycling, rock-climbing, and caving options are plentiful around Chattanooga, as are waterways that are popular with paddlers, fly fisherman, and whitewater rafters. Top-notch hang gliding and para-sailing opportunities may also be found. Is a free-style shopping spree on your Chattanooga "to-do" list? As luck (good luck) would have it, a 15-minute drive from the downtown district will take you to 200 stores and restaurants at Hamilton Place Mall, Tennessee's biggest such venue.

For help planning your Chattanooga getaway, contact Chattanooga Area Convention & Visitors Bureau at (800)322-3344 or visit www.chattanoogafun.com/.

printer friendly page ·

"American City Sampler
Three Gems for Savvy Travelers"
authored by:


Paula Loehr, R.N., B.A., worked in the fields of community health and nursing education, and was a school health nurse at the elementary, secondary and collegiate levels before becoming a fulltime journalist. Her writing specialties include family tr...