A Healthy Relationship...
Is the house empty and quiet when you come home? Have the children moved out? This may be a good time to acquire a pet. If you already have a pet, what about adding another member to your household? For thousands of years, animals and humans have been living together. The dog was domesticated before early humans began living in farming communities, and other animals were domesticated when people (primarily women and children) began keeping wild animals as pets. Today, companion animals and all other animals are an important part of our culture.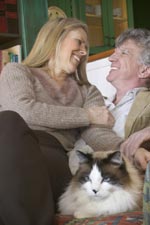 Pet ownership does involve work and some costs, but the benefits are well worth the commitment. Did you know that owning a pet could be beneficial to your health? Sure, pets provide us with unconditional love and attention (that's why we have them), but numerous clinical studies show other direct health benefits. Pet owners have been shown to have lower blood pressure and cholesterol levels than non-pet owners. Results from a recently released preliminary study revealed that interacting with dogs causes the release of serotonin, a hormone that makes us feel good. This may explain why pet owners tend to have reduced stress levels and a better mental well-being. A recent study revealed that interacting with and petting animals creates a hormonal response in humans that can help fight depression. Will your doctor soon recommend that you "go home, pet a dog and call in the morning"?

Selecting a pet should not be a spur of the moment decision. Take time to explore the many aspects of pet ownership and involve all members of your household. Resist the temptation to purchase a cute puppy or kitten without thorough planning. Keep in mind that you will share your life with a new pet for the next 10 to 15+ years. Do you have room for a new pet? What activities do you enjoy? Will a pet fit into your daily schedule and activities? Pets require a wide range of needs from grooming to exercise.

About 60% of U.S. households have at least one dog, cat, bird or other companion animal. The most popular pets are dogs and cats. Both offer companionship and love but in different ways.

So what is the best pet?
The dog has long been the traditional American family pet, even though they do require more attention than cats. Dogs are great companions for walking, jogging, and other outdoor activities. In general, they will require a yard for exercise and will demand more personal interaction than cats.

Cats are now the most popular pets. While fewer pet owning households own cats, most cat owners have more than one cat! These little creatures adapt well to our busy lifestyles because they use a litter box, eat less, and can be left for longer periods than dogs. Cats will tend to entertain themselves but are still affectionate.

Will it be a dog, cat, or both?
You should identify the best pet for your lifestyle and environment. Once you have decided to acquire a pet, visit with a veterinarian to determine the health needs, physical needs and suitability of the pet that you may be considering. Breeders and other pet owners are good sources for information about various breeds of pets, and also be sure to visit the local animal shelter to consider the dogs and cats that are up for adoption.

When you have made your decision, prepare your home for the arrival of your new pet, and schedule an appointment with your veterinarian to have your pet examined and establish a health-wellness program.

While these steps may seem like work, the rewards are well worth the time. Pets are great companions, and they provide us with unconditional love. The positive health benefit of pet ownership is one more reason for adopting a pet.





printer friendly page ·

"A Healthy Relationship... "
authored by:

Dr. Scamahorn is a graduate of Purdue University, School of Veterinary Science and Medicine. He is currently practice owner/practitioner of an animal clinic in West Central Indiana. Dr. Scamahorn has served on the American Veterinary Medical Associat...