Nature Crafts for Creative Travelers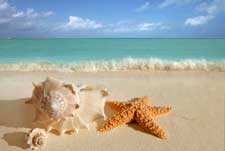 Each time you see your outdoor-inspired creations, you will be temporarily transported back to the lovely travel site where you gathered your natural treasures.

Spending quality time in the great outdoors is one of the standout benefits of traveling via auto or RV. Have you ever thought about bringing back tangible memories of your outdoorsy experiences when you return to your routine world? It's easy and rewarding to add a touch of nature to your home or office décor. You can even integrate the fascinating shapes, textures, and colors of some of the natural materials you find on hikes, bike rides, or beach trips into your handmade projects. Each time you see your outdoor-inspired creations, you will be temporarily transported back to the lovely travel site where you gathered your natural treasures. And there's a health-related bonus too. Medical practitioners and researchers alike have long acknowledged that outdoor activities and creative hobbies such as handicrafts can exert positive impacts on your psychological and physical well-being.

Our straightforward instructions for making two simple nature-themed crafts will help you get started.

Nature Collage Photo Frame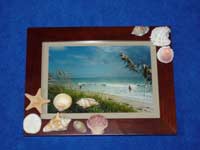 Required Materials: Printed photo; basic picture frame with glass or plastic insert that protects the surface of the photo; natural 'treasures' such as seashells, driftwood bits, small pebbles, twigs, or bits of dried moss that relate to the scene pictured in the frame; tacky (extra-thick) white craft glue

Instructions:
Choose a favorite print photo, preferably with landscape elements such as ocean, lake, river, trees, forest, mountains, etc. from a memorable trip. Place the photo in a simple picture frame.
Using tacky white craft glue, add decorative 3-D touches to the outer frame and its glass/plastic insert (the clear covering that protects the surface of the photo) by fastening seashells, pebbles, twigs, etc. to the scene. Position your natural 'treasures' so that they complement the pictured landscape. For example, glue seashells over a view of a sandy beach, twigs, and sprigs of greenery on a tree-lined horizon, or driftwood bits and pebbles on a lake's edge.
Allow glue to dry thoroughly (preferably overnight) before displaying your Nature Collage Photo Frame on a shelf or wall in your home or office.
Wildflower Window Hanging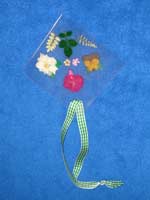 Are you ready to add some colorful, lightweight, unbreakable accents to the windows in your home or on your porch? You can keep spring and summer blossoms in view all year long with our easily crafted, unbreakable floral decorations.

Required Materials: Pressed and dried wildflowers, leaves and/or ferns (prepared as described below in a microwave oven), clear self-adhesive laminating sheets (available in office supply stores), pencil, scissors, basic hole-punching tool, one-foot length of thin ribbon or twine.

Instructions:
In a microwave oven in one simple step, you can quickly press and dry collected wildflowers. Just insert small, thin flowers and flat leaves between the pages of a disposable magazine, place the entire magazine in the microwave, and heat on low to medium power for 20-second intervals, checking after each interval to see if flowers are sufficiently flat and dry. Set microwaved flowers aside until they cool completely before removing from magazine.
For each window hanging, use a pencil to draw two identical shapes (your choice of size) from a laminating sheet. Squares, ovals, circles, diamonds, rectangular and free form shapes all work well for this project.
Use scissors to cut out two identical shapes.
Arrange a few pressed/dried flowers on the sticky adhesive side of a laminating sheet cutout, leaving a one-half-inch clear (flower-free) margin around the entire edge of the shape. Apply the matching laminate cutout to the top of the floral design and securely press the two adherent surfaces together with your fingertips. Smooth out any air bubbles or wrinkles that appear on the laminate.
Punch a hole (with the hole puncher) at the top of the laminated floral cutout.
Thread the ribbon or twine through the punched hole, forming a loop for hanging, and securely tie ends.
Display your floral decorations in your kitchen, bedroom, or office windows.
While you're at it, why not fashion extra decorations to give away to nature-loving friends? And if you're an avid reader (or know others who are), make some smaller floral shapes to use as blossoming bookmarks. You can easily tuck them into greeting cards, or slip them between the pages of gift books or magazines. There's no better time than the present to express yourself creatively.

Natural materials gathered while you travel will make your handicrafts more meaningful and memorable - as you make them, display them, or give them away.

printer friendly page ·

"Nature Crafts for Creative Travelers"
authored by:


Paula Loehr, R.N., B.A., worked in the fields of community health and nursing education, and was a school health nurse at the elementary, secondary and collegiate levels before becoming a fulltime journalist. Her writing specialties include family tr...