Danica Patrick in a race for The Missing Millions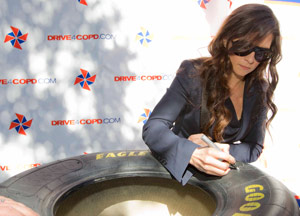 When Radius was asked to do a feature about COPD (Chronic Obstructive Pulmonary Disease), and was given a choice to speak with one of five spokespeople, I jumped at the opportunity to chat with Danica Patrick. Being an Indiana native, I just knew that fellow Hoosiers and Indy 500 fans would never forgive me if I didn't interview Patrick. The importance of the race is evident in the number of locals who gather in Speedway, Indiana during the entire month of May.

When Patrick climbs behind the wheel of her 675 horse-powered racecar, her goal is to win. Now, along with that aim, she is racing against time to bring awareness to COPD. She recently joined the DRIVE4COPD Race Team—along with Jim Belushi, Billy Ray Cyrus, Bruce Jenner, Patty Loveless, and Michael Strahan—to encourage people across the country to learn about the disease and discover if they or a loved one are at risk, by taking the COPD screener at DRIVE4COPD.COM. Early diagnosis is key because once lung function is lost it can never be regained.



Causes of COPD

Smoking: A smoker is at least 10 times more likely to die of COPD than a nonsmoker. What's more, tobacco smoke causes up to 90% of all COPD deaths. This includes exposure to secondhand smoke. Therefore, if you're a smoker, you can see why it's important to quit.
Pollutants: Another cause is indoor and/or outdoor pollutants. If you are exposed to toxic chemicals and pollutants at work, you may be at higher risk for COPD.
Genetics: COPD can also result from a rare genetic disorder that causes low levels of a protein called Alpha-1 antitrypsin, which is called Alpha-1 antitrypsin deficiency. It's also known as Alpha-1. This condition is inherited from your parents. In addition to severe lung disease, Alpha-1 can also cause liver disease. A simple blood test can show if you have Alpha-1.


Each team member is racing for close family members who have battled a form of COPD. Shortness of breath, coughing (with or without mucus), and wheezing are serious symptoms that many people mistake for signs of getting older or being out of shape. However, these could be symptoms of COPD, which includes chronic bronchitis, emphysema, or both. COPD is the fourth leading cause of death in the US.

Patrick has joined the team in memory of her beloved grandmother who died at age 60 of COPD. "I am getting involved in the COPD cause to bring awareness of this terrible disease. It was hard for me to see my grandmother struggling for every breath. She was on oxygen 24-7 and finally was confined to a wheelchair. I feel we lost her much too early."

"A brief, five-question screener, at DRIVE4COPD.com will determine if you might be at risk for the disease. If the screener shows risk, I urge people not to ignore the signs, get to a doctor right away, and above all stop smoking. Adding exercise will help too. An added bonus of taking the screener is at the end you can vote for the "Team" member that you want to win the "Race for the Missing Millions."



What is COPD?

COPD stands for Chronic Obstructive Pulmonary Disease. The phrase may sound complicated at first, but it's actually pretty simple once you break it down.

Chronic = It's long term and doesn't go away
Obstructive = It limits the airflow from your lungs
Pulmonary = It deals with lungs and breathing
Disease = It's a health problem to be taken seriously

COPD is a serious lung disease that makes it harder and harder to breathe. While it can't be cured, it can be managed and treated, so it's important to find out if you have COPD. With the right diagnosis and treatment, you can take steps that could help you manage your COPD and breathe better.

With COPD, your lungs do not work as well as they once did. Therefore, you find it more and more difficult to breathe. As the disease progresses, your symptoms tend to get worse and more damage occurs in the lungs. This damage is permanent.

Chronic bronchitis and emphysema are COPD.

When you talk about chronic bronchitis or emphysema, it's important to realize that you are really talking about COPD. With COPD, you can have one or both of these conditions. Most patients have both.

One could say that Patrick actually began her racing career at age seven, by traveling around the US with her family who followed the racing circuit. At age ten, she began racing go-karts, won several championships, including world races, and hasn't looked back since. She jumpstarted her career overseas and made history with the highest-ever finish for a woman.

Since then, Patrick's career has been on the fast track with considerable wins and high-profile endorsements. Throughout her career, she has received numerous industry awards and honors. Anticipation is high for her this year as she competes again in the NASCAR Nationwide Series™, along with her return to the Indy 500 in May.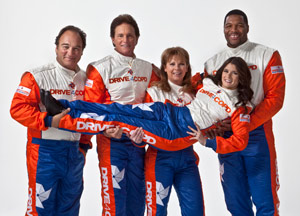 The DRIVE4COPD race team takes time out for a little fun during a promotional event. Each member of the team is driving in memory of a loved one who was or is a victim of the disease. Team members are Jim Belushi, Bruce Jenner, Patty Loveless, Michael Strahan, and Danica Patrick. Billy Ray Cyrus, (not pictured) recently joined the team.

Patrick became the first female driver to lead the race at Indianapolis, first during a lap near the 125-mile (201 km) mark while cycling through pit stops, and then late in the race when she stayed out one lap longer than her rivals did during a set of green-flag pit stops. Patrick overcame two crucial errors to finish fourth, the same position she started in. Her car stalled in the pits about halfway through the 500-mile (800 km) race, dropping her to the middle of the field; and shortly after reclaiming a spot in the top ten, Patrick spun on a caution period just before an intended green flag leading to a four-car accident. The accident caused damage to Patrick's car that was limited to the nose and front wing. Her pit crew promptly made repairs, and due to the subsequent yellow, Patrick was able to rejoin the field having lost only one position. When the leaders pitted for fuel on lap 172, Patrick stayed out to take the lead. On lap 194, eventual race winner and 2005 series champion Dan Wheldon passed her as she was forced to slow in order to conserve fuel. Patrick was subsequently passed by both Bryan Herta and her teammate Vitor Meira. Patrick's fourth place finish was the highest ever for a female driver at the Indy 500, besting the previous record of ninth set by Janet Guthrie in 1978. Patrick led nineteen laps overall.



Understand How COPD Affects Your Loved One

When someone you care about has COPD, it's important to know what the condition means. At the most basic, COPD patients have lung damage that makes it hard to breathe. And as the disease progresses — and lung damage gets worse — they may have to stop doing many activities because of their breathing problems. But the damage caused by COPD goes beyond physical effects. Oftentimes, the emotional trauma can be debilitating, too. Many COPD patients feel depressed. Difficulty with activities can keep them isolated. Some even blame themselves, since COPD is usually a result of cigarette smoking. Whatever the case, being able to rely on someone like you for support, love, and encouragement can be very important for managing the condition — and treating it.

COPD doesn't just affect the patient.
COPD changes not only the life of the diagnosed person, but also of surrounding family and friends. You should know that there are resources designed specifically to help you provide support and learn how to cope — especially if you're a primary caregiver.

Get help for providing support. Go to DRIVE4COPD.com to find more resources and websites that can help.

During the 2010 season, Patrick set the Indy car Series record for consecutive races finished, having completed every race of the 2010 season as well as all but the first race of the 2009 season, for thirty-three races.

From a ten-year old who raced go-karts, to gracing the covers of multiple magazines, being featured in numerous television commercials, winning the 2008 Kids Choice Award for favorite female athlete, to being voted sexiest athlete in Victoria's Secret "What is Sexy" list, Patrick has indeed earned her accolades. To quote an old phrase, "You've come a long way, baby."

Despite those successes, year 2011 may be seen—at least on a personal level—as one of her most exciting yet, as she uses her status to bring awareness of Chronic Obstructive Pulmonary Disease, and to perhaps help lives in so doing. It's a legacy anyone would be proud to claim.

printer friendly page ·

"Danica Patrick in a race for The Missing Millions"
authored by:

Patricia Kirby brings several years of journalism, editing, and publishing experience to Radius magazine. She is a published writer and former co-editor of Hoosier Outdoor magazine, with a distribution throughout the mid-west. Patricia is also a form...