Is there a new generation of smokers?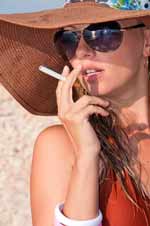 BILL: At a football game recently, I was surprised to see so many kids smoking. "You're right," said Licensed Clinical Psychologist, Dr. Judy Rosenberg, an expert in the field (drjudyrosenberg.com). "Big Tobacco has a history of advertising heavily to teen-agers. They need to replace their customers who died."
DR DAVE: Ironically, the way the world works, Big Tobacco has had to ride a two-headed horse. In 1998, they gave 46 states and the federal government $206 billion to prevent people from using their product.

BILL: Didn't the feds set what they thought was a conservative goal of reducing tobacco users to ten percent of the population by 2010?
DR. DAVE: Well, we missed by a mile! Twenty percent of American adults still smoke. And according to the American Cancer Society, one thousand under-18 smokers start the habit daily. On top of that, each year 43 percent of the adult smokers try to quit--but failure rates stand at 70-80 percent. What therapeutic approach does Dr. Rosenberg recommend to buck this tide?

BILL: She uses aversion therapy. "Rapid smoking makes people sick. They hate the feeling and remember the bad experience. Once when I was instructing someone to rapid smoke, he threw up in my smoking booth---actually, it splattered all over the window and, of course, I made him clean up his own mess. Needless to say, he never smoked again." You know Dave, I'm not so sure aversion therapy works. If it did, who would ever get married a second time? In your own practice, how do you treat tobacco addicts who come seeking help?
DR. DAVE: The first thing I tell my patients is what I will tell all our readers. Remember this number: 1-800-QUIT-NOW. This is the national consortium of tobacco telephone Quitlines. In operation since 2004, this month they will register their three millionth caller.

BILL: Pardon my cynicism, Doc, but a call gets what? A personal greeting from the American Lung Association Pres and a lifetime supply of nicotine gum? Seriously, Dave, what good is a phone call just because your family Doc told you that you were at risk for lung cancer? Didn't you know that already?
DR. DAVE: Actually Bill, the statistics show that telephone counseling has a proven track record—your suggestion about nicotine gum isn't all that far-fetched either. I'm a big believer in studies that show the Quitlines, plus gum or the patch, are the best foundation for beginning to quit.

BILL: What about family support? In the other addiction treatments, we know that family intervention and support can be the ticket to recovery...
DR. DAVE: The three chief problem areas are: first, getting the smoker to recognize the health problems connected with smoking; second, getting him/her to recognize the many threats to children and non-smoking family members...

BILL: And third, making the Quitline program relevant to the smoker?
DR.DAVE: Exactly. Research shows that if the family and other support persons can keep the tobacco addict's denial down in these three areas, nicotine replacement and Quitlines have the greatest chance of success.

BILL: Remember the old image of the smoker; drink in one hand, a Camel in the other? I never smoked, so in any bar, I was easy to spot; I was the one with a drink in each hand. But, if I was already addiction-prone, why do you think it never took with me?
DR.DAVE: A very uncomfortable question to ask a researcher Bill; we are expected to make a good faith effort to portray even the findings we don't like! As for your individual case, I have no idea. But there was one other oddball finding in the national research---smokers who drank more booze during their Quitline efforts to stop smoking were more likely to succeed than those who used alcohol less frequently.

BILL: Given George Bush's memoirs about his binge drinking, I guess I would rather the current First Smoker "snuck a few smokes" than used the Jack Daniels Old #7 method of quitting.
DR. DAVE: I don't think the researchers were talking about the Bill Manville "Too drunk to light a match" method of smoking cessation. But granted President Obama's busy schedule, and his need for anonymity, my sense is the best formula for him to quit would have three elements: 1. Quitline. 2. Nicotine replacement. 3. Counseling WITH the kids and Michelle.

BILL: 1-800-Quit Now. Enough said.

printer friendly page ·

"Is there a new generation of smokers?"
authored by:


Bill Manville and Dave Moore met when Dr. Moore was Director of The MacDonald Center addictions rehabilitation facilities at Scripps Memorial Hospital in San Diego, where Bill was a volunteer peer facilitator. Dr. Moore is a licensed psychologist and...