Patricia Starr, Riding across country at age 67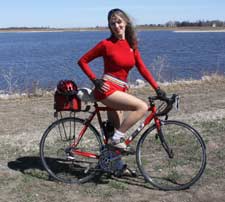 Providing inspiration to boomers and scholarships for the youth

"I was scared, nervous, and excited. What had I gotten myself into? What made me think that I, Patricia Starr, at age 67, an untrained bicyclist, could pedal all the way across America? My dream had swept me along, but now we were actually driving to Astoria, Oregon. I never knew such a place existed before the ride preparation took over my life during the past year and a half."

"As we passed through Portland onto the highway to the Pacific Coast, my stomach was trembling with butterflies. What about those huge logging trucks? Will there be room for me on the road? What will the other bicyclists be like? I'll be spending the next seven weeks with strangers. Will they laugh at me for being so untrained and inexperienced? What if I can't make even the first day? Will I be embarrassed? Maybe I'll have to move to another city instead of going back home to Santa Barbara."

"I appeared to be so sure of myself during the preparation period; there wasn't a hint of any doubts. Now, as we got closer, they were pushing in from all sides.

I was a well-prepared, confident musician when I was performing. That day, I felt as apprehensive as a kid on the first day of kindergarten. I only knew I had a goal to pedal America."

Those were the thoughts and apprehensions of Patricia Starr, as she prepared to embark on a bike ride that would see her crossing 3,622 miles over the next few weeks. Those words are also excerpts from her book, Angel On My Handlebars, which she wrote after successfully completing the trip.

When a review copy of Starr's book crossed my desk, I was intrigued immediately…a 67 year old woman, basically inexperienced as a cyclist, pedaling over 3000 miles? I had to learn more. And once I settled into the book, I wasn't disappointed, as the author left nothing to my imagination, describing in detail the pain she felt pedaling up long hills, the force of suction from large trucks that almost swept her away, and the weakness she felt from battling hypoglycemia when her snack arrived late.

As I explained to Patricia during our interview, I felt exhausted after reading her book, and ashamed at my being tired after a mere ride of a few blocks around my neighborhood. I will never complain again, I pledged to myself, as each chapter jeered at me with its headlines of 69 miles, 83 miles, 117 miles… on and on each day.

So why did this senior embark on such an adventure? Because back in the 1950's, some local service groups presented Starr with scholarships, which helped her get through college. Her love for music opened doors for her and empowered her to pedal across America so she could…pay it forward…and give other kids the same opportunity.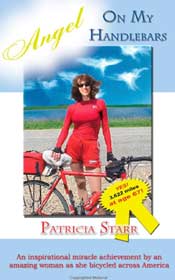 She will be promoting her book, Angel on My Handlebars and stopping at New Horizon Bands to play with them, perform for them, and encourage them to start scholarships of their own for a school of their choice.

Starr and her husband, Gabriel, set up the Patricia Starr Music Scholarship at their local Santa Barbara City College. For her pedaling across America, Starr reached her goal of $22,000, which guarantees a perpetual $1000 yearly scholarship for Santa Barbara students. She additionally raised $13,000, which will be given as two $500 scholarships annually at her Alma Mater, Wahoo High School.

But wait! There is so much more to this now seventy-four-year-old cyclist. Beginning in 1954, she was crowned Miss. Wahoo and went on to wear the crowns of Ms. Senior California and Ms. Senior Nebraska. She wowed the crowd with a Frederic Chopin piece at the Ms. Senior America Pageant in Atlantic City, New Jersey, for which she rode 1400 miles on her bike to compete for the title. She came in fourth out of forty-four contestants at age seventy-one.

Starr described the Atlanta ride like this:
"The trip from Nebraska to Atlantic City was a completely different adventure. I was not with a group so every day was "unplanned". One bicyclist accompanied me. I rode alone so much of the last trip because I was the untrained "caboose." This trip was a challenge to find roads we were allowed to ride on, deal with all the hills in Missouri, Tennessee and West Virginia, and find a place to sleep at night. The fun was talking to Pinky Kravitz (the unofficial mayor of AC) on his radio show. Pinky and the city had arranged for the most fabulous entrance anyone could have envisioned. The five cities—Ocean City to Atlantic City—was a police escorted ride. They handed me over from city to city. Upon arrival in Atlantic City, four motorcycle patrolmen led me down the famous Atlantic City Boardwalk with lights flashing and sirens wailing--an unforgettable entrance. Atlantic City and the AP were watching me approach. They knew about the extraordinary welcome being planned but were afraid it was a hoax. How could a 71- year-old contestant pedal 1,400 miles to a beauty pageant—unheard of. They insisted I send in my birth certificate for verification. What fun!"

But Starr is more than just a pretty face with fantastic stamina, she is also a concert pianist and has dazzled audiences coast to coast including Las Vegas, Laughlin, Branson, and the Grand Ole' Opry in Nashville. You can see and hear a sample of her "Rhapsody in Blue," at her website www.patriciastarr.net. She is trying to get a million viewers to watch her video. Just this week, she sent me an email touting, "just hit 70,000 this morning. Hooray!" She plays trombone in an eighty piece band; she is a model; she's an author; she hangs her own wallpaper; she sings in and directs choirs; she has earned awards and accolades from various state governors; she is a landscape designer and gardener; and she is happily married to a man twenty years younger than she. She's a professional tile layer and has a coveted "hole-in -one" at a Jack Nicklaus course in Myrtle Beach, South Carolina. She received the Nebraska Ambassadorship Award for Women in Sports and Fitness last year in Lincoln, Nebraska at a UNL Women's basketball game. She has performed at the AARP National Convention in Anaheim, California, appeared on morning shows in Denver, Omaha, and St. Louis, given countless radio interviews across the nation and been featured in numerous print articles. Her book, Angel on My Handlebars won the prestigious First place in Excellence Award at the Santa Barbara Writer's Conference, with one of the chapters being adapted in an ESL teaching book used around the world and published by Thomson/Heinle and CNN.

Whew…is that a list of accomplishments or what? But she isn't finished yet. Starr has another book on the horizon, titled, Journey of a Lifetime which she says, "chronicles my life from age seventeen when I represented Wahoo in the Miss America Pageant to age seventy-one when I represented Wahoo in the Ms. Sr. America Pageant and all the juicy tidbits in between!"

I can't wait to read it!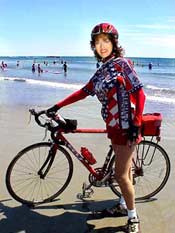 It was an exciting day for Starr when she dipped her front tire in the Atlantic, which meant she had completed her mission to pedal America.

And, while writing her book, Starr doesn't intend to rest on her past laurels, Her next goal is to exceed 4,000 miles at age 73/74 by starting at the International Peace Garden between Canada and North Dakota and hop-scotching around the middle and eastern parts of the United States. To quote Starr, "I've had it with the desert--I was born in the Midwest and need 'green' around me when I'm alone on the road."

She will be promoting her book, Angel on My Handlebars and stopping at New Horizon Bands to play with them, perform for them, and encourage them to start scholarships of their own for a school of their choice. The band Starr plays with in Santa Barbara is one of six chosen to play in Washington DC at the Sousa Festival in June so that will be added to her schedule. There are 180 bands in the US, Europe and now Australia for musicians age fifty and older.

While Patricia and husband, Gabriel, zigzagged across America, all ages have been fascinated by her. Teenage comments like, "My Mom is thirty-nine, and she doesn't look as good as you," are validations that her interest in nutrition has paid off! The boomer generation looks at her accomplishments and ponders, "Maybe there's still hope for us". The senior citizens are in awe but are motivated at least to try something they still dream of doing. She wants to inspire others and sets a good example by her physical prowess and taking vitamins instead of drugs.

When counseling kids, she says, "Don't smoke, go easy on sugar (that includes sodas) and omit fried foods and you'll have a good chance of enjoying yourself in your later years instead of sitting in a doctor's office." She seems to have a body that works.

Radius: How many actual miles/hours did you train before embarking on your ride across America?
Starr: I'm a little embarrassed to say my training was meager and spread over the few months before I embarked on this adventure. I am not a bicycle jock but did conquer Gibraltar Road in the Santa Ynez Mountains above Santa Barbara where Lance Armstrong had trained for many seasons. My greatest attribute was the fact that I am a two-mile-a-day walker. This is something most of you can accomplish whatever your age as you tailor it to your own body and schedule.

Radius: How many miles did you average per day?
Starr: Average mileage was about eighty miles per day. However, as statistics go, the reality was we had several short days in Idaho so there were eight days between 100 and 120 miles on the trip. I rode my first century on a 117 mile day in eastern Oregon. Surviving that long day in the heat was empowering—I knew I could accomplish more than I had even dreamed.

Radius: Which leg of your journey was your most difficult…and why?
Starr: Physically, riding through Wyoming was most difficult with the relentless wind holding me back like a giant hand constantly pushing on my body. Psychologically, the last day was full of heartbreak—getting lost, riding in extreme pain from my accident, getting indications that my bicycle chain was breaking, and fearing that I'd miss the final ride to the beach. My stomach was so full of knots, it's a miracle I survived.

Radius: What time did each day of your journey start and end?
Starr: Riding started at sunrise. On the long mileage days, I didn't get to the next destination until 7:30 as the sun was setting. I'm slow, but I never gave up regardless of the trials and tribulations and ecstasies of the day. Read my book, Angel on My Handlebars. It's full of unbelievable happenings, including an angel putting its comforting wings around me for an hour as I rode alone in the desert during a huge Midwestern thunder and lightning storm.

Radius: Did you stop for meals during the day?
Starr: Mealtime was anywhere I could find food along the way. Traveling in a car provides a person with many choices. Pedaling a hundred miles in many of the western states offered extremely limited opportunities.

Radius: How did you keep your hypoglycemia under control while biking all day?
Starr: Eating a good breakfast was absolutely essential. The three back pockets on my bicycle jersey held a banana, peanuts and a leftover pancake or two (no mess—I can't eat the syrup.) Gabriel would come along mid-day or early afternoon and find me. Sometimes he heated small cans of beans and weenies on the van engine so I could have a "hot" lunch. The day he had two flat tires at once and had to be towed, he couldn't get to me until five in the afternoon. I almost died that day because I was out of food by noon, and my body and persona vanished without nourishment. I wasn't even lucid when he arrived; but, again, my angel had somehow sustained me.

Radius: In your book, you described the devastation of losing your van to theft because it was a constant lifeline for you throughout your journey. Other than the devastation of losing your van and its contents, what was your most frightful event?
Starr: Two days after our van—my lifeline--was stolen and burned in Canada, I was pedaling along with tears streaming down my face. I missed a turn by a matter of only one inch and crashed into a railing on a bridge. My body and bike repeatedly slammed into the structure. I had already bicycled over 3,000 miles—but feared my dream had come to an end if my breast had been ripped off and/or my leg broken. The doctors assured me that neither had happened, but I did ride in excruciating pain the last seven days—I was determined to continue.

Radius: Did you purchase another van, and will Gabriel accompany you on your next journey?
Starr: We couldn't find a good used van on the east coast that wasn't full of rust so we purchased a car to get us back to California. The "Love Machine" was gone but replaced by the "Starr Van". We recently purchased a used motor home for this trip. The luxury of having food and a bathroom can only be understood by someone who has ridden all day with neither facility available. Gabriel, my real life angel, will be with me—these adventures would not happen without his guidance.

Radius: How much did you finally earn for your donation to the music scholarship?
Starr: I reached my goal of $22,000 for the Santa Barbara City College scholarship. This amount was necessary to put it into their "Foundation" which guarantees a $1,000 yearly scholarship in perpetuity. $13,000 was raised for Wahoo High School, my alma mater, and will be given as two $500 scholarships each year. Every copy of "Angel" that sells, adds another dollar to the scholarships. If I sell a thousand books, it all helps; but what if I sell a MILLION! I've accomplished dreams before! The purpose of the ride this summer will be to encourage New Horizon Bands to set up their own scholarships for a school of their choice.

Radius: What does your family think about your accomplishment?
Starr: Our two daughters, granddaughter, and son are behind me 1,000 percent.

In conclusion, one has to ask why anyone would inflict that much stress and strain on a 73-year-old body. The answer to Starr is simple, "Scholarships enabled me to get an education so that I could accomplish this wonderful life. Now it's my turn to give back to other aspiring musicians."

printer friendly page ·

"Patricia Starr, Riding across country at age 67"
authored by:

Patricia Kirby brings several years of journalism, editing, and publishing experience to Radius magazine. She is a published writer and former co-editor of Hoosier Outdoor magazine, with a distribution throughout the mid-west. Patricia is also a form...